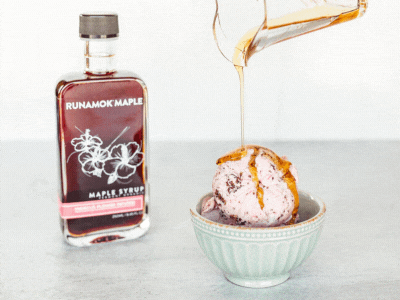 When we first began infusing bright, tart, tropical hibiscus into our traditional Vermont maple syrup it was a bit of a shock to many maple purists. Today – while still a novel idea in maple – hibiscus is finally getting the celebration we think it has always deserved!
According to reputable sources like Forbes, Mashed, and the New York Times:
Hibiscus is on trend to be THE hottest flavor of 2022.
We are here with not one but two ways to enjoy this trending flavor, infused into nature's best sweeteners –  Hibiscus Infused Maple Syrup and Hibiscus Infused Honey.
---
From the Test Kitchen
Hibiscus pops with flavor as bright as its magenta color. With tangy notes of raspberry and lemon, it takes the sweetness of honey and maple and bumps them up a notch so it is reminiscent of your favorite hard candy. The result is an intense, tangy, ruby red treat that is great in cocktails or over desserts.