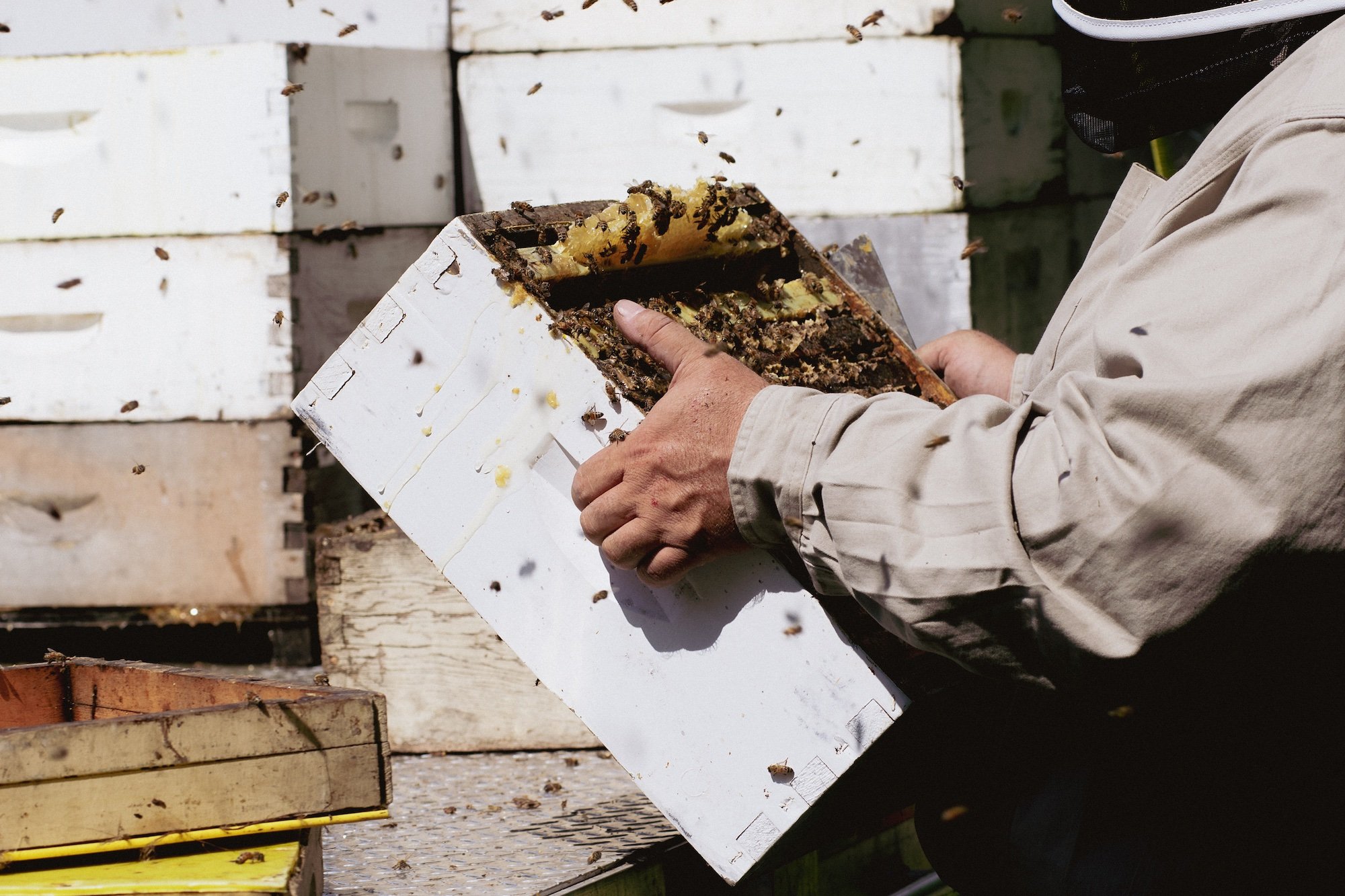 Our Partner Producers
We produce our own maple syrup at our sugarbushes in Cambridge and Bolton but even with our 120,000 taps, we do not make enough for our needs. To ensure our supply, we partner with many other Vermont sugarmakers, buying maple syrup from producers who we know are passionate about their product and their land.
Since our expansion into honey, we've also started working with a select few apiaries across the country. Our co-founder Eric and our bee guide, Todd, traveled far and wide to find the country's best tasting honey from family farms that are observing sustainable beekeeping practices. 
Read on to learn more about our partner sugarmakers and beekeepers.

Branon Family Maple Orchards
Fairfield, Vermont
Branon Family Maple Orchards is among the most respected maple producers in Vermont. The business is owned and operated by Tom and Cecile Branon and their sons, Kyle, Shane and Evan. Spanning over 4,000 acres of forest, they manage over 90,000 taps in the towns of Bakersfield and Fairfield. Tom is a 4th generation sugar maker who has worked in the woods for over 60 years. As a kid he gathered sap with buckets using horses to deliver it to the sugarhouse. Their operation is considerably more modern today and they continue to pass down the family tradition to the next generation. When asked what sugaring in Vermont means to her, Cecile replied, "Vermont is a very special place and people all over the country relate it as a clean organic way of life. Maple Syrup has become synonymous with Vermont which makes it a very special product with high standards and practices. It is a pride in itself to be considered a Vermont Sugarmaker, certified Organically and considered doing all the right things to protect and care for a gift we have been given."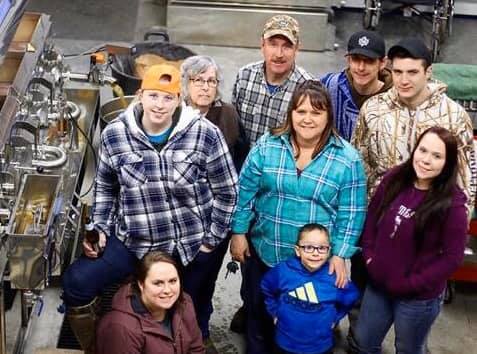 Ledge View Maple
Fletcher, Vermont
Ledge View Maple is owned by husband and wife team, Alan and Jennifer Cary. Their operation is nine years old but Alan has been working in and around the sugaring industry most of his life. In fact, he started with us here at Runamok when we were just getting our operation up and running, and contributed to everything from woods set-up to building construction. 
With 16,500 taps on his own property in Fletcher, today they are a family operation, often getting help from their son, Trevor and other family members. They both participate in all the aspects of the business from tapping to running the evaporator. When asked about a favorite part of her property, Jen replied, "The lookout area on top of the mountain; and our second lot has beautiful views of Mt. Mansfield."
Like many Vermonters, they wear many hats. Alan has a separate excavation business and Jen is a cosmetologist. But maple syrup is becoming a larger presence in their lives every year. Jen says, "We enjoy keeping the Vermont tradition alive, working as a family in the woods and Sugarhouse and it is a large portion of our annual income."

Sidelands Sugarbush
Westminster, Vermont
Dan Crocker is the owner of Sidelands Sugarbush, Inc. Located in Westminster, Vermont, he works with 24,000 taps in his woods to produce some of the finest maple syrup you could taste. "It makes me happy to produce a wonderful tasting product which is more beneficial than other sugar products and helps the environment as well, by keeping the forest intact," he explains. Managing the operation in his woods for more than 40 years, he puts in the hours during sugaring season and then spends the whole summer getting ready for the next one. Like many Vermonters, he likes it in everything from his morning coffee to a midday smoothie. But his favorite use is over vanilla ice cream.


Winter Family Apiaries
Wolcott, NY
The Winter family have been producing honey and providing pollination services for over 50 years. Run by Bonnie, Wayne, their son, Dan, and other family members, they manage 2,000 to 2,500 hives that they move throughout the year. The summer months are spent at their home in Wolcott, New York and the winter season is divided between Florida and California. With generations of knowledge about bees, they are a valuable resource in this time when bee populations seriously under threat.
When we set out to find an apiary with exceptional honey, we met the whole Winter family but Dan has been our main contact. He started keeping bees when he was eight, immersing himself in the business like the three generations before him. Ask him nearly anything about beekeeping and he can not only answer but draw you into the fascinating subject of bees and their place in a healthy ecosystem. The Winter's bees forage on wildflowers when the hives are in upstate New York but when he moves them to Florida, they are there to pollinate watermelon and citrus crops. During their time in California, they pollinate almond orchards. "Different flowers will have different sugar content," he explains and the flavor varies widely depending on the pollen and time of year.
Dan runs his family business but has also become involved in the wider beekeeping community by becoming the president of Empire State Honey Producers, Vice President of American Beekeeping Federation, and a member of The Florida Beekeepers Association.  The problems facing honey bees today are numerous: varroa mites, bacterial infections, pesticides, and loss of habitat are just a few. "We used to see around 10% dieoff during the winter season and now it is more like 40%." The means of solving these problems entail addressing, not only the agricultural community, but regular landowners as well. Dan is a big proponent of sustainable agriculture, not only for the health of honey bees but, as he says, for the greater good of all pollinators.
We couldn't help but ask the question most people want to know when they meet a beekeeper: do you ever get stung? "All the time," he says. He is used to it and barely notices when the bees circle him as he works with his crop. When I ask what his favorite way to eat honey is, he reveals it is a grilled cheese sandwich with honey – the trick is to put it on before you cook it. The Winter family's autumn blossom raw honey was introduced in 2021 as our flagship Beekeeper's Cut. We think it's the best honey we're ever tasted, and we're proud to be able to share it with you!
Winter Family Apiaries also produce our limited release Basswood Blossom Raw Honey.


JJ Spanier + David Fay
Cambridge, Vermont
J.J. Spanier and David Fay are friends and business partners who run one of the smaller operations among our producers but that is exactly the way they like it. Tapping around 2,000 trees, mostly on J.J.'s Cambridge property, the two hold other jobs so they wanted to keep the size manageable. The quality of their maple syrup is so good that we take any amount they are willing to part with.
Hailing from New Jersey, J.J. didn't have generations of sugar makers to learn from but his father was a scientist and encouraged his young son's interest in it. "I was probably 8 years old when my dad and I made a jerry rigged pan out of an old grill. I think we made a gallon."   
Dave is from New Hampshire and also started sugaring as a kid. According to Dave his operation with his dad was "nine buckets and a pot". He later went to college in Vermont and eventually bought a place in Jeffersonville with his family. It was there he met J.J. working on a large masonry project.
 Both JJ and Dave found their way back to sugaring through their friendship with Fred Boyden, a seventh-generation Vermonter.  Fred encouraged JJ  to tap the woods up behind his house and showed him the ropes. Dave had already started sugaring about 500 trees on his own farm and would truck his sap down to Fred's sugarhouse to boil it and glean maple wisdom from the older farmer. Dave explains, "Fred showed me how to make my love of sugaring fit into my schedule with other work." 
Since JJ and Dave had been friends for 16 years, they decided to join forces and sugar together. J.J. renovated his old barn and put in state of the art equipment. They expanded the tubing network behind his house and incorporated Dave's sap. In 2016 their operation was up and running.
When asked what he likes best about sugaring, J.J. finds it hard to pick just one thing. He loves the tradition of it and including his children whenever possible. He enjoys tinkering with the equipment and trying out new technology. But mostly, he likes being outside in the wild landscape of New England. When asked if he has a favorite section of his woods, he doesn't hesitate but describes what he calls "the middle chunk". 
"There's a certain grade to the incline of the hill and spacing of the trees. When the sun hits through there at certain times of the day – it is just magical." 
Nature clearly loves him back because not only do wild grouse hang out with him while he works (see photo) but the trees produce exquisite syrup. Every year it is noted for its buttery quality and when it arrives at our plant, the taster teases him by asking, 'Are you sure you didn't just add butter?'
Dave's year-round job is as Vocational Director at an independent special education school serving students with disabilities . Every year he hosts an internship called "Tap to Sugar" where students help out in the sugarbush and learn the trade. He says the students learn maple sugaring skills, but just as important, they get a chance to develop a love of nature. He regularly witnesses what he calls the "seven minute rule": whatever type of day the students are having, within seven minutes of being in the woods they are calmer and more focused. 
J.J. and Dave do not plan on growing their business in the near future but enjoy the balance in their lives between sugaring and other jobs. J.J. says, "We take a lot of pride in making as fine a product we can. We don't use any chemicals in anything, we just produce it as clean and high quality as possible. Really, we are just vehicles to provide this amazing product from the trees."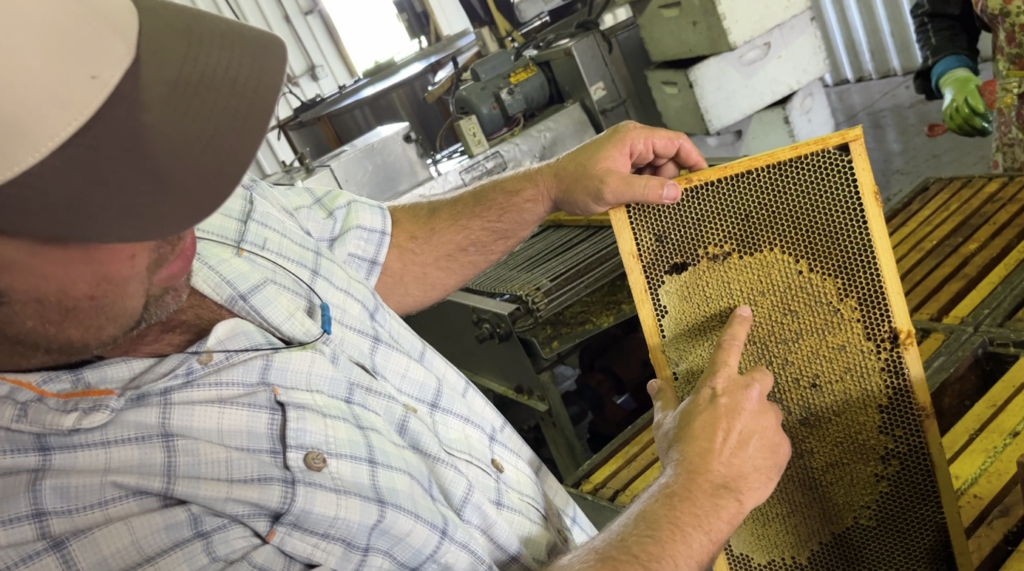 Cantu Apiaries
Zolfo Springs, Florida

Cantu Apiaries, located in Zolfo Springs, Florida, is one of the sources of our Florida Orange Blossom Raw Honey. Cantu Apiaries is operated by three generations of beekeepers, including Steve and Leslie Cantu, and their son Luke (pictured above). With more than 40 years of beekeeping experience, they work diligently to maintain the health of their bees by using essential oils, hard work, and loving care, and place high value on the natural goodness of pure raw honey, produced without antibiotics or additives. In additional to producing high quality raw, unfiltered honey, they also produce a line of all-natural honey-based skincare products. At the center of all of their work is a commitment to the important work of raising and sustaining honey bee colonies.

Wewahitchka, Florida
In addition to their apiary and home base in Zolfo Springs, Steve and Leslie Cantu are also the source of our rare Tupelo honey. A recent NYT article estimated there are "probably fewer than 200 beekeepers producing [Tupelo] honey in any notable quantities" – and the Cantu family are among them! Tupelo honey is prized for its exquisite flavor and is incredibly rare: tupelo trees grow only in a very specific region along the Florida-Georgia border of the American Southeast and the honey is harvest by bee barge during a very short bloom each spring (Steve and Leslie were kind enough to take us along for the ride)!
See more about the Cantu family's apiary on our Bee Safari …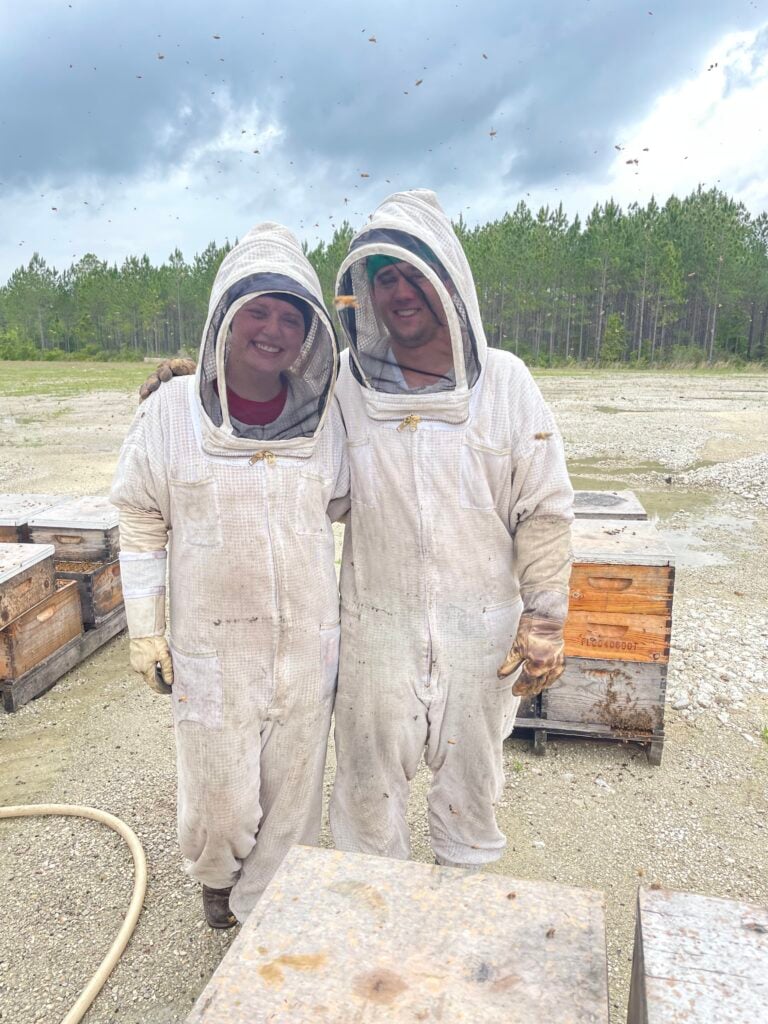 Townsend Honey Farm
Starke, Florida
The Townsend family started beekeeping as a hobby in 2008. As their love of beekeeping grew, so did their hives and honey production. They progressed to the level of commercial beekeepers and officially formed our family business. Located in Starke, Florida, the farm has grown to approximately 2,000 hives and is still managed by the Townsend family. Their son, Bo Townsend, completed the University of Florida Master Beekeeping Program, earning his Advanced Level Beekeeper Certification in 2013.
The Townsend family moves their hives around the state providing pollination services in orange groves – and they are one of the producers of our Florida Orange Blossom Honey. They also transport their hives to California each year for the annual almond pollination.
See more from our April 2022 trip to visit Bo Townsend and his family here…