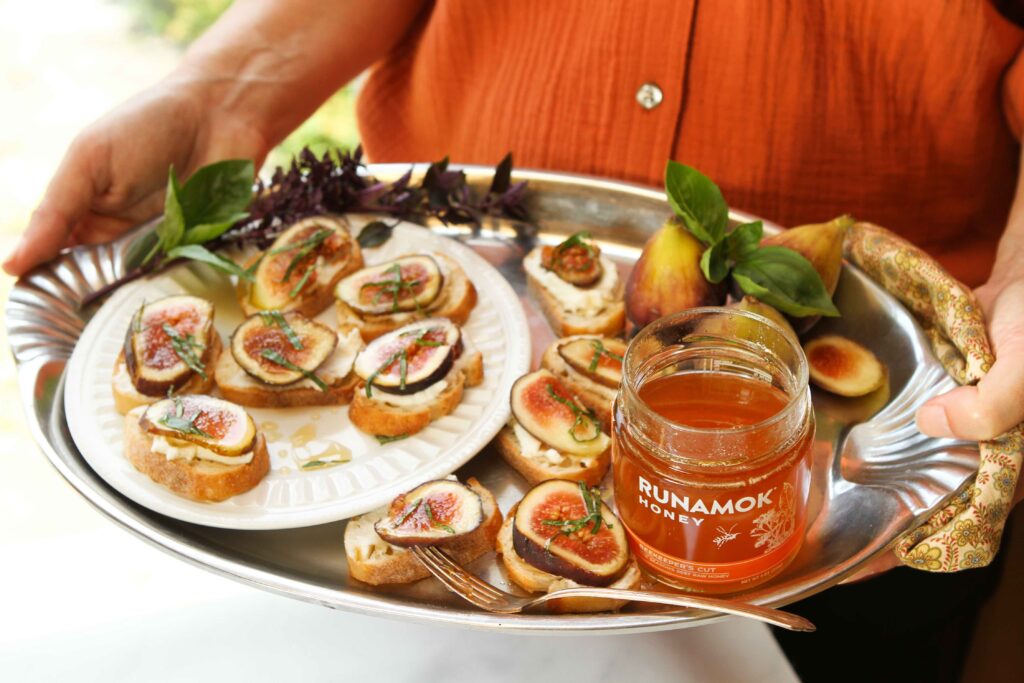 Goat Cheese on Baguette Slices with Figs and Honey
This year Vermont won over 40 awards from the American Cheese Society, across multiple categories, including best in show. We are very proud to be based in a state that values high quality food – from beer, to maple, to fresh seasonal produce – but we are exceptionally proud of the cheese that is churned out in this pastured heaven.
To celebrate our agricultural cousins we decided to pair our honey's with award-winning Vermont cheeses. We could easily have come up with 40 ideas for all of the winners but thought we would winnow it down to 4 (see the complete list here).
Vermont Creamery's Classic Goat Cheese won 3rd place for best fresh, rindless goat cheese, though we personally feel it comes in first every year. This is an easy app to serve in late summer and fall when fresh figs are available. If they are not, you can easily sub in another fruit, either fresh or dried. We drizzled our Lapsang Souchang on it to get that smoky sweetness but you can also use Beekeeper's Cut (pictured here), or any of our other honeys, including hot ones.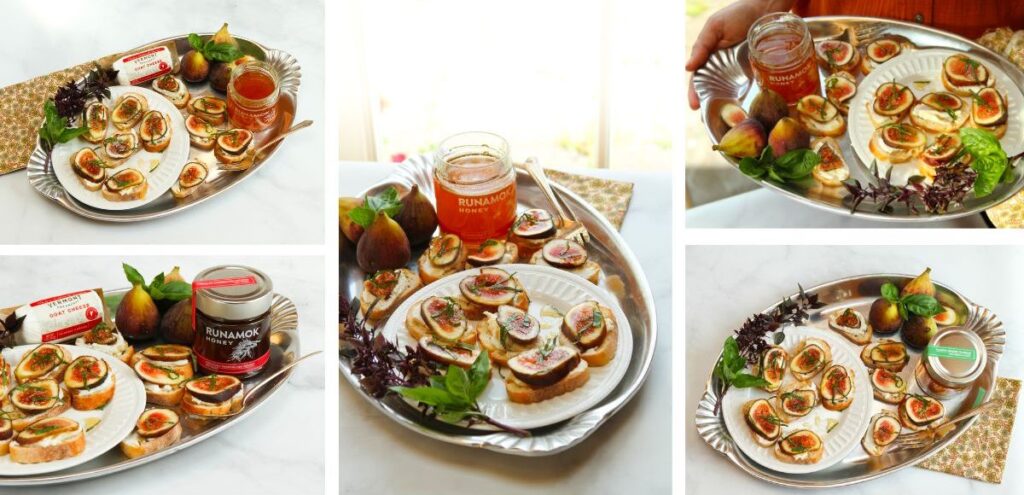 Ingredients:
1 baguette
olive oil
4 oz. Vermont Creamery goat cheese
1 pint figs
salt
Runamok Honey
Instructions:
Slice a baguette and drizzle a light coating of olive oil
Place in an oven at 400 and toast for a few minutes until just starting to brown
Remove from the oven and let cool
Spread a spoonful of goat cheese on each toast and top with a slice of fig
Sprinkle a little salt and then drizzle honey on everything
Serve immediately.
* Note: if your raw honey has crystallized (this is actually a good thing!), you can put the jar on a warm windowsill or in a bowl of lukewarm water for a bit to soften up and make drizzling easier. We do not recommend microwaving or heating raw honey above 110°F as this kills off the beneficial enzymes that make raw honey special.