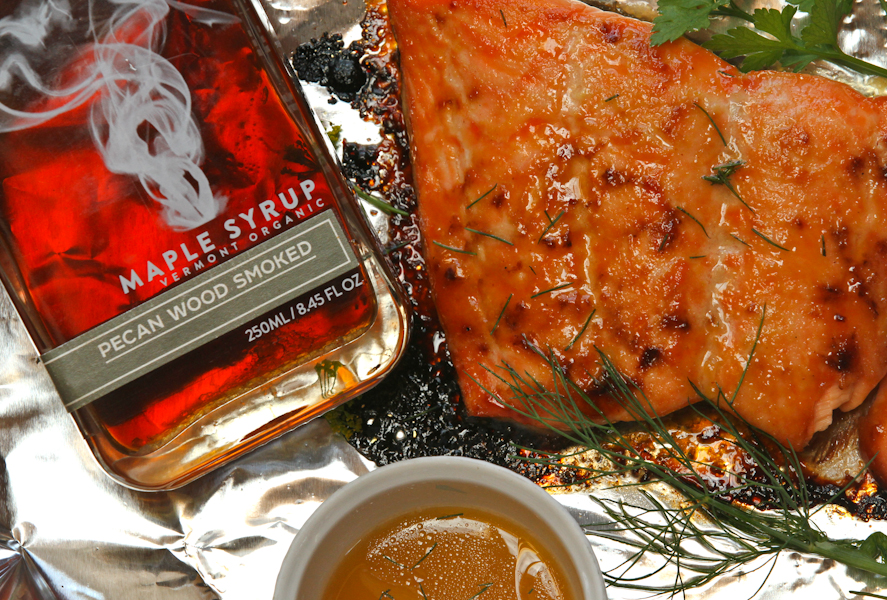 This is a recipe that is easy to throw together for a Tuesday night but elegant enough for Valentines dinner.  Salmon takes really well to both smoky and sweet flavors so the Pecan Wood Smoked Maple Syrup is a no-brainer.  I combined the syrup with Dijon mustard to add a tangy, salty element and a bit of oil was thrown it to keep the fish from drying out.  The result is a very simple stunner that will get you some serious culinary cred. You can reserve some of the glaze to have on hand as extra sauce at the table.
Broiled Salmon with Smoked Maple and Dijon
(2) 4oz pieces of good quality salmon
1 Tbs Dijon mustard
3 Tbs Pecan Wood Smoked Maple Syrup
1 tsp vegetable oil
Salt and pepper
Preheat your broiler and line a broiler pan with tin foil.  Put a thin coat of oil on the tin foil to prevent the salmon from sticking.  Place the salmon on the pan, flesh side up.  Mix the mustard, syrup and oil together and brush over the top of the salmon in a thick glaze.  Season with salt and pepper.
Place under the broiler until the fish is just barely cooked through and the glaze has become brown and bubbly – 5 to 10 minutes. (Cooking time will depend on the thickness of your filet).
Serve with rice or quinoa and a green salad and any extra sauce on the side.