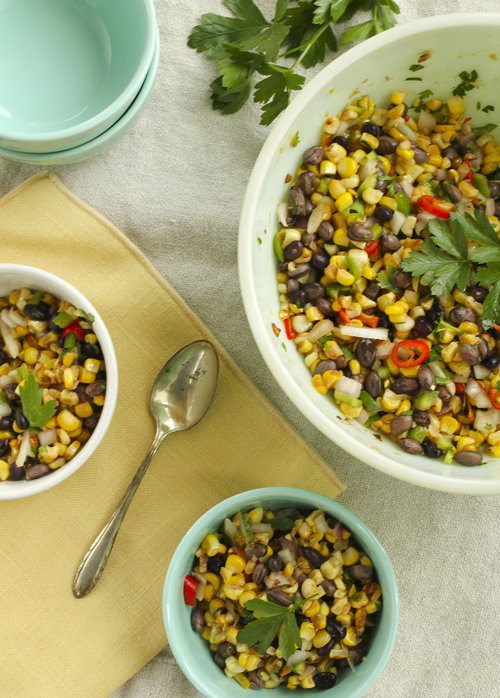 This is a great make-ahead recipe for summertime when the local corn is ripe. In fact, if it is really fresh with great flavor, you can skip the cooking part all together and use raw kernels. I had some lovely dried beans on hand but if you are pressed for time, use canned white or black beans. The maple syrup is not meant to make the dish officially sweet but to accentuate the sweetness of the corn so add as much or little to your personal preference.
Try this dish with either the Makrut lime-leaf infused syrup, or for more complexity use some Smoked maple syrup. I particularly like to serve this alongside BBQ chicken or grilled fish.
Corn and Bean Salad
4 ears corn, shucked
Oil for sautéing
½ cup dried beans (or 1 cup cooked/canned) that have been soaked in water overnight
1 small red pepper, diced
1 small green pepper, diced
½ red onion, diced
Juice from ½ lime
1 tsp ground cumin
A few shakes Tabasco or other hot sauce
3 Tbsp chopped cilantro
1 Tbsp Makrut lime-leaf infused or smoked maple syrup
Salt and pepper
Remove the kernels from the corn by placing a shucked ear in a large, wide bowl and cutting down each side until all the kernels are off. Put some oil in a wide sauté pan and add the corn. Cook over medium-high heat until slightly brown. Remove from heat and cool.
If using dried beans, drain the soaking beans and place in a sauce pan with fresh water. Place over high heat and bring to a boil. Reduce heat to simmer and cook approximately 20 minutes or until the beans are tender but not mushy. Drain and cool.
Add all of the ingredients together and chill for a few hours. Taste for seasoning before serving.