This recipe comes from Danielle at Coco et Sel, (@cocoetsel on Instagram) who has shared a number of delicious and creative – and beautiful – ways to enjoy Runamok maple and honey!
Adapted from Odette Williams – the queen of cakes. Her base cakes are my gold standard and I return to them time and time again. This recipe is inspired from her Milk and Honey Cake. This healthy-ish cake is wonderful for spring. It's made with wholesome spelt flour and probiotic rich kefir, layered with a honey cream and topped with fresh berries. I like to experiment with different honeys in this cake. I am loving Runamok's line of raw and infused honeys. Using a light floral honey will provide a gentle mellow flavor. Whereas a rich dark honey will be more assertive.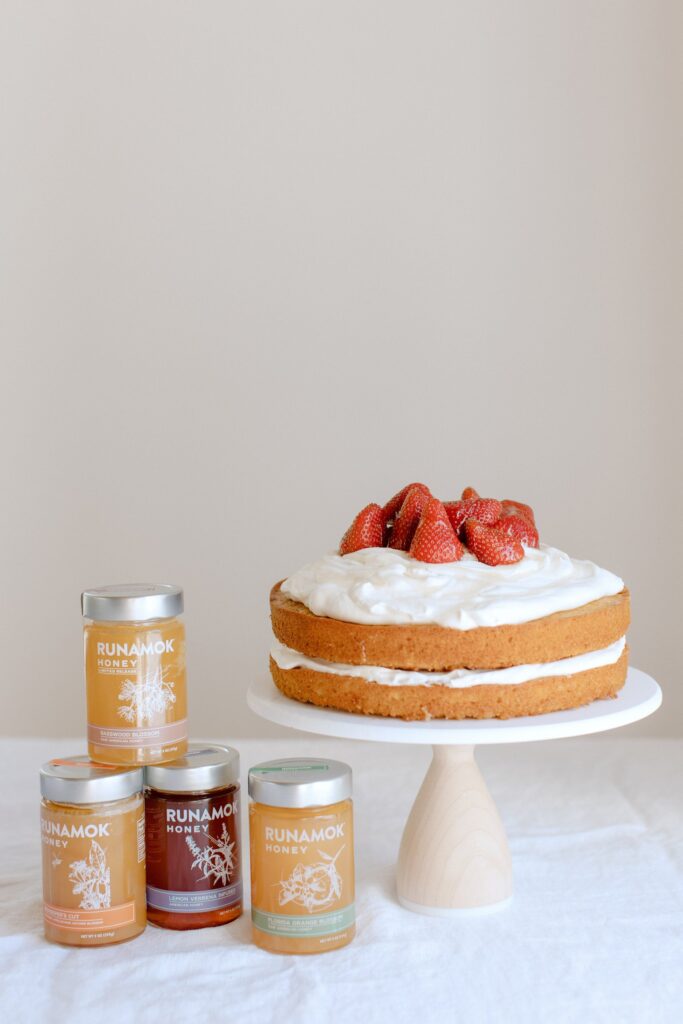 Ingredients:
2 1/4 cups (290g) spelt flour
2 teaspoons baking powder
1/2 teaspoon baking soda
pinch of salt
3 eggs, at room temperature
1 cup kefir
3/4 cup (255g) Runamok honey (any raw varietal or floral infused)
1/2 teaspoon vanilla extract
12 tablespoons butter (170 grams) unsalted butter, room temp
3/4 cup (150 g) cane sugar
Honey Whipped Cream

2 cups heavy cream, chilled
2 tablespoons kefir
2-3 tablespoons honey
Directions:
Preheat the oven to 350F. Grese two 8 inch round pans with avocado spray or butter, line the bottom nd sides with parchment.

Sift the flour, baking soda, baking powder and salt into a bowl.

In a small bowl, whisk the eggs together aand set aside.

In another bowl, whisk the kefir, honey and vanilla. Set aside.

Using an electric mixer- bet the butter for 30-45 seconds on medium speed. Gradually add the sugar. Scarpe down the side of the bowl and continue beating on medium speed until light and fluffy, about 4 minutes.

With the mixer still on medium speed add the eggs a little at a time. If the batter curdles add a tablespoon of flour to help bind it back together.

With the mixer on low speed, add the dry and wet ingredients alternating between the two. Mix until just combined- do not over mix.

Pour the batter into the prepared pans and smooth the top. On the same rack bake for 35-38 minutes or until a skewer inserted in the center comes out clean.

Remove the cakes from the oven and let them cool for 10 minutes. Run a knife around the cakes to relate and peel off the parchment paper. Cool completely on a wire wrack.


Honey Kefir Whipped Cream

In the bowl of the stand mixer add the cream, kefir and honey. Mix on medium high speed for 1-2 minute until light and fluffy.