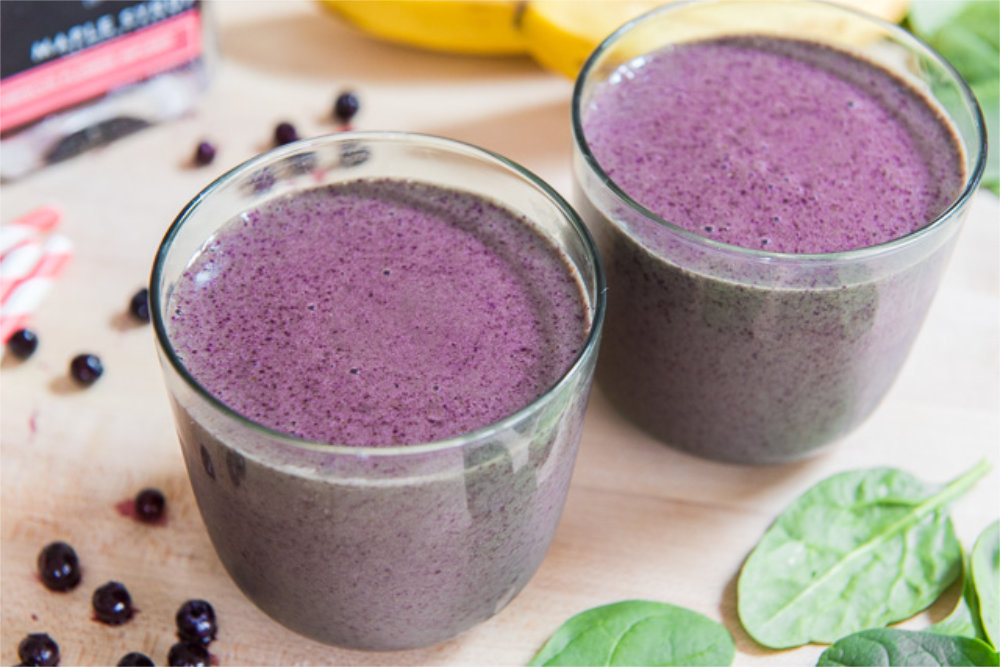 Joanne Ozug from FifteenSpatulas was generous enough to share her smoothie recipe, using Hibiscus Infused Maple.  The following recipe is from her blog.
While I'm not a smoothie every morning kind of person, I do get a hankering for one every few weeks or so. They're creamy and sweet, and a cinch to make.
My position on smoothies is that they should strike a balance between healthy and delicious. I do want nutrition to my smoothie, but I also don't want to feel like I have to choke it down because it tastes wretched.
This Blueberry Banana smoothie is pretty simple, and has six ingredients: frozen blueberries, frozen banana, cashew milk, fresh baby spinach, collagen powder, maple syrup. You have your fruit component, extra vitamins and fiber from the spinach, collagen powder for a boost of protein and other benefits, and a touch of maple syrup to sweeten and add flavor.
And with the cashew milk, it's dairy-free, but feel free to use regular milk if you prefer. You could also use almond milk if that's what you have.
For the maple syrup, I've got a bunch of Runamok Maple's infused and barrel-aged syrups in my fridge, and tried adding their Hibiscus Flower infused maple syrup, knowing that hibiscus has a flavor affinity with blueberry. It added an interesting flavor note and a little sweetness to the smoothie that also helps "hide" the collagen and spinach a little bit.
Feel free to tweak the ingredients to your taste, and use the amounts as guides to experiment with. I love that there are a million combinations when it comes to smoothies. Enjoy!
Ingredients
 

1 

cup frozen blueberries

 

1 

frozen peeled banana

 

3/4 

cup unsweetened cashew milk

 

1 

cup fresh baby spinach, packed

 

2 

tbsp collagen powder

 

1 

to 2 tbsp Runamok hibiscus maple syrup, or other sweetener of choice*
Instructions
Place all ingredients in a blender, and blend until smooth.
Serve immediately.