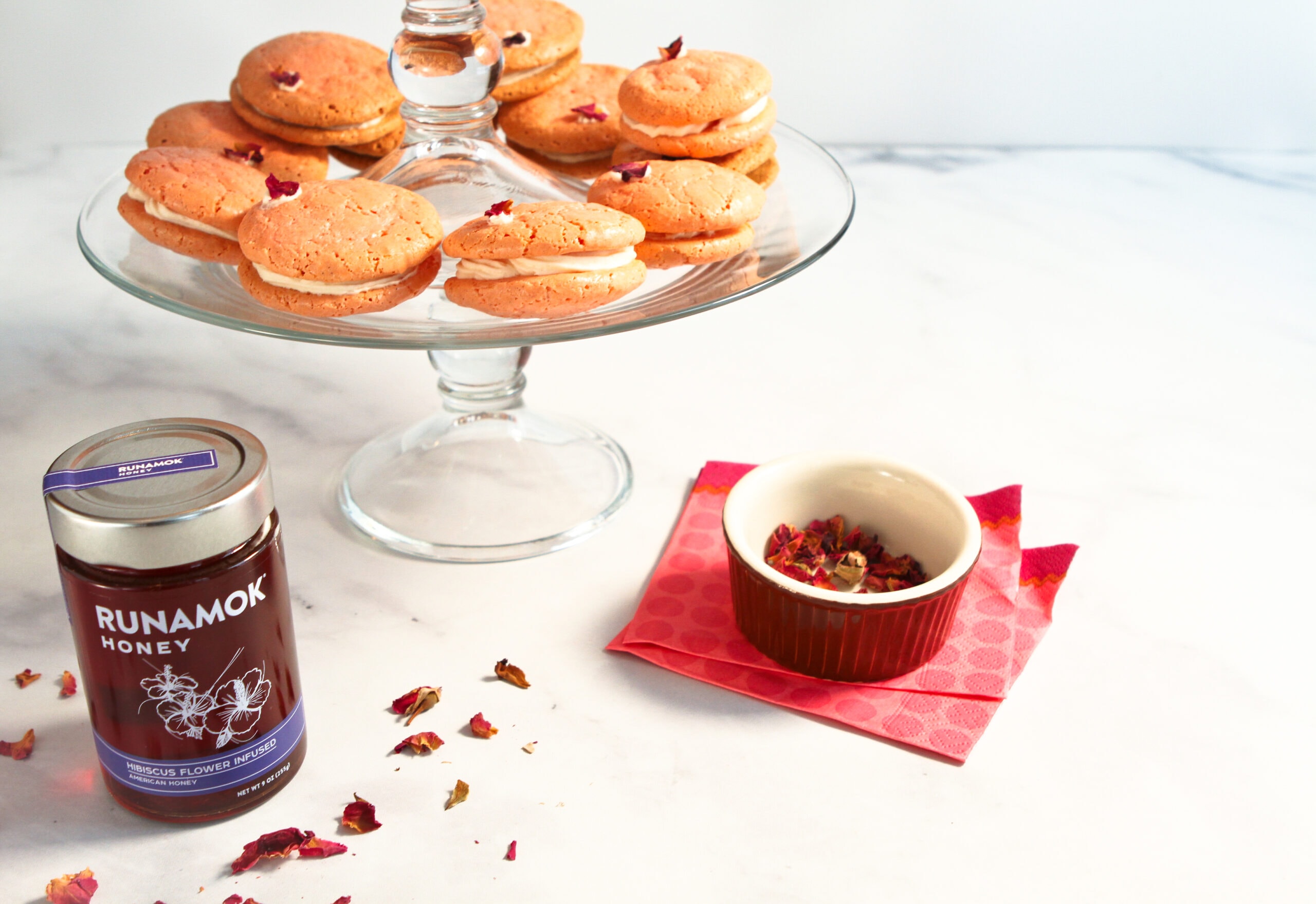 There are many recipes in this collection that are easy and quick. This isn't one of them. In fact, macarons are fussy and time-consuming and I have bungled many batches. I've kept at it though because when you get them right they are exquisite. The meringue is crispy on the outside and chewy on the inside. The filling is a creamy contrast that shows off an intense or unique flavor. When done right, they are the very picture of elegance.
The filling for this recipe features our Hibiscus Infused Honey in a basic buttercream. The tangy flavor of the hibiscus cuts through the sweetness of the sugar, giving the macaron a brighter flavor. I've added a dried rose petal for garnish but it is entirely optional.
After both success and failure, I can pass along my hard-earned wisdom to give you a better chance at success. 
Make sure the egg whites are room temperature. Some recipes even recommend letting them sit to dry out a little. Up to you.

Sift, sift, sift. The key to a smooth meringue is to make sure you don't have a lot of granular bits in the almond flour.

Whisk, whisk, whisk. Once you've added the granulated sugar, you keep whisking until VERY stiff peaks form. You can't really over whisk them so give them extra time.

You can use a spoon to make the circular shapes for the meringue but you will have uniform, bakery-quality macarons if you use a piping bag. 

Timing is very hard to gauge. You can't test them like you would a cake by poking with a fork. If you are not sure if they are done enough you have to sacrifice one and remove it from the tray. It should be barely moist on the inside. 
Meringue Cookies
1 cup confectioners sugar
1 ½ cup almond flour
3 egg whites, room temperature
¼ tsp cream of tartar
½ cup granulated sugar
1 tsp vanilla extract
Few drops food coloring (optional)
Buttercream
¼ cup butter softened
1 Tbsp Runamok Hibiscus Infused Honey
1 cup confectioners' sugar
½ tsp milk
Dried rose petals (optional)
Assemble your piping bag with a half-inch opening or similar. Place it in a tall cup, tip down for easier filling.
Prepare your baking sheets with parchment paper. You will likely need 2.
Sift together the confectioner's sugar and almond flour and remove any large bits. Set aside.
In a bowl or standing mixer fitted with a whisk, add the egg whites. Turn on high speed and whisk until frothy. Add the cream of tartar and continue until they begin to stiffen. Very slowly, add the granulated sugar and continue to mix until it is very stiff and can hold peaks. Add the vanilla and food coloring and continue to whisk another few minutes for good measure.
Remove the whisk and using a large spatula, add a third of the confectioners' sugar/almond flour mixture. Fold in gently, doing your best to maintain the consistency of the meringue. Gradually add the rest of the dry ingredients, folding until fully combined.
Using the spatula, scoop the mixture into the piping bag until it is ⅔ full. Squeeze it down to the tip and begin piping out circles of equal size, roughly 1" apart. Continue until you have used up all of the mixture.
Let them sit for half an hour to settle and dry out a little. Preheat the oven to 300. Bake them on the middle rack for 12 – 15 minutes, turning the trays halfway through for even baking. They should not brown.
Remove from the oven and let cool completely on the tray.
To prepare the buttercream, place the softened butter and honey in a bowl and beat with an electric mixer until light and fluffy. Add the confectioners' sugar and slowly incorporate. Add the milk to light it up, beating constantly. Taste to adjust, adding more honey or sugar as necessary.
When the meringues are completely cool, spread a thin layer of buttercream on the flat side of one and top with a second. If you are using rose petals, put a small dab of buttercream on top and attach a dried petal. Repeat with remaining meringues.