Everyone knows that maple syrup is great on pancakes but it is also an excellent sweetener in all sorts of desserts and pastries. Here are some of our favorites from the Runamok recipe collection that really show its range. From decadent, gooey Pudding Chomeur to classic Apple Crisp, these dessert recipes show how easy it is to incorporate maple syrup and how much better it is than plain sugar.
Maple Apple Crisp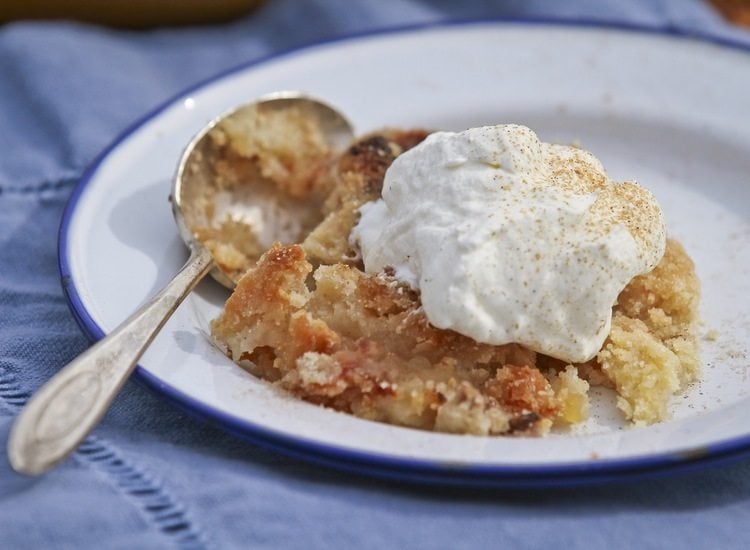 This one is easy and a real crowd-pleaser. All you need to remember is the crumble ratio of 1-1-1: one cup of flour, one cup of sugar and one stick (actually ½ cup) of butter. The rest is apples any which way you like them. You can put in a big pile of apples and have a heaping layer of sweet, tangy diced apples under the crispy crumb. Or you can keep the apple layer on the thin side so you get more crumble per bite of apples.
The splash of maple syrup on the apples is the other secret to making this a special dessert. The syrup will melt with the apple juices and a bit of butter and make the most heavenly sauce around the fruit. You can use either Sugarmaker's Cut Pure Maple Syrup or Cinnamon-Vanilla Infused Maple Syrup. Either way, set some aside to pour over the crisp when you serve it.
Read the whole maple apple crisp recipe.
Ben & Jerry's Pumpkin Latte Milkshake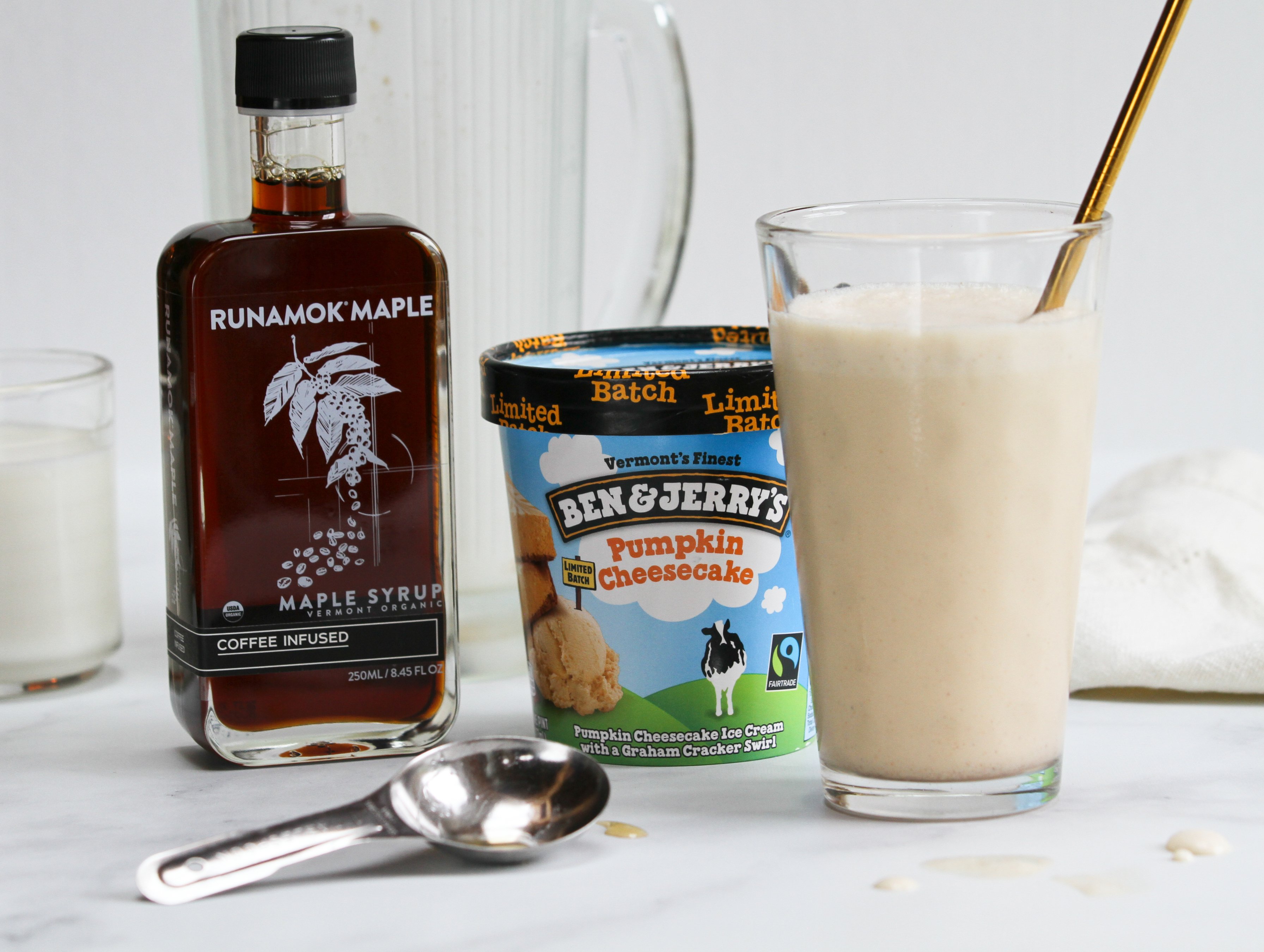 Ben & Jerry's has a team of culinary geniuses known as Flavor Gurus who are responsible for beloved flavors like Cherry Garcia and Phish Food. The Gurus are superstars in the Vermont food community and we were flattered to learn that they were smitten with our syrup. When we sent our Coffee Infused Maple Syrup to them, they paired it with two unexpected flavors: Pumpkin Cheesecake (a fall Limited Batch flavor) and Non-Dairy Caramel Almond Brittle. With open minds and many spoons we tried it. Holy Blam-o, Wow. The first combo is like the best pumpkin pie a la mode you've ever tried (they use real pumpkin) with a backbone of coffee sweetness swirled through. We loved it so much, we turned it into a milkshake.
Read the whole pumpkin latte milkshake recipe.
Dutch Pear, Baby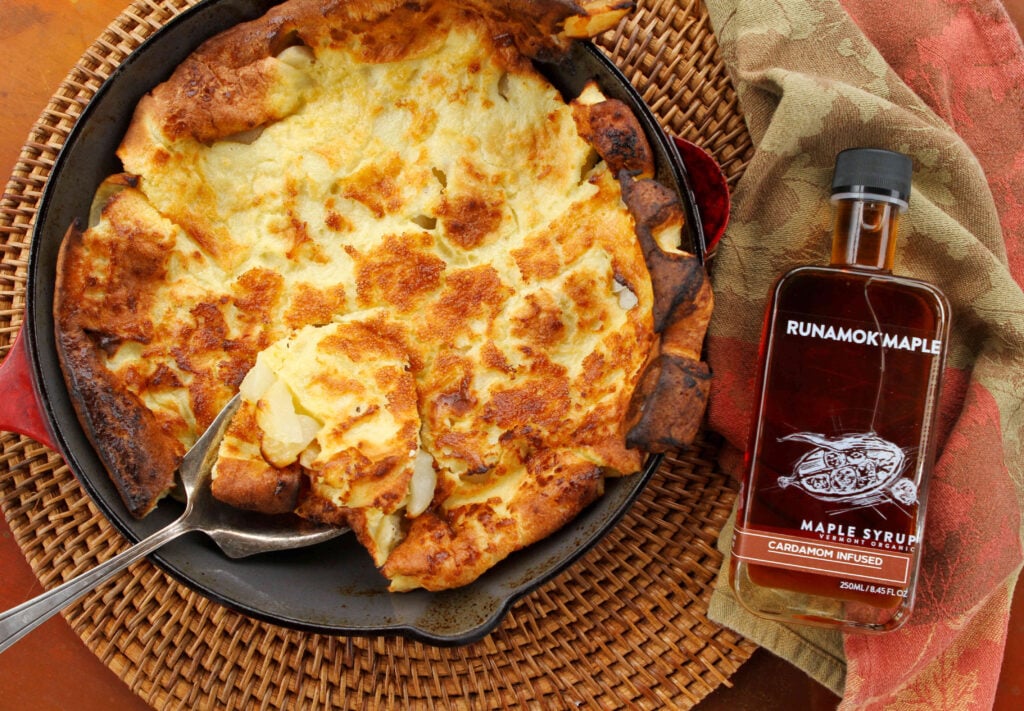 A Dutch Baby is essentially Yorkshire Pudding or popover batter, sweetened a little and cooked in the oven in a decadent puddle of butter.  Traditional recipes have it both with and without apples and a dusting of confectioners' sugar.
I thought a Dutch Baby would be a good match with our maple syrups.  As it happened, I had more pears than apples on the day I wanted to try it and that turned out to be a good thing.  I also happened to have an opened bottle of our Cardamom Infused Maple Syrup nearby just as it came out of the oven and that was even more fortuitous.  You can serve this with nearly any of our infused or barrel-aged maple syrups and it is excellent but there was something about the pears and cardamom that was truly delicious and unique.
A German recipe which uses an English batter that was given a whimsical name by a child from Seattle and then copywrited – what could be more American?
Read the full recipe for our dutch pear, baby.
Maple Pecan Cookies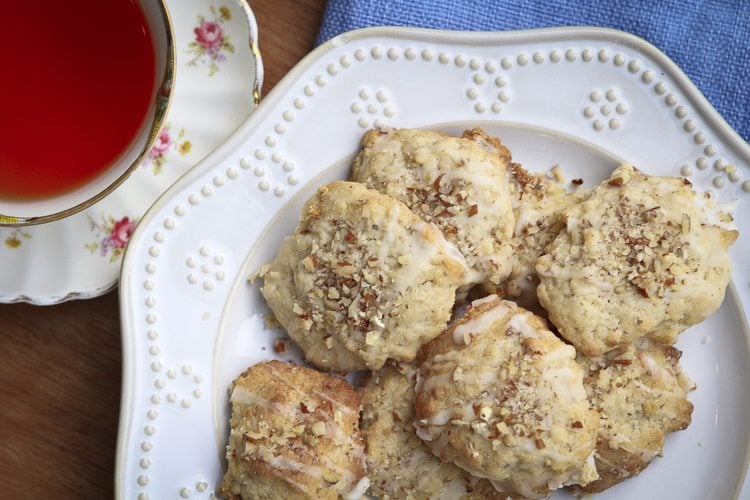 I found this recipe from a site that shall remain unnamed for the crime of listing "maple-flavored syrup" (gasp) and then "maple extract" (gack) in the ingredients. Yes, we have all had the fake stuff and have likely been subject to the fake flavoring but there is no need! Real maple syrup tastes infinitely better and leaves out those questionable chemicals that dare to emulate a flavor that nature has already perfected. Since I switched around a few of the other ingredients, I tested a batch and brought them out to the crew to try; gone, baby, gone. I used Cardamom infused syrup in the glaze because it married so well with the pecans but Sugarmaker's Cut or Cinnamon-Vanilla infused would work just as well.
Read the whole maple pecan cookie recipe.
Ice Cream Cake with Strawberry Ice Cream and Hibiscus Infused Maple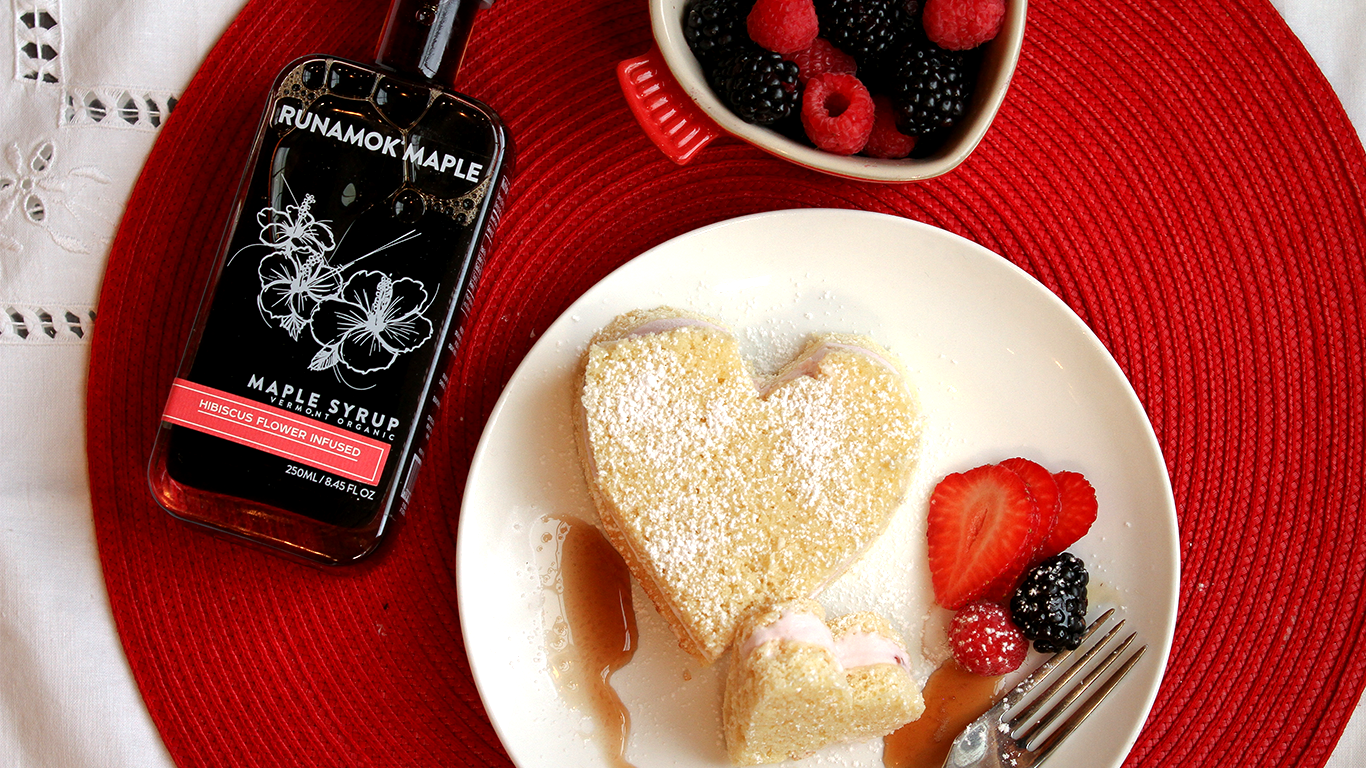 When we first created our barrel-aged and infused maple syrups, we knew they went well with ice cream but we needed to whittle down the choices so we could give our customers some guidance. To start, we went to the supermarket and bought every type of ice cream and sorbet we thought might have a mate in one of our syrups. One afternoon when most of the crew was at the sugarhouse, we put the ice cream out with our syrups, a stack of bowls and spoons, and asked them all for feedback (the woods crew work really hard, but there are a few perks). The big surprise of the afternoon was the Hibiscus Infused over strawberry ice cream; it was among everyone's favorite combinations of the whole trial. The tangy, floral notes from the hibiscus were the perfect compliment to sweet strawberry cream and the tub of strawberry ice cream and the bottle of Hibiscus Infused were the first to disappear. To make a fabulous combination even better, I added vanilla cake. This is an easy ice cream cake to make but the addition of Hibiscus Infused Maple makes it a very original dessert.
Read the whole hibiscus infused maple and strawberry ice cream cake recipe.
Maple Rum Cake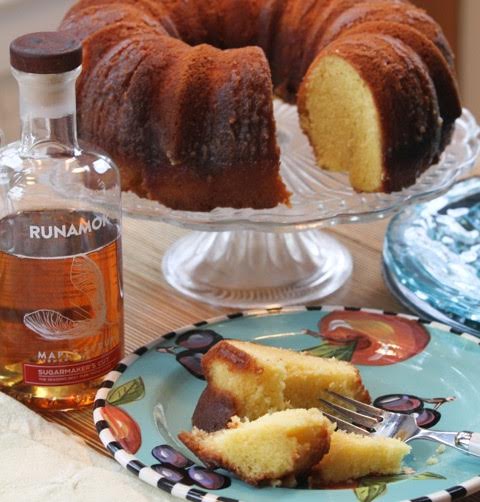 This recipe is a mix of Midwestern practicality, Eastern stubbornness and Vermont magic. I first tried rum cake when my sister-in-law, who is originally from Kansas, made it for me. It has been my experience that Midwesterners know how to bake excellent cakes and this one was heavenly. The recipe consisted of cake mix, instant vanilla mix, eggs, oil, butter and rum. I may have a degree from the French Culinary Institute but I am a child of Duncan Hines and my love of box cake runs deep. Making things from scratch is preferable but tasty is tasty and I think most will admit Duncan Hines yellow cake is pretty darned good. When I saw this recipe from King Arthur Flour, I recognized it was the same one, just substituting a cake from scratch for the box cake. I completely understand wanting to make the cake without a prepackaged mix but could it be as good? Halfway down the ingredients list, you will see that even the purists at King Arthur could not find a substitute for the instant pudding mix that would result in such a moist cake. The only thing left to do was to put a Runamok stamp on it by adding maple syrup to the rum and butter that soaks into the cake after it is cooked. The maple added a level of richness that even a Kansan would approve of.
This Maple Rum Cake recipe is for you, Jen.
Apple Snozgazzers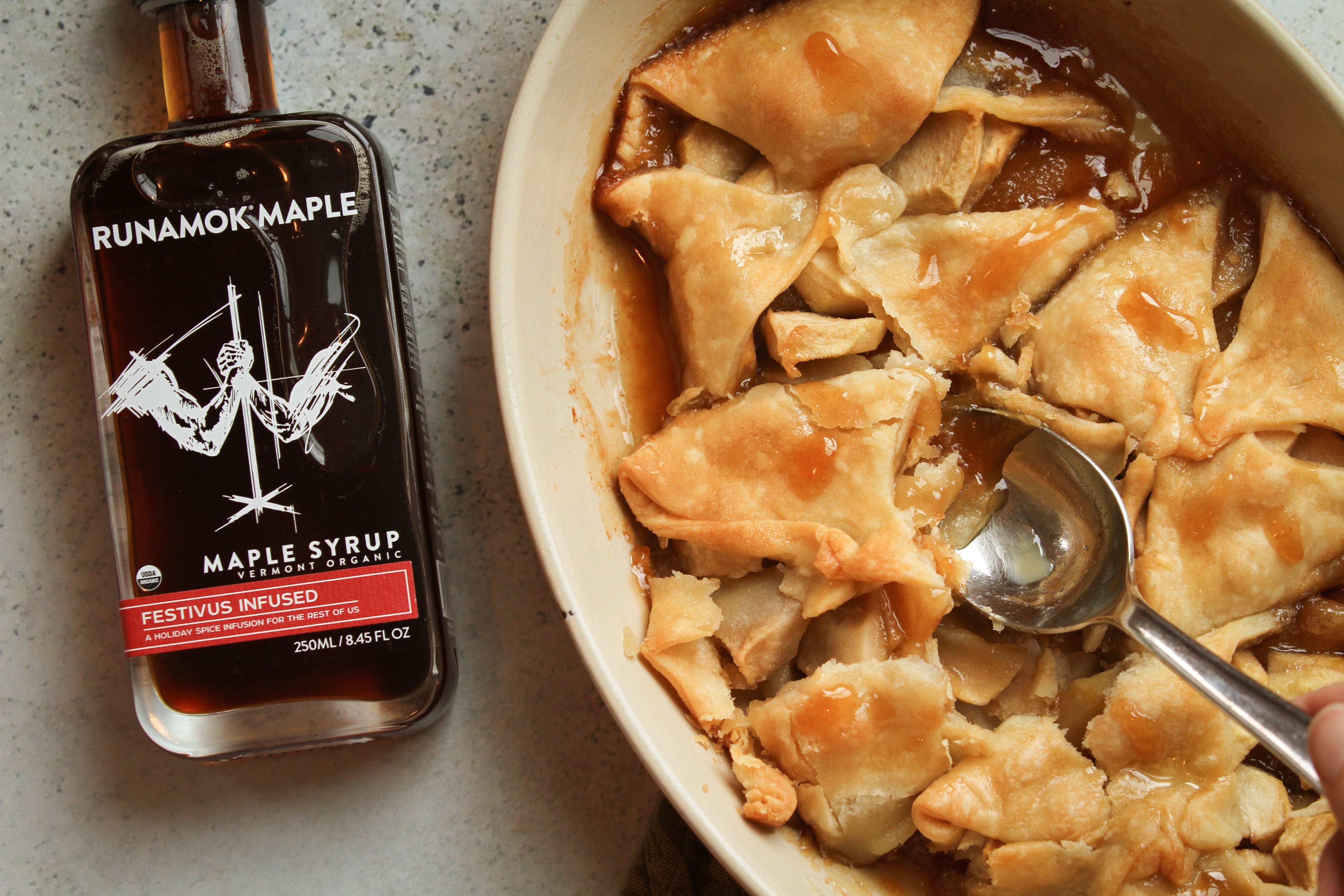 I was pondering a few recipes for Apple Dumplings and thinking that they aren't really dumplings at all. They are more like individual apple pies baked in syrup. It also occurred to me that rather than make syrup or use lemon/lime soda (huh?) like some recipes suggest, our holiday spiced, Festivus (or Holiday Spice) would be excellent bubbling away around those pies. Since I've already rejected the notion that they are dumplings, it was time to give them a better name. Apple Snozgazzers popped into my head. They sound fun, like a Roald Dahl creature (my apologies to the author if it really is one of his characters). They are gooey on the bottom and crisp on the top with sweet, soft apples in the middle. You can use Sugarmaker's Cut Pure Maple Syrup or our Cinnamon+Vanilla Infused Maple but around holiday time, Festivus will really knock it out of the park.
Read the full recipe for maple-infused apple snozgazzers.
Maple Glazed Pound Cake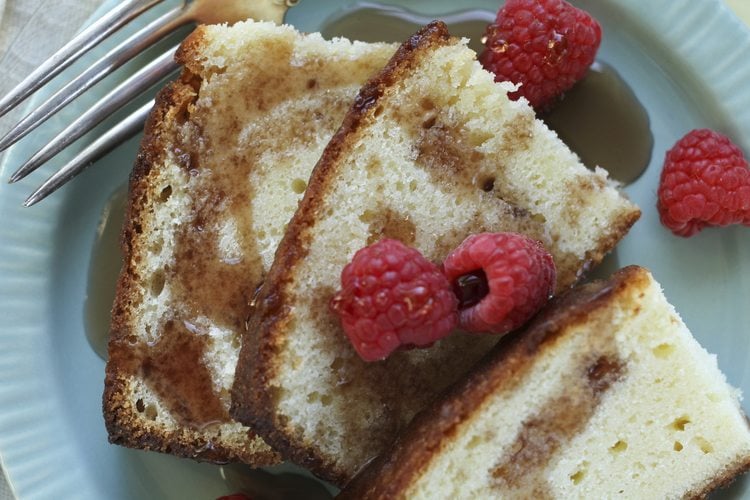 This is a very basic pound cake recipe that goes beautifully with any of our infused maple syrups. Light and buttery, it is the perfect canvas for any of them but especially the Elderberry, Cardamom or Bourbon infused. When I first started testing maple glazes with it, I found that I always wanted to add just a little more syrup to a sliced piece so I had the flavor in every bite. I realized a better means of serving the cake would be to slice it plain and then have the heated syrup with just a little butter in a small carafe on the side. Is this a little like serving up pancakes and syrup? Yes, it is. Is there a problem with that? Decidedly not.
Read the entire maple glazed pound cake recipe.
Maple Pudding Chomeur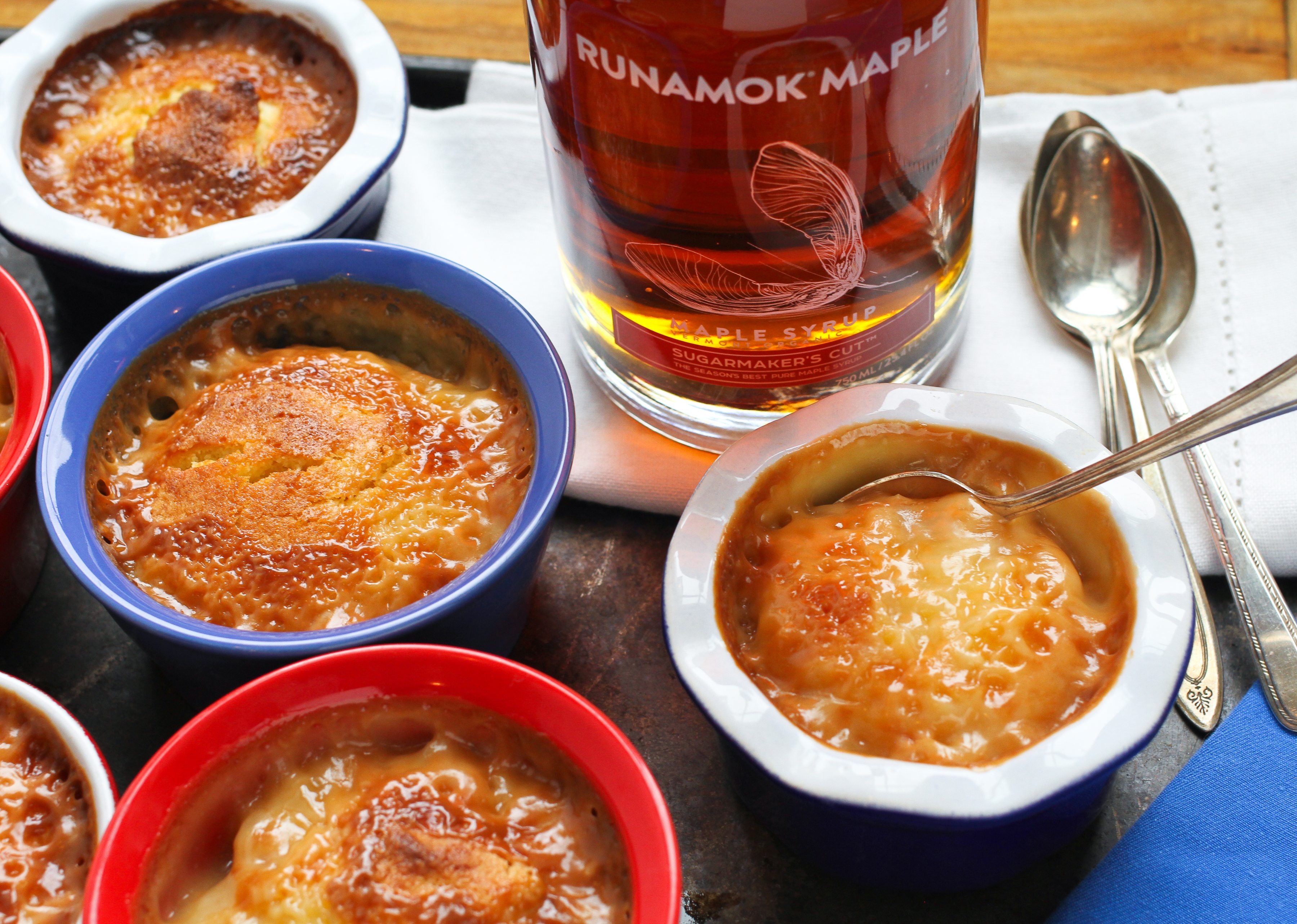 Pudding Chômeur is a dessert in which simple biscuit dough is poached in maple syrup caramel.  A version of this recipe worked its way down to Vermont (see recipe for Debbie's Rag Muffins) but the original is 100% made from scratch and oh, so decadent.  According to the Canadian Encyclopedia, the dish originated in the depression era when housewives relied on desserts made with simple ingredients.  The literal translation means "pudding of the unemployed," though there is absolutely nothing austere about it.
Read our pudding chomeur recipe.
Maple Princess Coffee Cake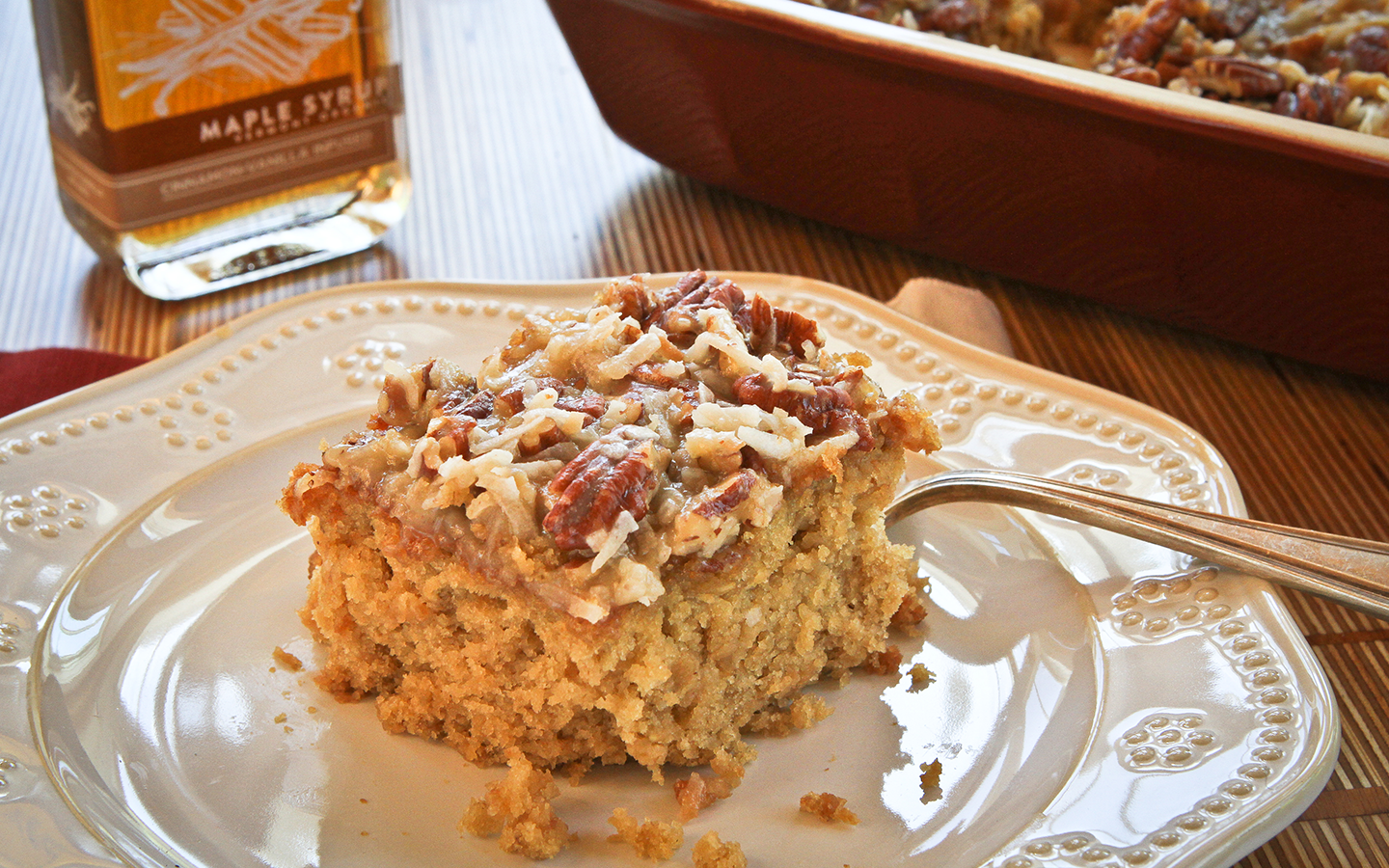 I am a big fan of the website Food52. If you haven't visited, it is a collection of recipes submitted by home cooks who happen to be very good. There are columns on all things culinary and a contest every week such as "Favorite Dish with Chickpeas" or "Favorite Way to Eat Eggs for Dinner". You may find my recipe for Maple Pudding among their catalog which I submitted for the contest "Best Maple Dish". (Didn't win – I would be bitter but the winner had a recipe for 18-hour roasted pork shoulder with maple and fennel that was to die for). This maple recipe was submitted by a person with the handle, hardlikearmour. She used a recipe from her local bakery and tweaked it to her liking. I have done the same here, putting a Runamok spin on it with our Cinnamon+Vanilla Infused Maple Syrup in the final glaze. If you are a cardamom fan the Cardamom Infused Maple Syrup would also work. This cake is moist and delectable with a sweet and nutty crumb topping. During sugaring season it gets devoured by the crew even if I double or triple the recipe.
Read the full recipe for our maple princess coffee cake.
Maple Tiramisu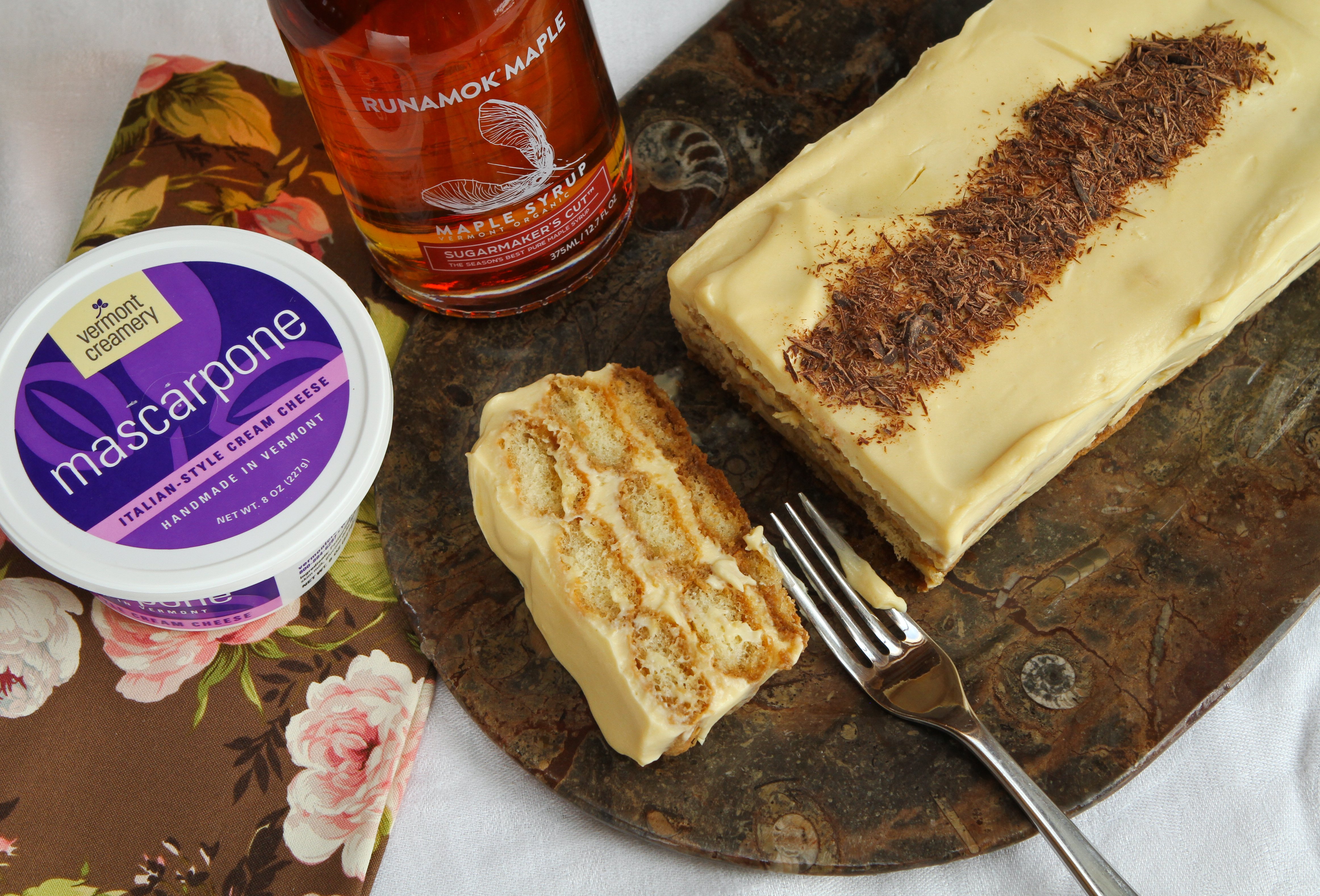 My mission in the kitchen is to see how maple syrup can be used in everyday cooking where the maple makes for better or sometimes just different results. In all honesty, for some recipes the maple flavor is not discernible and I revert back to plain sugar. For some dishes the maple syrup makes the recipe infinitely better. This is one of those cases. This pastry is not only my favorite discovery of this season, it is possible I have found my Kryptonite.  It turned out well. Really, really well. I ate it for breakfast five days in a row. It is possible I might have also had it for dessert on those nights. My husband can tell you that for a food-obsessed person, I don't actually eat that much. I ate all of this.
Check out the maple tiramisu recipe, or see more of our favorite maple dessert recipes.
Let us know on social media which of these recipes is your favorite, and which syrups are your favorites to bake with!