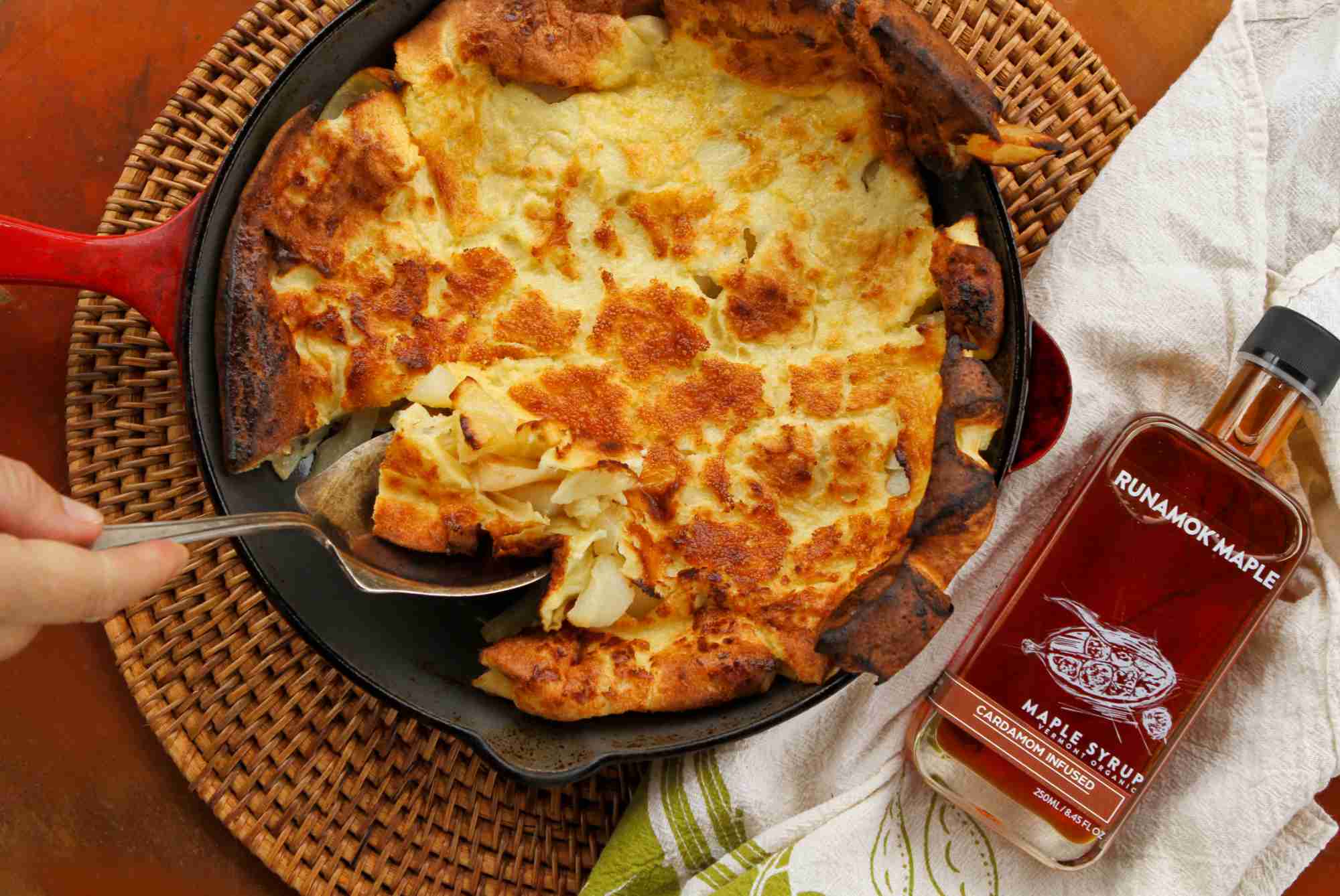 I remember making Dutch Apple Baby in elementary school and thinking that, though the name was peculiar, the Dutch had some very good notions about apples and pancakes. It turns out that though the Dutch are very fine people, the dish has nothing to do with Holland.  According to Sunset Magazine, the owners of Manca's Café in Seattle, WA created the recipe in the early 1900s based on traditional German pancake.  According to family lore, one of the daughters named it, confusing Deutsch with Dutch and tacking on 'Baby' because, why not.  Dutch Baby was such a popular item at the café, they even trademarked it until the middle of the 20th century.
A Dutch Baby is essentially Yorkshire Pudding or popover batter, sweetened a little and cooked in the oven in a decadent puddle of butter.  Traditional recipes have it both with and without apples and a dusting of confectioners' sugar.
I thought a Dutch Baby would be a good match with our maple syrups.  As it happened, I had more pears than apples on the day I wanted to try it and that turned out to be a good thing.  I also happened to have an opened bottle of our Cardamom Infused Maple Syrup nearby just as it came out of the oven and that was even more fortuitous.  You can serve this with nearly any of our infused or barrel-aged maple syrups and it is excellent but there was something about the pears and cardamom that was truly delicious and unique.
The only thing that is a must with this dessert is that you have to serve it immediately.  It comes out of the oven all puffy and lovely.  It will deflate quickly which is fine but it is not very good cold as the eggy nature of the batter can become rubbery.  So put it in the oven as you are sitting down for dinner and your timing should be perfect (just set a timer so you don't forget it).
A German recipe which uses an English batter that was given a whimsical name by a child from Seattle and then copywrited – what could be more American?  To continue its evolution, I've added a North American topping and made the title a little sassy by strategic placement of a comma.  Enjoy.
Dutch Pear, Baby
3 ripe pears, peeled, cored and cut into large dice
4 Tbsp butter
1 Tbsp sugar
1 tsp ground cinnamon
¾ cup all purpose flour
¼ tsp salt
¾ cup milk
4 eggs
1 tsp hazelnut (or vanilla) extract
Runamok Cardamom Infused Maple Syrup (or any of the barrel-aged, pure or infused syrups)
Preheat oven to 400F.
In a 10" ovenproof skillet, melt the butter and add the pears.  Let them cook gently over medium heat until just starting to brown, about five minutes.
In a bowl, mix the remaining ingredients up to the vanilla (or hazelnut) extract.  Make sure the pears are evenly distributed in the skillet and pour the batter over them.  Transfer the skillet to the oven and cook for approximately 12- 15 minutes or until the top begins to brown.  Remove from the oven and serve immediately with Cardamom Infused Maple Syrup or other syrup of your choice.