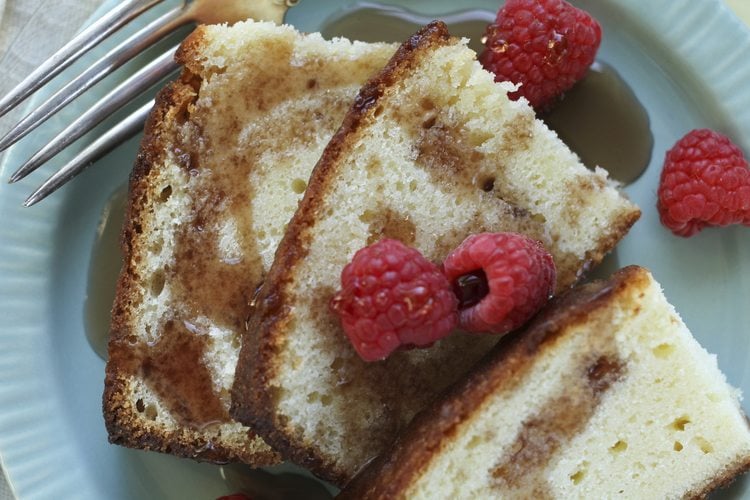 This is a very basic pound cake recipe that goes beautifully with any of our infused maple syrups. Light and buttery, it is the perfect canvas for any of them but especially the Elderberry, Cardamom or Bourbon infused. When I first started testing maple glazes with it, I found that I always wanted to add just a little more syrup to a sliced piece so I had the flavor in every bite. I realized a better means of serving the cake would be to slice it plain and then have the heated syrup with just a little butter in a small carafe on the side. Is this a little like serving up pancakes and syrup? Yes, it is. Is there a problem with that? Decidedly not.
Pound Cake
3 Tbsp milk
3 eggs
1 tsp vanilla
1 ½ cup cake flour
¾ cup sugar
1 tsp baking powder
Pinch of salt
13 Tbsp butter, softened
Maple syrup – Sugarmaker's Cut or any flavor of infusion
butter
Preheat oven to 350 F. Grease and flour either a loaf pan or a small bundt pan (6 cup).
In a large mixing bowl or standing mixer, put all of the dry ingredients. Cut the butter into slices and add it, incorporating with beaters or your fingers. Blend the milk, eggs and vanilla in a separate bowl. Add it slowly, blending with beaters or a large spoon. Pour into the pan and put in the oven. The cake is done when it is slightly brown on top and a fork comes out clean when pressed in the middle.
When ready to serve, slice a piece of the pound cake and put on a plate. Pour about ½ cup maple syrup (pure or infused) and one tablespoon of butter in a small pot and gently heat until the butter is melted. Serve on the side.