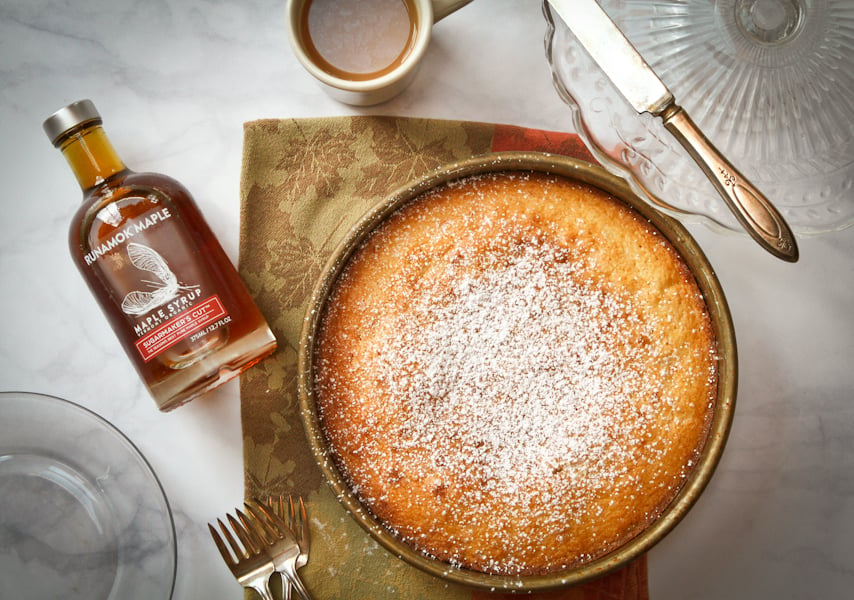 The title of this cake pretty much says it all.  Yes, it is buttery – the very best things in life are.  Yes, it has maple flavor – a subtle hint in the top layer that gets some backup when you pour some extra over the finished product.  Yes, it turns out like a cake – perfect for tea time.
Maple Butter Cake*
For the crust:
2 cups flour (divided into 2 x 1 cups)
3 Tbsp sugar
½ tsp ground cinnamon
1/3 cup chilled butter cut into small pieces
For the cake:
¾ cup room temperature butter
¾ cup granulated sugar
1 egg
2/3 cup Sugarmaker's Cut pure maple syrup
½ cup half and half
confectioner's sugar for dusting
Additional maple syrup for topping (any of the Runamok Barrel-aged recommended)
Preheat oven to 350.  Line the bottom of a 9" springform pan with parchment paper.
In a medium bowl, add 1 cup flour, 3 tablespoons sugar and the cinnamon and blend.  Add the cold butter and combine with your fingers or a fork until crumbly and just clinging together.  Pat into the bottom of the pan to form a crust and put in the oven.  Bake for five minutes.
In a large bowl, beat the butter until fluffy.  Add the ¾ cup sugar and beat another few minutes.  Beat in egg and maple syrup.  Add remaining 1 cup flour and half n' half alternatively and beat until just combined.  Pour batter over pre-baked crust and return to the oven.  Bake for about 35 minutes or until a fork comes out clean.  Let it cool.
When ready to serve, gently cut around the edges of the pan and release the springform edge.  Place the cake on a plate or cake stand, dust with confectioner's sugar and serve with any Runamok barrel-aged maple syrup on the side.
*Adapted from Better Homes & Gardens – Fall Baking issue 2017