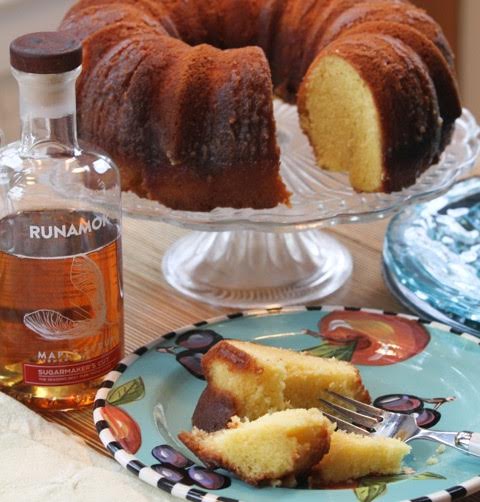 This recipe is a mix of Midwestern practicality, Eastern stubbornness and Vermont magic.  I first tried rum cake when my sister-in-law, who is originally from Kansas, made it for me.  It has been my experience that Midwesterners know how to bake excellent cakes and this one was heavenly.  The recipe consisted of cake mix, instant vanilla mix, eggs, oil, butter and rum.  I may have a degree from the French Culinary Institute but I am a child of Duncan Hines and my love of box cake runs deep.  Making things from scratch is preferable but tasty is tasty and I think most will admit Duncan Hines yellow cake is pretty darned good.
When I saw this recipe from King Arthur Flour, I recognized it was the same one, just substituting a cake from scratch for the box cake.  I completely understand wanting to make the cake without a prepackaged mix but could it be as good?  Halfway down the ingredients list, you will see that even the purists at King Arthur could not find a substitute for the instant pudding mix that would result in such a moist cake.  The only thing left to do was to put a Runamok stamp on it by adding maple syrup to the rum and butter that soaks into the cake after it is cooked.  The maple added a level of richness that even a Kansan would approve of.  This one is for you, Jen.
Maple Rum Cake
For the cake:
Preheat oven to 325.  Grease and flour a 12 cup bundt pan and set aside.  Combine flour, salt and baking powder in a small bowl.
In a standing mixer or using a large spoon, cream the butter and sugar together.  Add the eggs and oil and stir until blended.  Mix in the vanilla pudding mix.  Alternate adding the flour mixture and the milk.  Lastly, add the rum.  Pour the batter into the bundt pan and cook for approximately 45 to 50 minutes or until a fork piercing the cake comes out clean.
For the syrup:
Melt the butter and maple syrup together in a pan.  Remove from the heat and add the rum.  Slowly pour the warm mixture over the warm cake (while it is still in the pan) letting the syrup soak into it evenly.  You may want to poke a few holes with a fork in the middle of the cake to distribute it.  Let it sit for a few hours and then loosen the cake and tip it out of the pan onto a serving plate.  Serves 10-12.