The holiday season is upon us, and this year is certainly looking different than the last. In that time we've learned some valuable lessons that we won't be quick to forget: how to find unique ways to stay connected with loved ones near and far, the importance of shopping small and supporting the local business within our own communities, and the necessity of embracing little moments of sweetness wherever we may find them.
We've put together our 2022 Holiday Gifting guide with just those principles in mind, by pairing our favorite Runamok products with the perfect companions to cater to all the different personalities in your life. These gift suggestions leave plenty of space to customize with your own personal favorites and let your recipient know it was hand-crafted just for them.
We hope this guide offers unique and thoughtful ways to shop, give, and share some sweetness this holiday season.
FOR THE ENTERTAINER
Runamok Cocktail Mixers + Bitters paired with a Bar Kit and Specialty Glassware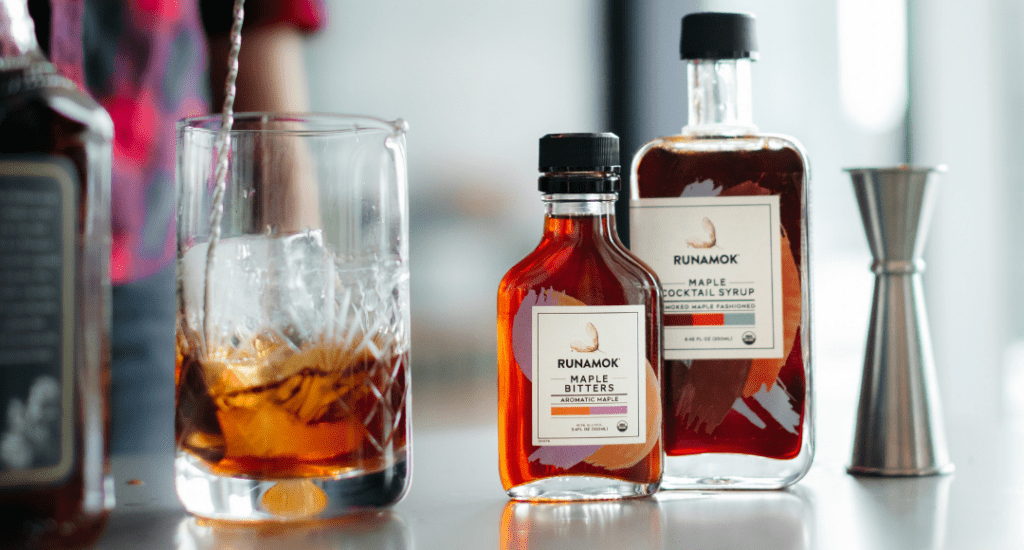 You know that person in your life who loves to host a dinner party, has a crowd over every Sunday to watch the game, or just moved into a new spot and might need a little boost to their hosting setup? This gift is for them. Our line of maple-based cocktail mixers and bitters are an easy way to craft classic, high-quality cocktails at home. In true Runamok fashion, our products are only made with real herbs and spices, infused in organic maple syrup – no refined sugars, no additives – with a signature drink for every palate. 
Pair a selection of Runamok Cocktail Mixers and Bitters with a bar kit (or specialty glassware for their favorite cocktail, like our Runamok rocks glass), for a perfectly curated gift they'll love – and love to share!
Bonus: complete the set up with a bottle or two of the hard stuff – our drinks of choice come from our neighbors at WhistlePig for rye whiskey and Caledonia Spirits for their Barr Hill Gin. 
FOR THE COFFEE LOVER
Runamok Infused Maple Syrup with a handcrafted mug and locally roasted coffee beans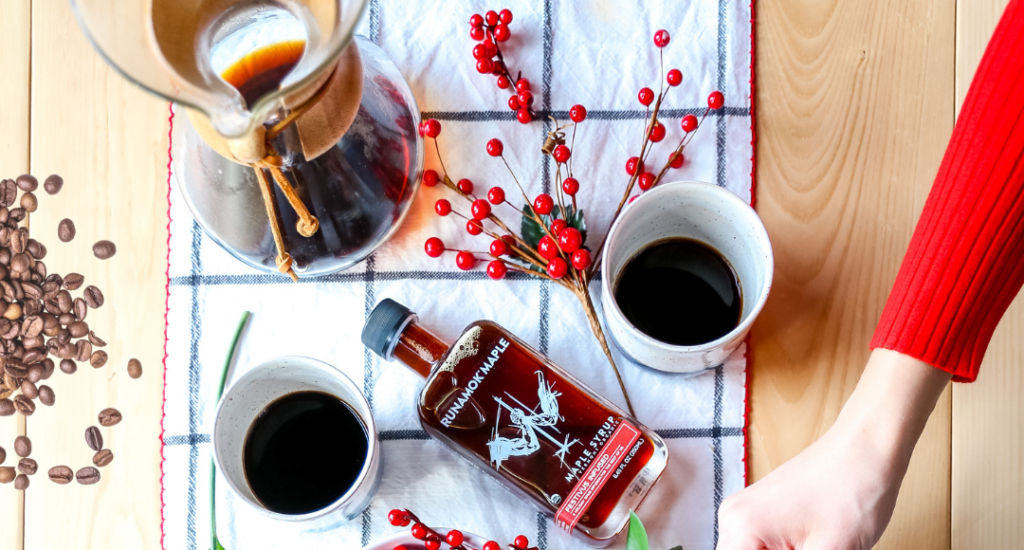 For a thoughtful gift for any coffee enthusiast, we've long been preaching the perfect pairing of maple syrup and coffee. A splash of Sugarmaker's Cut, Cinnamon Vanilla, or Holiday Spice Infused syrup is a fabulous and all-natural sweetener in your morning joe or weekend latte.
Pair a couple bottles of Runamok Infused Maple Syrup with a bag of locally roasted beans and a new mug (preferably from a local potter). It's good for your local economy and even better for your lucky recipients.
Bonus: Consider a Runamok bottle of the month subscription, a Jeremy Ayers Pottery mug club membership, and a recurring delivery from our friends at Vermont Artisan Coffee & Tea Co. to let them know you're thinking of them all year-round. 
FOR THE BAKER
Runamok Maple Bitters and syrup Pairing Collection with a pie plate and tea towels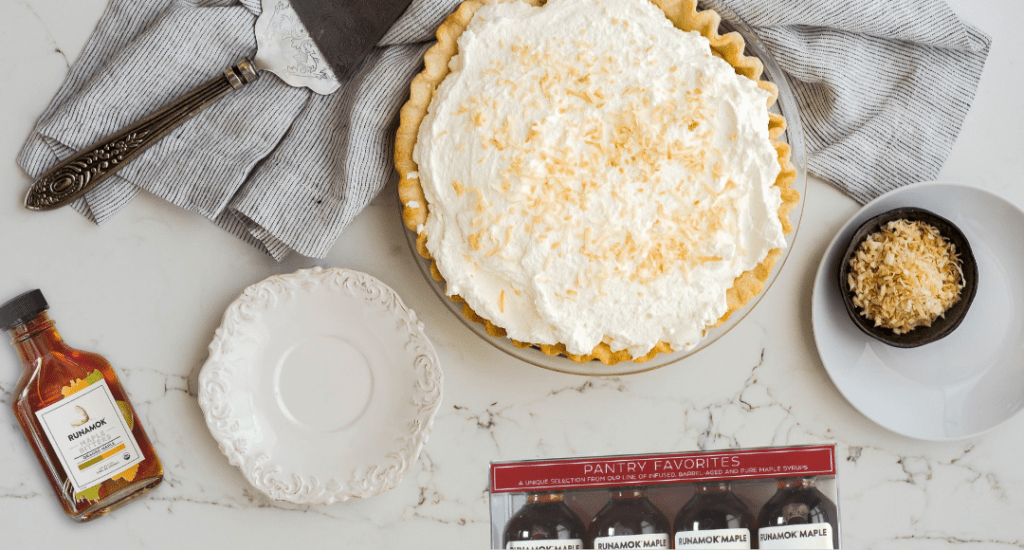 Bitters for baking? Most people are familiar with their use in cocktails, but it's never too late to teach a seasoned baker new tricks and our Runamok Maple Bitters are sure to pique their interest. We recommend trying bitters in place of flavorings like vanilla extract, as we do in these Orange Linzer Cookies. The bitters bring with them an added punch that may be subtle, but would be missed if it wasn't there. Our infused maple syrup Pairing Collections offer a new twist on a familiar ingredient, and the sample sizing provides a variety of flavors to test out in several new recipes (let's just hope you live close enough to your recipient to reap the benefits of this gift that keeps on giving).
Pair Runamok Maple Bitters and a maple Pairing Collection sets with an oven-safe pie plate and a set of printed tea towels for a polished presentation of their new culinary masterpieces.
Bonus: We offer several different options for Pairing Collection combinations to personalize each gift specifically for your intended recipient, and you can find tea towels in a variety of colors and patterns to match their style.
FOR THE READER
Infused Honey with a new book, tea, and a reusable tote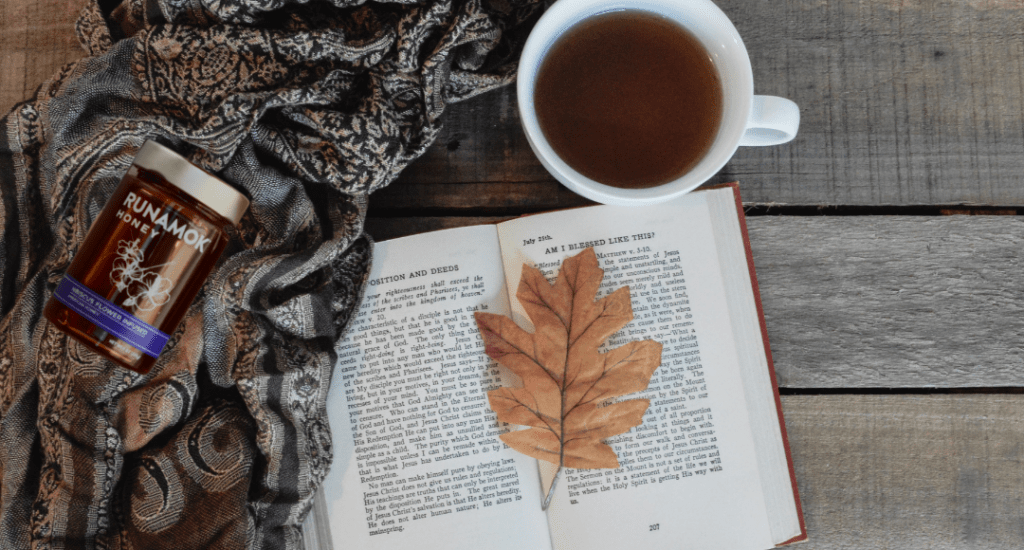 A new book is always the right gift for the avid reader in your life, and winter is the time to cozy indoors with a good story. We recommend sweetening the deal with some essential accessories like tea and honey, the trusty companions for any good book-binge. Our new line of infused honeys are made with the highest quality organic ingredients for unique flavors as complex as a James Joyce plot.
Pair our herbal Lemon Verbena Infused Honey and our bright and tart Hibiscus Flower Infused Honey with a new hardcover, assorted teas, and a stylish tote to carry it all.
Bonus: Can't decide on a flavor? Gift them with Honey: The Complete Collection to enjoy them all.
FOR THE TRAVELER
Maple Syrup Large Gift Box with a best-selling international cookbook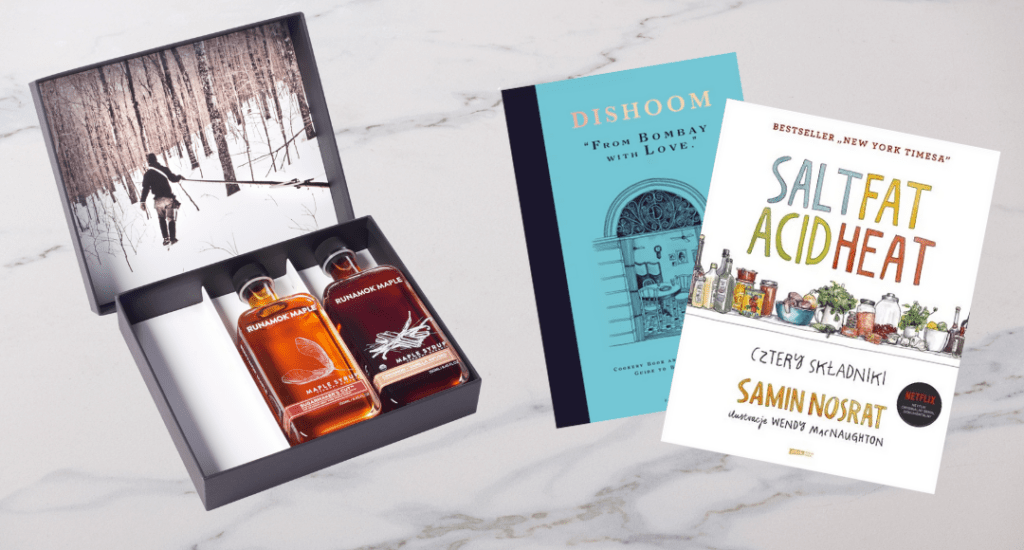 Life is one big adventure, and no globetrotting adventure is complete without the food. While your favorite jet-setter may not be skipping abroad as much these days, gift them with a global culinary adventure to enjoy in their own home. Runamok was founded with a desire to embrace both the history of maple and the opportunity to discover new ways of using it in international and modern cooking. For this, we turned to unique ingredients and bold infusions flavors like the delicate and floral Makrut Lime Leaf (a popular ingredient in Southeast Asian cuisine), Merquén Smoked Chili Pepper (a traditional Chilean spice blend), and Cardamom (a warm spice familiar from masala chai, Indian curries, and desserts throughout the Middle East).
Pair a Large Custom Gift Box (we recommend Makrut Lime Leaf, Merquén Smoked Chili Pepper, Cardamom, Ginger Root, or Hibiscus infused maple syrups) with an international cookbook from their favorite destination. We love Dishoom: from Bombay with Love for it's gorgeous culinary history of cafe culture in India's largest city, and Salt Fat Acid Heat for Samin Nosrat's accessible breakdown of the elements of good cooking (while Samin is a US-based chef, Salt Fat Acid Heat's global perspective and accompanying Netflix docuseries of the same name is enough to give anyone the travel bug!).
FOR SELF CARE
Raw Honey Trio with spa facial masks and a candle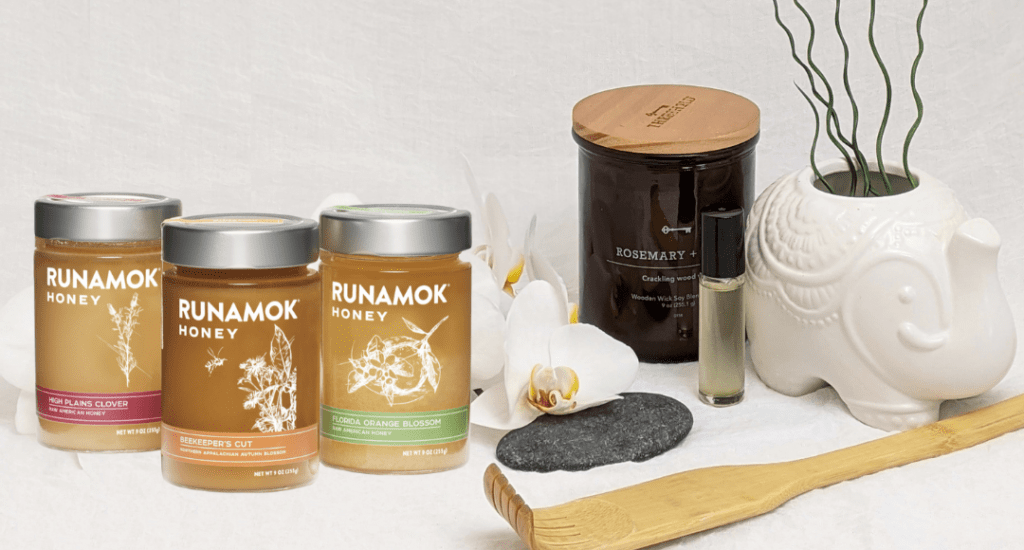 Honey has held an important place in wellness and care for millennia. While we can't verify that our honey will cure your every ailment, we can say that our raw varietal honeys are about as close as you can get to tasting pure honey straight from the hive. We gently filter our honey, making sure we retain much of the original pollen and propolis, which provide raw honey many of its incredible medicinal qualities. It's also an ideal all-natural sweetener for granola, smoothies, veggies, tea, dressings, and more.
Pair our three varieties of raw honey – Beekeeper's Cut Northern Appalachian Autumn Blossom, High Plains Clover, and Florida Orange Blossom – with a set of all-natural face masks (the spa kind, not the PPE kind), and a luxurious scented candle to set the scene for ultimate relaxation.

FOR THE KIDS (OR KIDS AT HEART!)
Sparkle Syrup with pancake set and a board game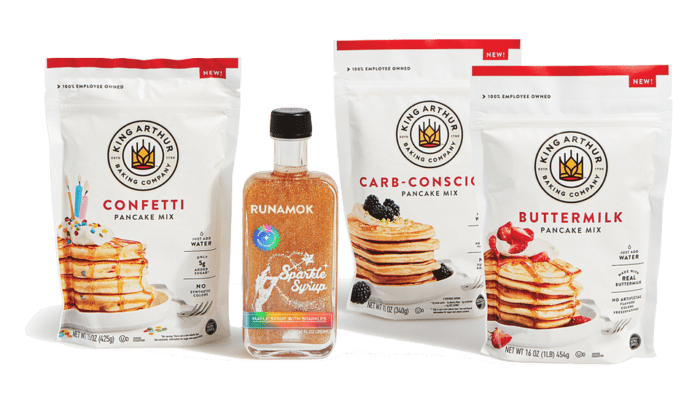 For all the kids (or kids at heart), gift some fun this year. Our Sparkle Syrup® was created with one sole purpose: to make you smile. Our friends at King Arthur Baking Company have a selection of pancake mixes ranging from classic buttermilk to fun flavors like pumpkin and confetti. Add in a board game for a morning of family fun after opening gifts, or to save for the next snow day.
Pair Sparkle Syrup with King Arthur Baking Company pancake mix and a new board game. Go ahead and toss in some candy, too – it's the holidays after all!