Sparkle Syrup®
$18.95 – subscription plans starting at
every 2 weeks
Sparkle Syrup is pure maple syrup infused with sparkles (pearlescent mica). Perfect for all ages, transform everyday food and beverage with this magical maple syrup.
Tasting Notes
Sparkle Syrup is simply pure maple syrup infused with sparkles- the sparkles impart no taste to the pure maple syrup.
Recommended Uses
Use it anywhere pure maple syrup applies- bring a sweet shimmer to pancakes, cocktails, veggies, oatmeal and beyond.
Sourcing
Our pearlescent mica is sustainably sourced from within the US and is certified food safe for consumption by the FDA.
Ingredients
Pure Vermont Maple Syrup, Mica-based Pearlescent Pigment
Runamok is a family-owned and operated specialty foods company based in Northwestern Vermont. All products are made at our facility in Fairfax, Vermont.
We are committed to sustainability. Our maple syrup is sourced from our certified organic, bird friendly sugarbushes right here in Vermont and from family-operated sugarbushes across the state of Vermont. The mica used in our Sparkle Syrup is sustainably sourced from within the United States and is approved by the FDA.
Sparkle Syrup is Certified Kosher by the Orthodox Union, is naturally gluten free and is vegan friendly.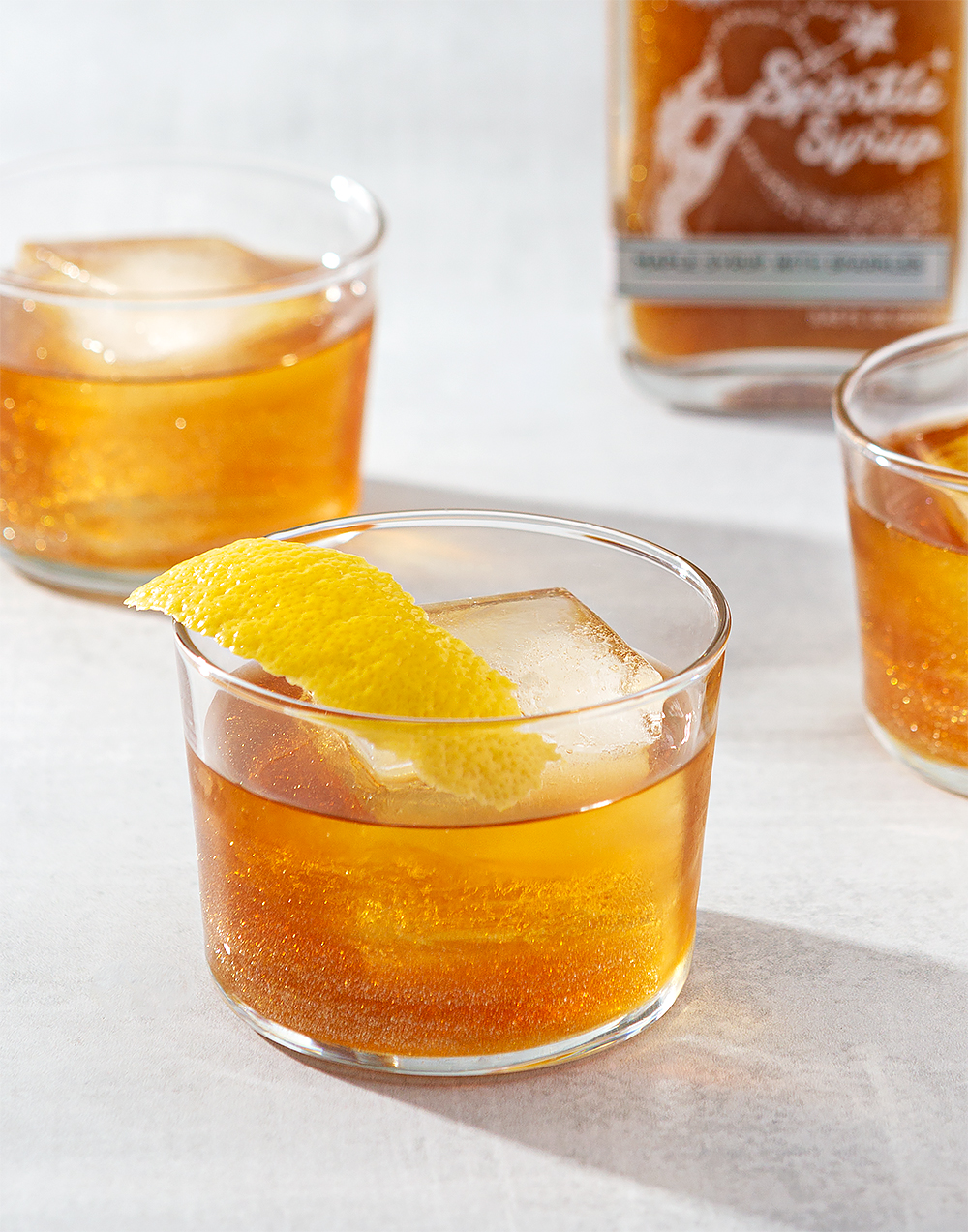 What Makes it Sparkle?
We added a food-safe pearlescent mica to our best pure maple syrup. The sparkles are flavorless so it tastes just like our pure maple syrup but oh, so much more fun. The sparkles do settle after time, so be sure to turn the bottle upside down and shake vigorously to bring them back to life.
What can you do with it? 
Pour it on your pancakes or French toast for a shimmery breakfast.  Slice up some apples and dip them in it for a shiny afternoon treat. Make a homemade maple lemonade and stir in some sparkly sweetness. Or add a spoonful to your favorite cocktail for a little razzle dazzle in your drink. We've had a lot of fun experimenting with this syrup and we encourage you to do the same. Share your favorite sparkle recipes with us on social media, we'd love to share your creations.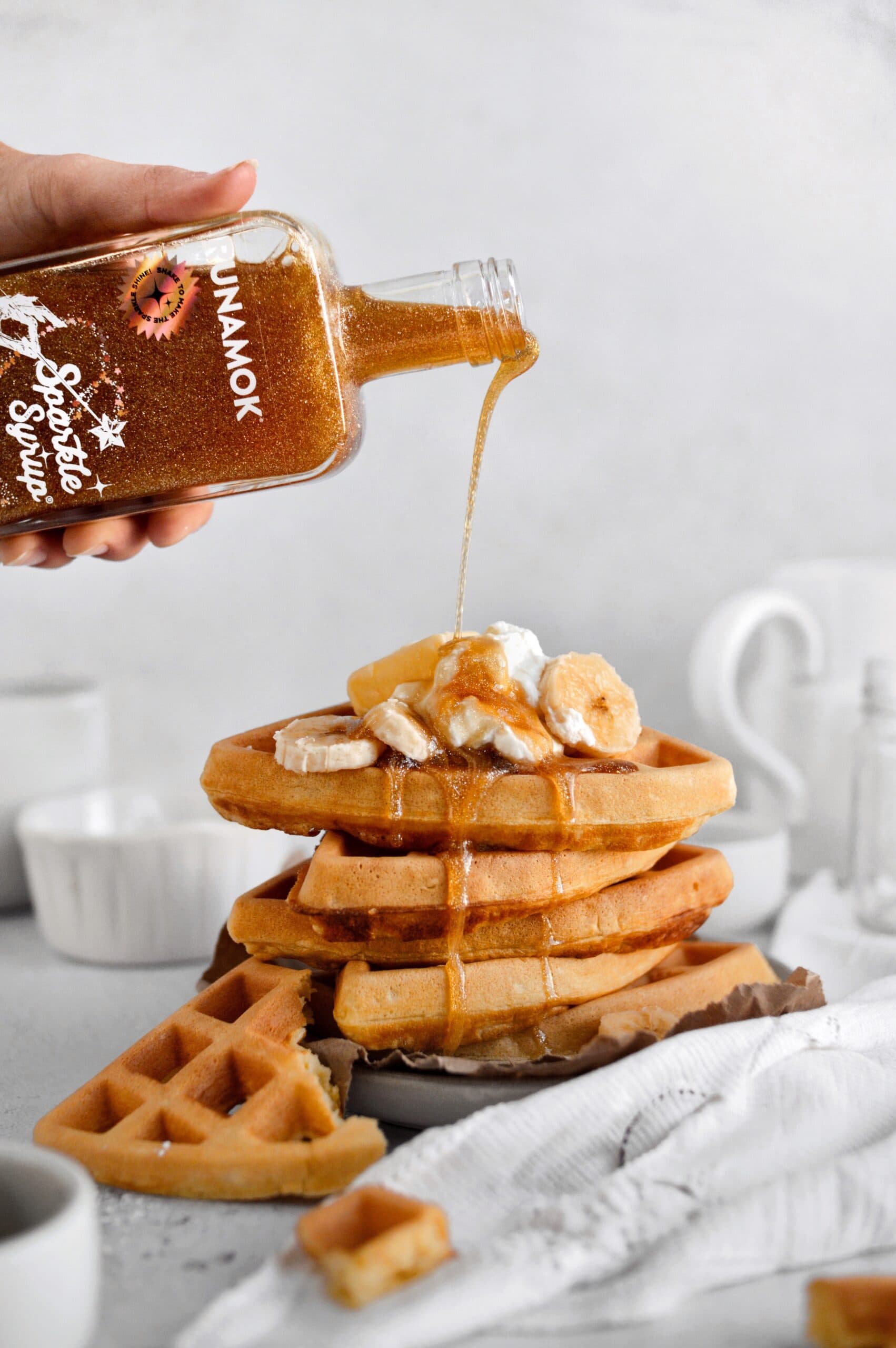 Nutrition Facts
The following information is provided for a single serving (2 tbsp or 30mL)
| | |
| --- | --- |
| Calories | 110 |
| Total Fat | 0g |
| Sodium | 5mg |
| Total Carbohydrate | 27g |
| Total Sugars | 24g |
| Protein | 0g |
| Calcium | 30mg |
| Potassium | 90mg |
| | |
| Ingredients: | Pure Vermont Maple Syrup, Mica-based Pearlescent Pigment |
Product Details
Pure maple syrup infused with food-grade edible sparkles? It's basically bottled magic. Transform your favorite food or drinks with this shimmering bottle of deliciousness. Whether pouring it on breakfast favorites, livening up desserts, using it as a dipping sauce or taking cocktails to the next level, Sparkle Syrup is guaranteed to make the experience a lot more fun.
Why did we create Sparkle Syrup? 
Sparkle Syrup was created with one sole purpose: to make you smile. When 2020 was delivering one blow after another, we decided to create a new product that might bring a little joy to our customers' lives. After quickly becoming our top-selling item, we think Sparkle Syrup did exactly that. It was such a hit, we decided to pull its 'limited' status and make it a year-round product.
Please note: the flavor label and medallion on the bottle are holograms, so they take on different colors in different lights. Pretty cool, eh?