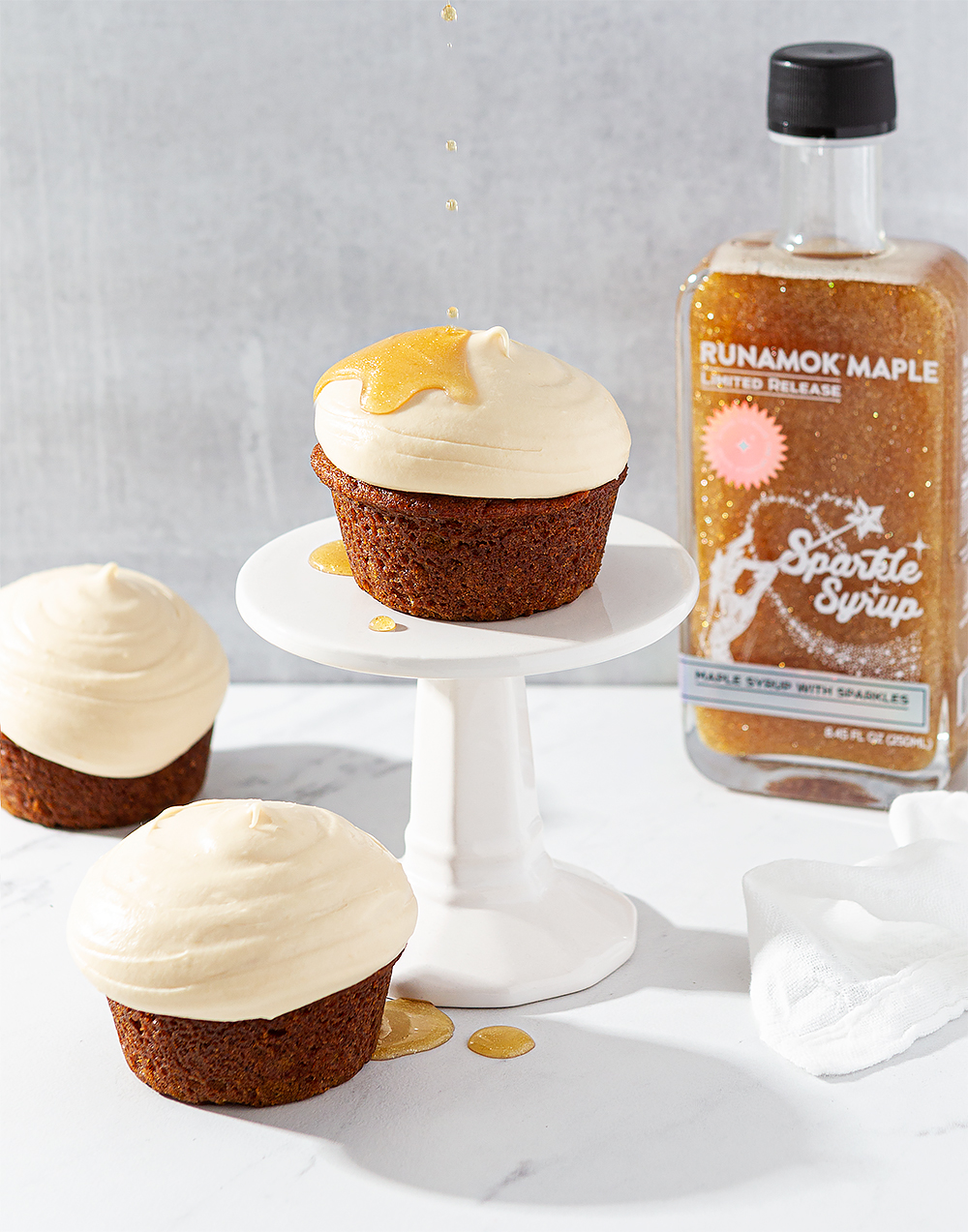 Ingredients:
Pumpkin Cupcakes:
1 1/2 cups flour
1 tsp baking soda
1/4 tsp. baking powder
1 tsp salt
1 1/2 tsp ground cinnamon
1 tsp ground ginger
1/2 tsp ground nutmeg
1/4 tsp ground cloves
1/3 cup milk
1/2 tsp vanilla extract
6 tbls butter (softened)
1 cup granulated sugar
1/3 cup brown sugar
2 large egg
1 cup pumpkin puree
Caramel Frosting:
1/2 cup granulated sugar
4 tablespoons water
1/2 cup heavy cream
2 tsp vanilla extract
24 tablespoons unsalted butter (3 sticks)
1 tsp salt
2 1/2 cup powdered sugar
Runamok Sparkle Syrup (to finish)
Pumpkin Cupcake Instructions:
1. PREP: First, we're going to mix a bunch of stuff up separately only to mix it all together later. In one bowl whisk together your first set of dry ingredients (flour, baking soda, baking powder, salt, cinnamon, ginger, nutmeg, cloves). In a separate, smaller bowl combine milk and vanilla. Set both of these bowls aside.
2. COMBINE: In a large bowl or in a mixer, beat together butter, sugar and brown sugar, until fluffy. Then, one at a time, add the eggs. Once eggs are combined, beat in pumpkin on low speed.
3. ADD: In 3 parts, add the flour and milk mixture; alternating between the two. Beat on low speed until completely incorporated.
4. POUR: Line your cupcake pan, I used parchment paper, and fill each liner with a couple of spoonfuls of batter.
BAKE: @ 350* for 25 to 30 minutes, or until a toothpick inserted into the center comes out batter-free, then let cool.
Salted Caramel Frosting Instructions:
1. COOK: In a small saucepan, briefly stir together sugar and water and bring to a boil. Continue cooking on medium-high heat, without stirring, until the mixture turns dark amber in color. About 7-8 minutes.
2. ADD: Remove sugar and water mixture from heat and slowly add in cream and vanilla. Stir with a wooden spoon until mixture is completely smooth. Then set aside until it is cool to the touch. About 30 min.
3. COMBINE: In a mixer, combine butter and salt on medium-high speed until fluffy. Then, on low speed, add powdered sugar and mix until incorporated. Once powdered sugar is combined, turn the mixer off, scrape down the sides and add the cooled caramel. To combine caramel, beat on medium-high for 2-3 minutes until airy and thoroughly mixed.
4. CHILL OUT: Cover the frosting and refrigerate for about 45 minutes. Drizzle Sparkle (or any Runamok) maple syrup on top to serve.