When we think of grilling and barbeque, we think of glazes that are robust, tangy and slightly sweet.  Maple syrup is the perfect ingredient for the sugary component – rich, complex, and already in syrup form to add to sauces and marinades. And, of course, using Runamok's infused and smoked maple syrups make it that much easier to kick it up a notch. Here are a few of our favorite recipes for summer grilling that we return to again and again because they are so, so good.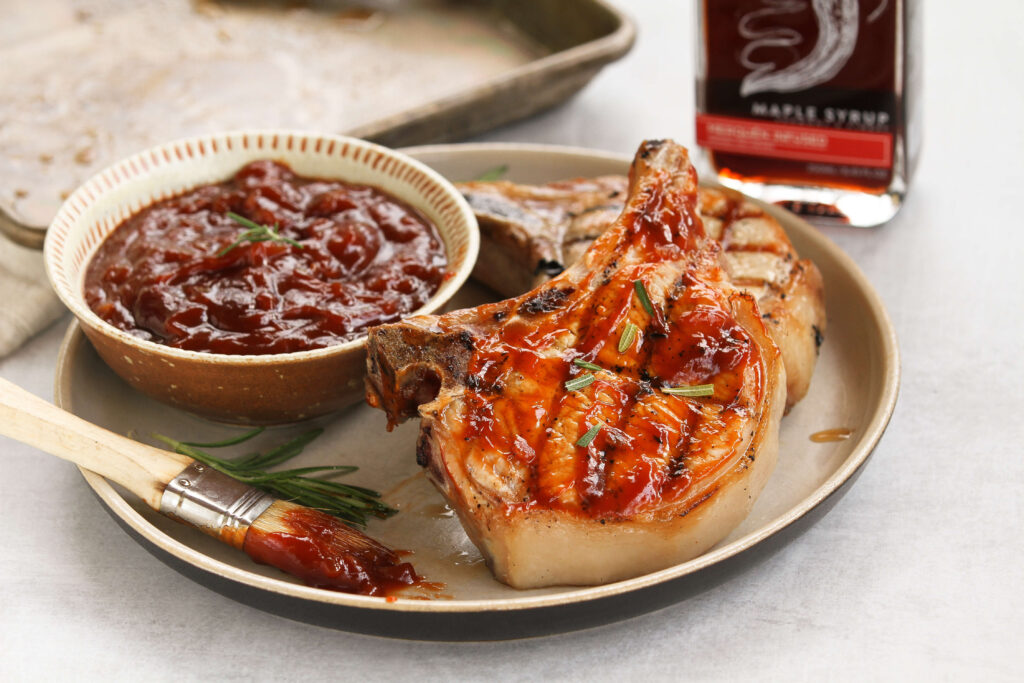 This basic barbeque sauce could not be easier – its just ketchup, maple syrup, worcestershire, vinegar, and onions.  It only takes ten minutes to cook and is useful for many cuts of meat or tofu. It is perfect on pork chops but also revs up chicken. You can use Pecan Wood Smoked Maple for a mildly smoky sauce or use Merquen Infused for an extra kick of spice on top of the smokiness.  You can also use our pure maple syrup if you don't care for smokiness at all (we won't judge). The barbeque sauce can be applied before, during or after grilling just be sure not to mix any that has been applied to raw meat with the finished dish.
Two great toppers to apply to already grilled items is the Fennel Hibiscus Chutney and the Mango Relish with Rum Barrel-Aged Maple.  Made with sauteed fennel and onions and Hibiscus Infused Maple, the chutney is tangy and bright which makes it perfect for red meat such as lamb or beef.  You can make it ahead of time and serve it up as soon as your meat comes off the grill, making a meal that is both gourmet and easy. The Mango Relish can also be made ahead and doesn't require any cooking. It is sweet and slightly spicy, making it perfect on hot dogs, shrimp and chicken kabobs. We put Rum Barrel-Aged in our version but the ingredients are flexible enough that many of the Runamok syrups would work well, like Ginger Infused.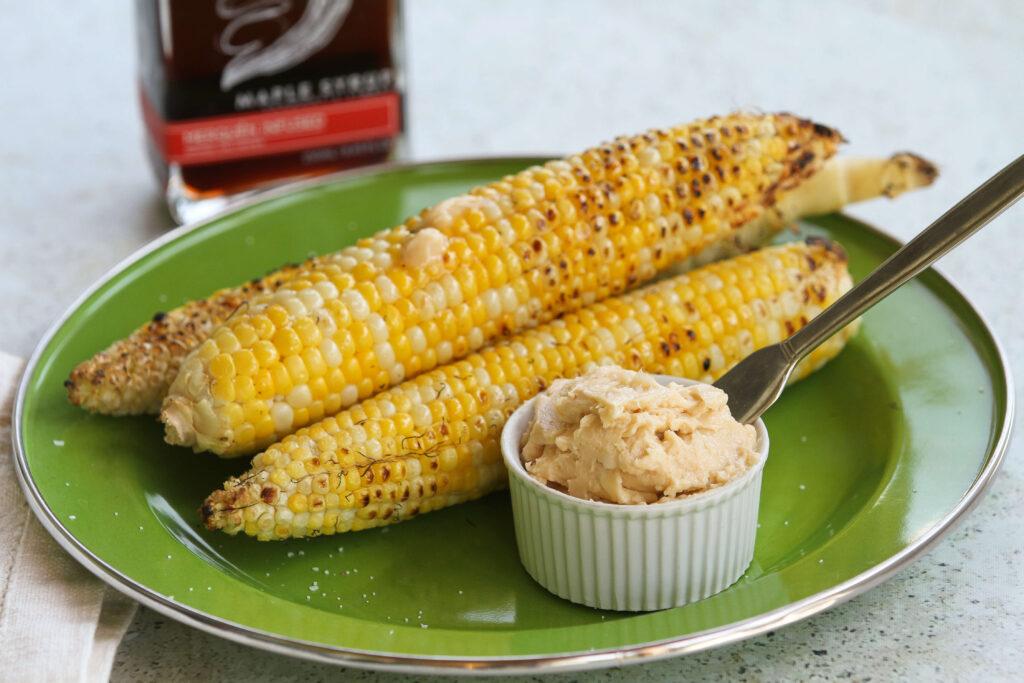 A few nice side dishes that use maple both incorporate our Merquen Infused Maple (this stuff was made for bbq). Spicy Cole Slaw goes well with just about anything. The amount of Merquen you put in the vinaigrette determines how spicy it will be so you can make it as hot or mild as you like. This slaw is a little different in that it contains fresh corn kernels – once you try it, you will wonder why all cole slaw doesn't have them. Speaking of corn, another easy side is to grill some corn on the cob and then spread on some Merquen butter.  Just blend Merquen into softened butter and slather on the corn with a little salt. You get just a hint of the spice, smoke and sweetness, all blanketed in buttery goodness. It's a really good idea.
Don't forget you can also use your grill for dessert. Grilling fruit caramelizes it and gives it just a little char.  We love to grill thick slices of pineapple and top it with coconut ice cream and our Makrut Lime-Leaf Infused Maple. We have actually witnessed people licking the bowl directly because the combination was so good. Peaches are another good option to grill, just try to find some that are 'cling-free' or 'freestone' which means they release from the pit easily.  Cut them in half, remove the pit and place directly on the grill.  When they have a nice sear, put them in a bowl with a scoop of vanilla ice cream and top with Bourbon Barrel-Aged or Cinnamon+Vanilla Infused Maple.

And for any great summer barbecue, don't forget the drinks! Check out 11 Great Summer Cocktail Recipes or shop our Runamok Cocktail Mixers for the easiest craft cocktails at home.
Enjoy the warmer months, and bon appetit.