Our Coffee Infused Maple Syrup is the perfect pairing of two bold flavors. Combining the caramel sweetness of maple with coffee's nuanced chocolate and almond, we've created a flavor entirely different from all others.
Use it on your morning waffles, make the ultimate coffee-milk (ask someone from Rhode Island) or drizzle it over vanilla ice cream. We've yet to encounter anyone who hasn't swooned over this release. Here are ten of our favorite recipes using this syrup.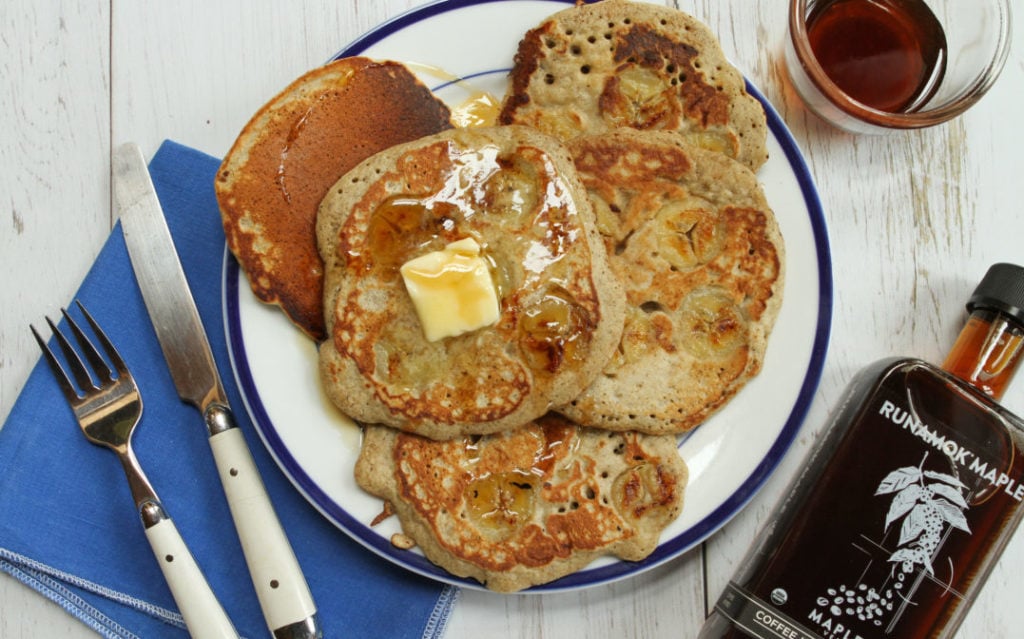 If you are a producer of maple syrup, you'd better have a few good recipes for pancakes. We like the flavor of buckwheat but find the texture can occasionally veer toward cardboard if you don't strike the right balance. This is a great version because it is lightened with white flour and the bananas keep it from getting too dry. It is an excellent pancake to use with our Cardamom Infused or Whiskey Barrel-aged Maple, but they are next level delicious with Coffee Infused Maple Syrup. Bananas and coffee are good mates so it should not have come as a surprise but we did not expect the buckwheat to be so complimentary as well.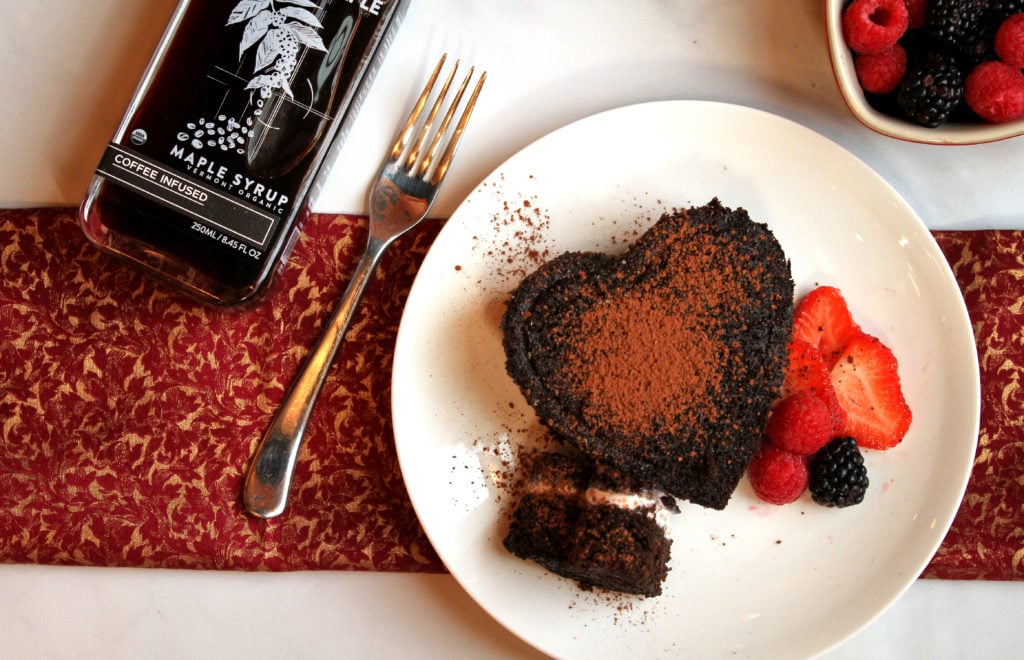 If you can make cake, you can make an ice cream cake. Simply make the layers and sandwich your favorite ice cream in between. The cake is dark and rich so a nice vanilla-based ice cream like Cookies n' Cream or coffee would be delicious. And there is no better way to top it off than with our Coffee Infused Maple.
The simple things in life are best, or so they say. But for anyone who enjoys tinkering in the kitchen, keeping it simple can be challenging. Take the new release of the Coffee Infused Maple Syrup. The first thing we tried it on was plain vanilla ice cream; it blew everyone's lids off. There was a repeated refrain for everyone who came near the testing kitchen, "you gotta try this," followed by umms and ahhs and then someone having to go out to get more vanilla ice cream. We too, were delighted by the combo but couldn't help but ask, 'what if we added…'. This led to more experimentation and the answer is: if you added hazelnut praline, you would have an over-the-top delicious dessert. For all the tinkerers who can't leave well enough alone, this one's for you.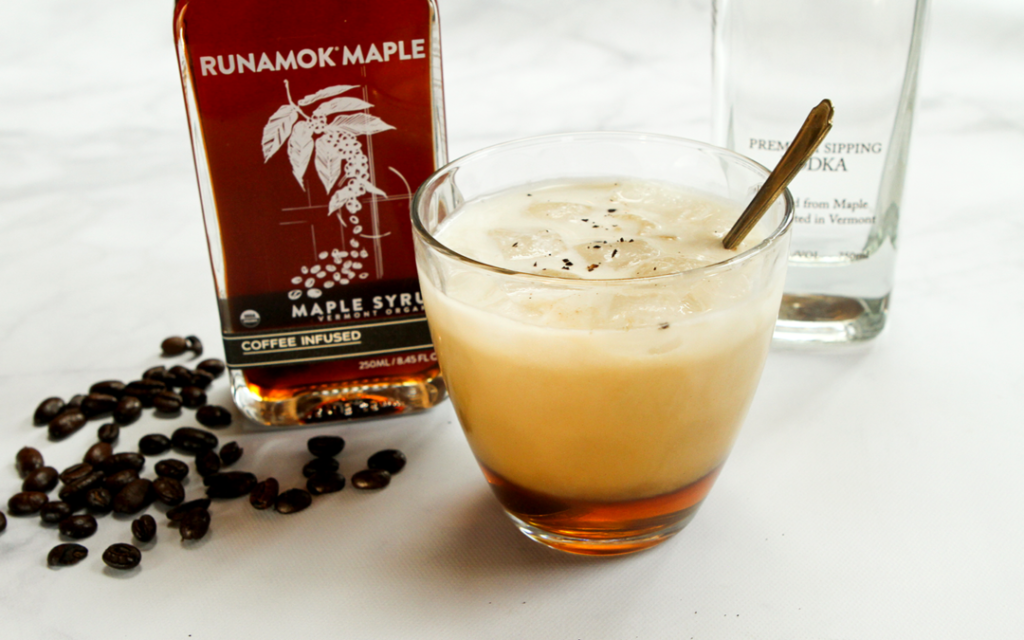 Using Runamok's new Coffee Infused Maple Syrup to make a White Russian results in a drink that is a step up. With flavors as complex as the plot to the Big Lebowski, this cocktail will send you into a realm where life, carpets and bowling all make sense. The Dude would so love it that we are naming it after him.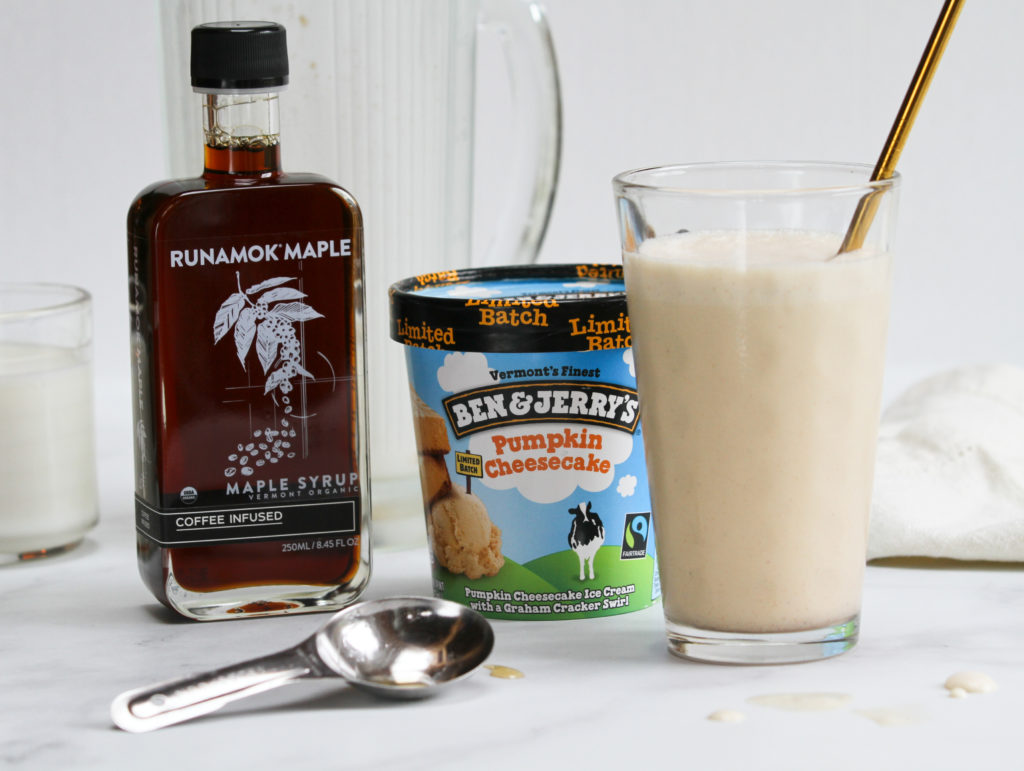 When we sent our Coffee Infused Maple Syrup to the culinary geniuses at Ben and Jerry's, they paired it with two unexpected flavors: Pumpkin Cheesecake (a fall Limited Batch flavor) and Non-Dairy Caramel Almond Brittle. With open minds and many spoons we tried it. Holy Blam-o, Wow. The first combo is like the best pumpkin pie a la mode you've ever tried (they use real pumpkin) with a backbone of coffee sweetness swirled through. We loved it so much, we turned it into a milkshake:
2 large scoops Ben & Jerry's Pumpkin Cheesecake Ice Cream
1/4 cup milk
2 – 3 tablespoons Runamok Coffee Infused Maple Syrup
Put all ingredients in a blender and puree. Top with extra Coffee Infused Syrup (optional)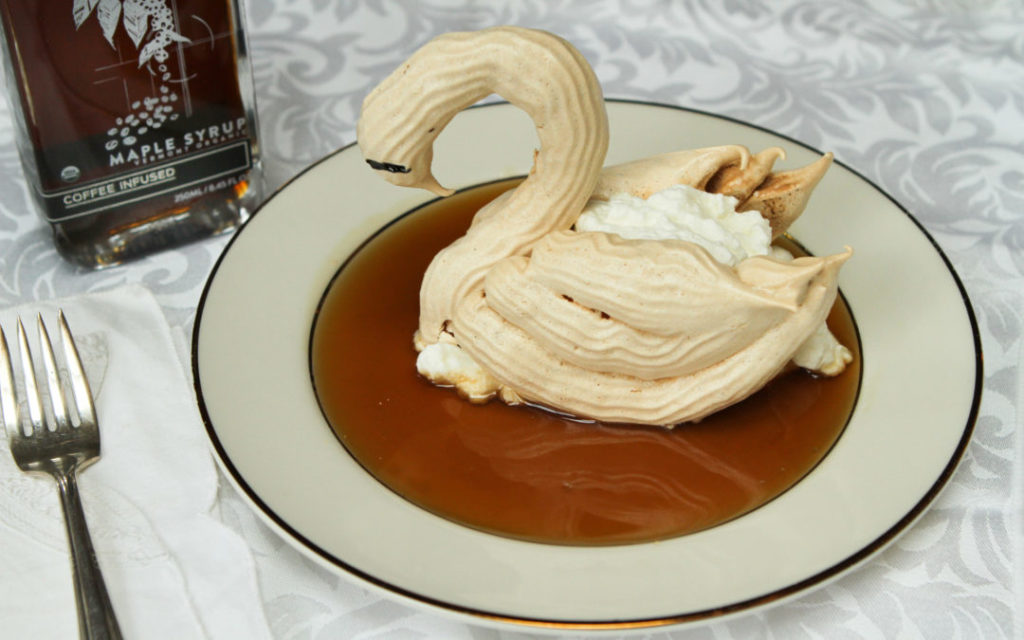 Meringue has become our go-to for many desserts over the years because it is delicious and gluten-free, just in case a guest has an intolerance. For our new Coffee Infused Maple Syrup we wanted to do something special and decided it was time to revisit the swans. We knew the flavor of the coffee would match well with almond meringue and the dark color would make for the perfect 'lake' for the swan. A rich vanilla whipped cream would tie it all together.
These are only some of the recipes that can be created with our Coffee Infused Maple Syrup.
Be sure to check out our other Infused Syrups as well.