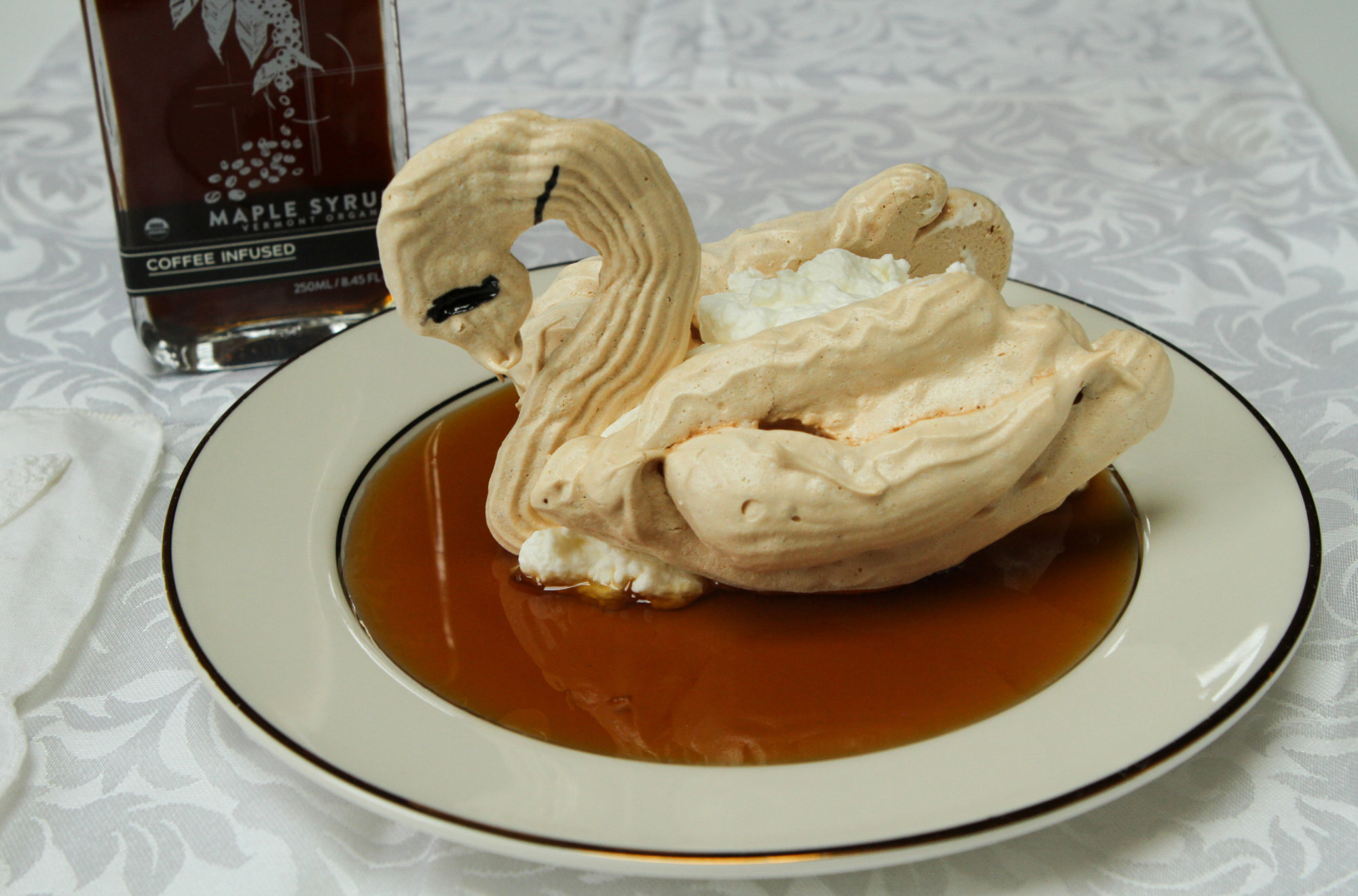 I went to the French Culinary Institute where they taught classic French cuisine from soup to pastry.  I felt comfortable in the savory side of the kitchen but in the fine pastry department – not so much.  My cooking partner, Joe and I could always make the dish taste great but struggled with the aesthetics.  We aimed for refined and delicate but most of our desserts had more of a kindergartner with a crayon look to them.
When it came time to make swans out of meringue, we both cringed.  It involved filling a pastry bag with meringue, piping out the swan parts, then putting the cooked meringue together with mousse or whipped cream.  Mine looked like a squat duck and Joe's inexplicably looked like a horse.  They tasted great, though and I could see the potential for some very elegant desserts if I just put in a little practice.
Swans aside, meringue has become my go-to for many desserts over the years because it is delicious and gluten-free, just in case a guest has an intolerance.  If I'm in a hurry, a simple blob still makes for a crowd-pleasing dish, topped with berries and whipped cream. Usually, I'll add some chopped almonds or hazelnuts to the meringue to make it a Pavlova, which has a richer flavor. Sometimes I'll pipe out a basket shape because even a klutz like myself can handle a circle with a rim.
For our new Coffee Infused Maple I wanted to do something special and decided it was time to revisit the swans.  I knew the flavor of the coffee would match well with almond meringue and the dark color would make for the perfect 'lake' for the swan.  A rich vanilla whipped cream would tie it all together.
I am proudly presenting this photo as proof that my pastry skills have improved.  The flavor has always been there but the artistry has finally caught up. Sort of.  It took three separate batches with many crumbled wings and broken swan necks before these parts that you see finally turned out.  I have given instructions below but the point of the dish is the scrumptious almond meringue with the cream and Coffee Infused Maple so don't let a tricky swan keep you from making it. Put a blob of meringue on the plate and I promise you, it will be just as good.
Almond Meringue Swans
Meringue:
4 egg whites
1 cup sugar
2 Tbsp toasted almonds, finely chopped
1 tsp vanilla
¼ tsp cream of tartar
Vanilla cream:
1 cup whipping cream
¼ cup confectioners' sugar
1 tsp vanilla
Base of syrup:
Preheat oven to 225.  Line a cookie sheet with parchment or silpat (reusable nonstick).
Put egg whites in a bowl of a standing mixer or use a regular bowl and electric beater.  Beat the egg whites until stiff and just starting to hold their shape.  Slowly add the sugar and continue to beat until the sugar is fully blended and the mixture is not gritty, another few minutes.  Fold in the almonds, vanilla and cream of tartar.
Put the meringue in a pastry bag fitted with a wide star or plain circular shape.  To create swans, pipe out two wings, making sure you have one that tilts up on the left side and one that tilts up on the right.  To make the head and neck, make a number '2', adding a little pressure down where the head will be.  Make it as slim as possible while keeping in mind that meringue breaks easily and a very thin neck will just end in frustration.  I recommend making a few necks as backup.
To make a basket, pipe a circle about 5" across, filling it to the center and then pipe another layer on top of the edge.
Put the meringue in the oven and bake for about an hour.  Turn the oven off and let them cool inside, which allows them to dry any excess moisture that would result in collapse.
To make the vanilla cream, whip the cream until stiff and then add the confectioners' sugar and vanilla.
To assemble the swans, put a dollop of whipped cream in the middle of a small dessert plate.  Attach a wing to each side of the cream, pressing together so they stay.  Gently select a neck from the tray and insert the lower half of the '2' into the cream, on the front part of the swan.  Just before serving, pour enough Coffee Infused Maple Syrup around the base of the swan to cover the bottom of the plate.
If serving the baskets, put a basket in the middle of a dessert plate and fill it with whipped cream.  Pour Coffee Infused Maple Syrup around the base. You can top it with additional chopped almonds if it looks too plain. Makes roughly 4 swans or 6 baskets.