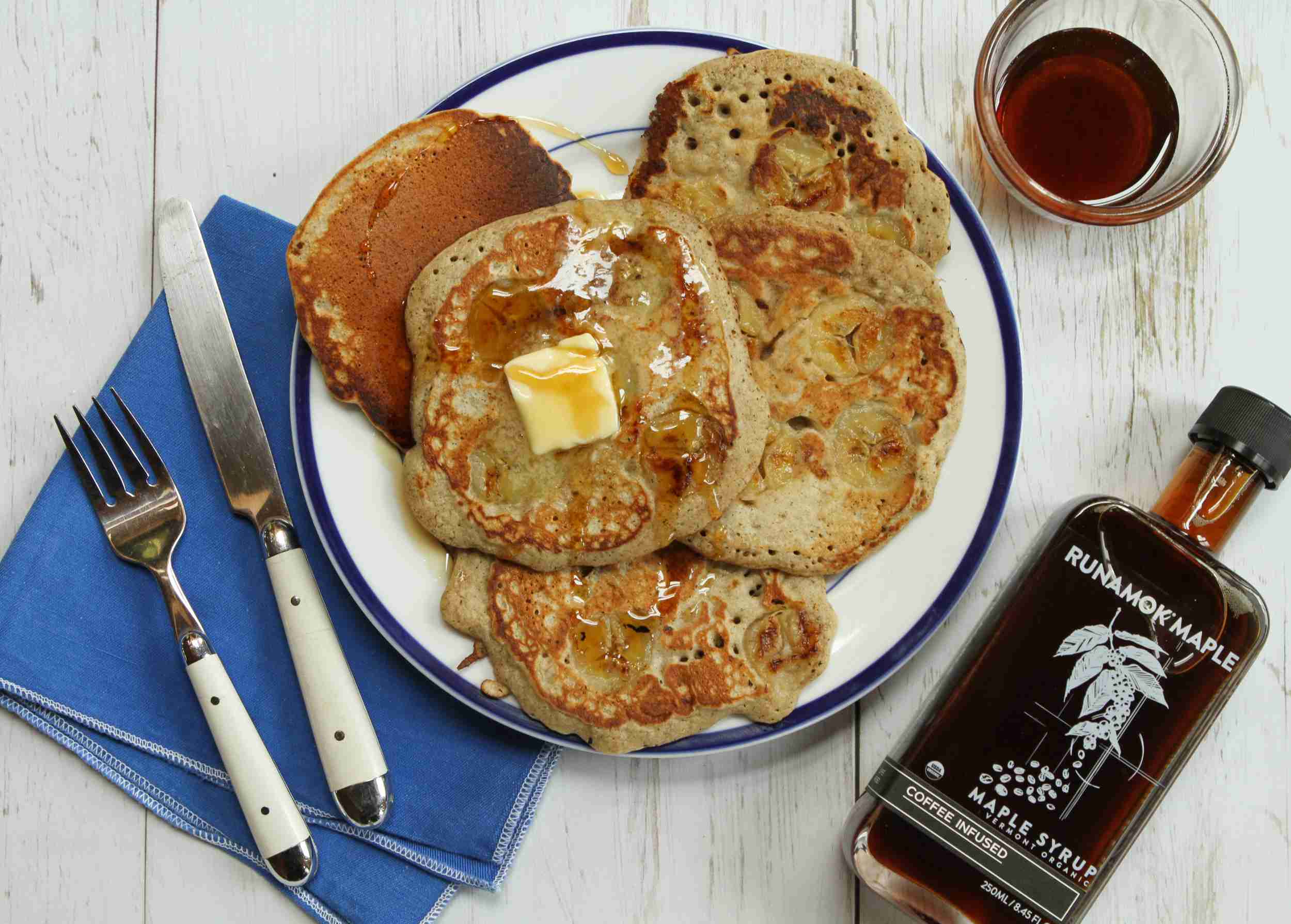 If you are a producer of maple syrup, you'd better have a few good recipes for pancakes. I like the flavor of buckwheat but find the texture can occasionally veer toward cardboard if you don't strike the right balance. This is a great version because it is lightened with white flour and the bananas keep it from getting too dry.  It is an excellent pancake to use with our Cardamom Infused or Whiskey Barrel-aged Maple but they have never tasted as good as they did last Sunday when we tried them with the Coffee Infused Maple Syrup. Bananas and coffee are good mates so it should not have come as a surprise but we did not expect the buckwheat to be so complimentary as well. Happy Sunday.
Buckwheat and Banana Pancakes with Coffee Infused Maple Syrup
½ cup buckwheat flour
½ cup all purpose white flour
1 tsp baking powder
½ tsp salt
2 Tbsp sugar
1 egg
1 cup milk
1 Tbsp vegetable oil
butter
1 banana
Combine all of the dry ingredients in a bowl and stir with a fork to combine.  Add the egg, milk and oil and mix until fully blended.
Find a wide skillet or griddle and put it on the stove on medium heat.  Add a little butter and distribute to the edges so the pancakes won't stick.  Take about a quarter cup of batter and pour into circles in the pan.  As it cooks, cut four or five slices of the banana onto the surface of each pancake.  When the edges show some bubbles and look a little dry, flip the pancakes and cook the other side for a minute more.
Reserve on a plate while you make the rest of the pancakes.  Serve with extra butter and the Runamok Coffee Infused Maple Syrup.