Our friend Gesine Bullock-Prado released her latest cookbook, My Vermont Table, this past spring. The book adds to her impressive collection of cookbooks, most of which focus on baking. It is especially near to our hearts because she features Runamok maple and honey as her go-to ingredient in a number of dishes. Also because it is a beautifully written love letter to our mutual home state.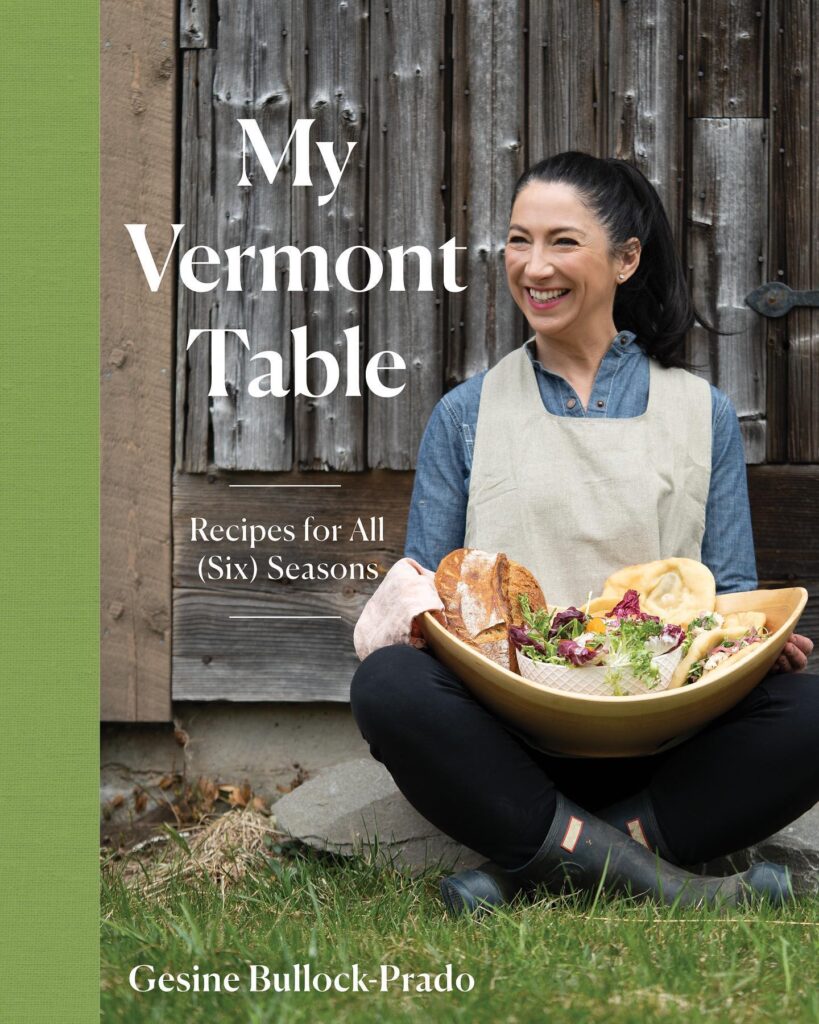 Gesine is a self-taught baker who gave up a life in Hollywood to move east with her husband and pursue baking full-time. She owned and ran a beloved bakery in Montpelier for a number of years before moving to the Norwich area and starting Sugar Glider Kitchen in her renovated farmhouse. She teaches classes and will occasionally jet off to a sound stage elsewhere to judge Food Network's "Best Baker in America". She also has her own show called "Baked in Vermont" on Food Network where she makes seasonal treats with her signature charm, dogs underfoot and natural sun streaming through the windows of her historic house.
We have loved her work for years but we actually met her husband Ray first. Ray is an artist who draws the storyboards for huge Hollywood and TV productions (Stranger Things and Speilberg's West Side Story, to name a few). He was introduced to us through a friend many years ago when we started out and has drawn the illustrations for the majority of our labels starting with our very first Cinnamon+Vanilla Infused. When our customers compliment us on our beautiful, sometimes whimsical packaging (see Banana Rum Infused Maple), its Ray's work they are admiring. He is also a stellar photographer who does most of her pictures.
We highly recommend, My Vermont Table for your cookbook library. Our maple and honey are specifically named in a number of recipes but she has loads more recipes that include maple and honey if you are looking for more places to use it. From the start, we've been touting maple as a regular pantry ingredient to use in all kinds of cooking and this is the perfect book to showcase what we mean. If nothing else, she has almost an entire chapter dedicated to sugaring (and mud) season, with plenty of great maple content.
Gesine graciously allowed us to use a few of the recipes on our website so you can try them. For more Vermont-grown goodness, consult your local bookstore or visit her website to purchase a copy.
---
A PEEK INSIDE…
This is a great rendition of cornbread, made just a tad sweet with our Sugarmaker's Cut or Sugarmaker's Dark pure maple syrup.
Our Cardamom Infused Maple Syrup is used for these caramelized apple crepes inspired by Gesine's childhood Sunday breakfast.
In this terrific recipe for baked beans, Gesine cooks them up with our Merquén Smoked Chili Pepper Infused Maple, which brings a little bit of heat.
This recipe features our WhistlePig Whiskey Infused Maple Syrup. She recommends cooking the carrots sous vide but you can also roast them – preferably beside your Sunday roast chicken.
For this one, she uses our Beekeeper's Cut Honey but we are guessing that any of our raw honeys would be a great match for this seasonal dessert.