WhistlePig® Rye Whiskey Barrel-aged Maple Syrup
$24.95 – subscription plans starting at
every 2 weeks
Our organic maple syrup has been aged in WhistlePig Rye Whiskey barrels, resulting in an exquisite barrel-aged maple syrup.
A 2023 Good Food Award winner, this deliciously boozy Vermont collaboration is a must-have for any pantry.
Size: 375ml
Tasting Notes
Strong brown spice notes from the rye whiskey dominate with maple's caramel tones providing sweetness. There's a mild oak and boozy aftertaste that are a clear characteristic of the spirit. 
Recommended Uses
Drizzle on breakfast favorites, mix into an Old Fashioned, pour over ice cream, or use as a glaze for roasted veggies.
Sourcing
Our rye whiskey barrels come from the world's most awarded rye whiskey distillers at the legendary WhistlePig Whiskey in Shoreham, Vermont. Freshly emptied Whistlepig rye barrels are filled with 100% pure Runamok maple syrup and aged to perfection for this epic Vermont collaboration.
Ingredients
Organic maple syrup aged in WhistlePig Rye Whiskey Barrels
Runamok is a family-owned and operated specialty foods company based in Northwestern Vermont. All products are made at our facility in Fairfax, Vermont.
We are committed to sustainability. Our maple syrup is sourced from our certified organic, certified bird friendly sugarbushes in Cambridge and Bolton (Vermont) and from family-operated sugarbushes across the state.
WhistlePig Rye Whiskey Barrel-aged Maple Syrup is USDA Certified Organic, Certified Kosher by the Orthodox Union and is vegan friendly.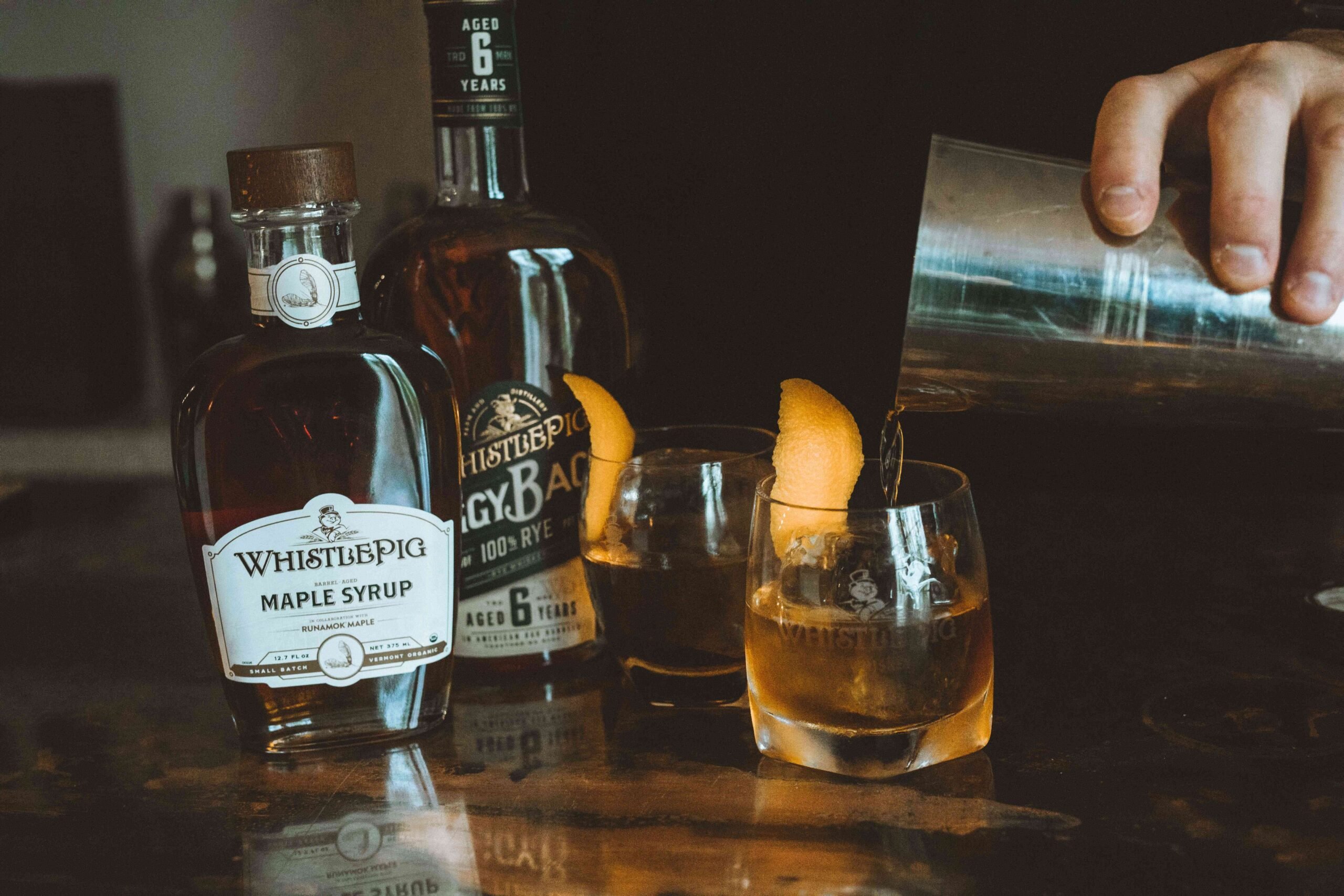 A Proud Vermont Collaboration
We are thrilled about our barrel-aged collaboration with the legendary distillers at WhistlePig. We combined two Vermont favorites by aging our pure organic Vermont maple syrup in WhistlePig Rye Whiskey barrels and offering it in their iconic custom bottle. The result is a delightfully boozy maple syrup that's perfect for sweet and savory dishes, as well as cocktails. It's a combination so good even David Ortiz (Big Papi) uses it in his WhistlePig Old Fashioned cocktail.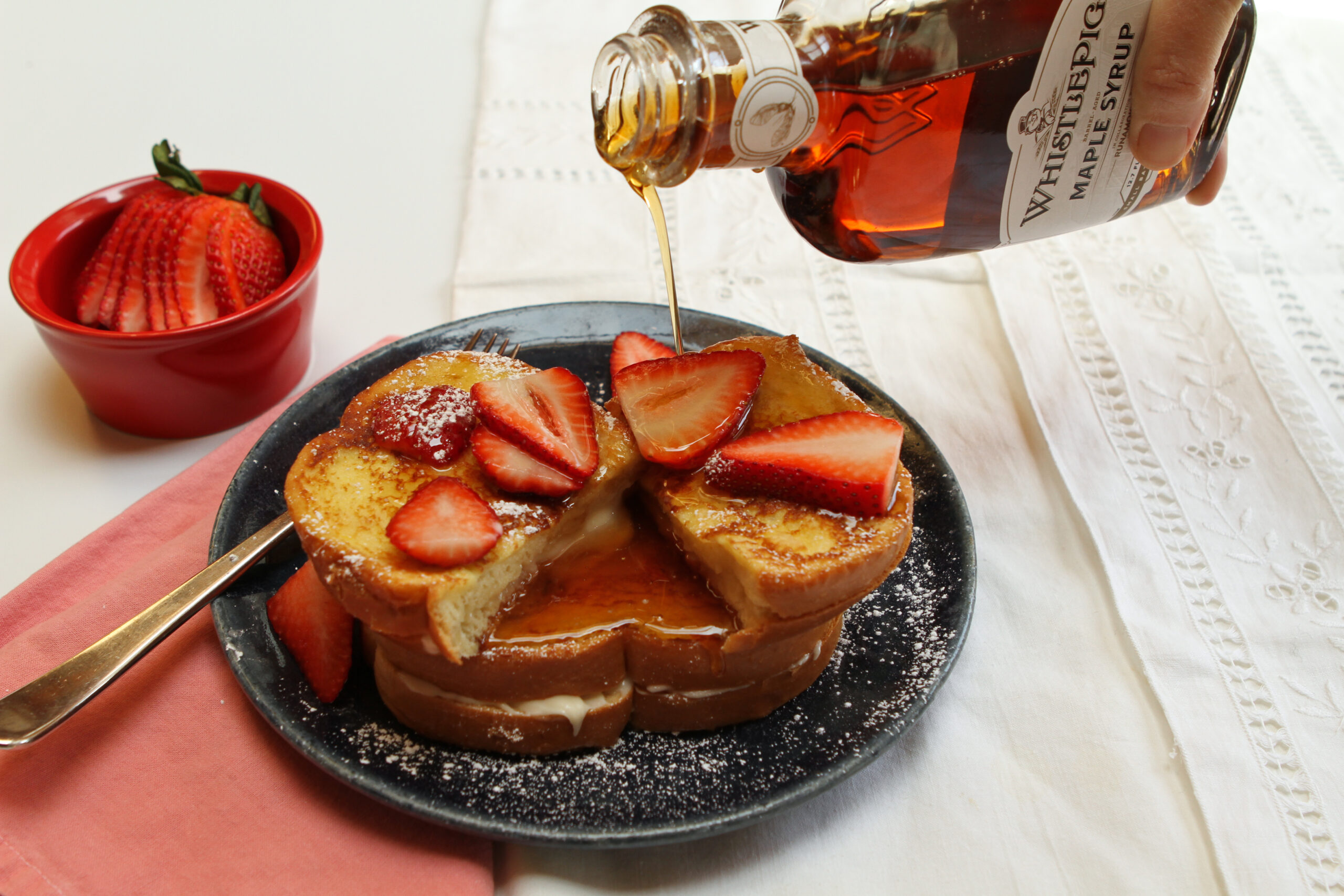 Nutrition Facts
The following information is provided for a single serving (2 tbsp or 30mL)
| | |
| --- | --- |
| Calories | 110 |
| Total Fat | 0g |
| Sodium | 5mg |
| Total Carbohydrates | 27g |
| Total Sugars | 24g |
| Protein | 0g |
| Calcium | 30mg |
| Potassium | 90mg |
| | |
| Ingredients: | Organic maple syrup aged in WhistlePig Rye Whiskey Barrels |
Product Details
We take our pure, organic Vermont maple syrup and age it in WhistlePig's Rye Whiskey Barrels. The length of our aging process is unique to each barrel, depending on a number of factors including the age of the barrel and saturation of the staves. We test each barrel until the perfect flavor profile has been reached. Once we reach this peak flavor, we bottle it in WhistlePig's signature glass bottles and ship it out to you from our warehouse in Fairfax, VT. The result is a deliciously boozy, sweet combination that will appeal to both maple and WhistlePig lovers alike. If you're a fan of this barrel-aged product, be sure to check out our
Bourbon Barrel-aged Maple Syrup
,
Rum Barrel-Aged Maple Syrup
and our
Smoke + Barrels Sampler Pack
.
This product may contain trace amounts of alcohol up to 1%.