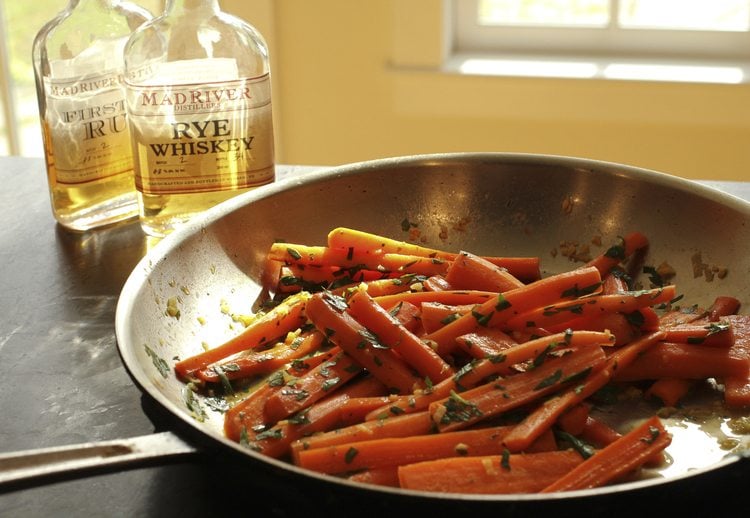 There is a time for simplicity and letting the purity and essence of vegetables shine. Then there is mid-February. Many Vermont farmers are equipped to store all manner of root vegetables and the winter markets can be surprisingly prolific. Nevertheless, whether local or Californian, winter carrots can often need a little boost of some-something.
This is an easy recipe for carrots that packs in plenty flavor. I use either our Sugarmaker's Cut or the Smoked maple for added dimension. The ginger and whiskey are a spicy counterpoint to the sweetness of the orange juice and maple. If there is any flavor from the carrots to be had its still comes through but if not, they have backup.
Whiskey-Maple Glazed Carrots
2 Tbsp butter
1 lb carrots, peeled and sliced lengthwise into quarters
¼ cup Sugarmaker's Cut (or Smoked)
1 Tbsp chopped ginger
3 Tbsp rye or Bourbon whiskey
Juice of ½ an orange
2 Tbsp chopped parsley or dill
Salt and pepper
Melt butter in a wide pan and add carrots. Sauté over high heat until just beginning to brown. Add remaining ingredients, minus the herbs, and stir to blend flavors. Continue cooking until the liquid has reduced and forms a glaze on the carrots, about five more minutes Add herbs and serve.