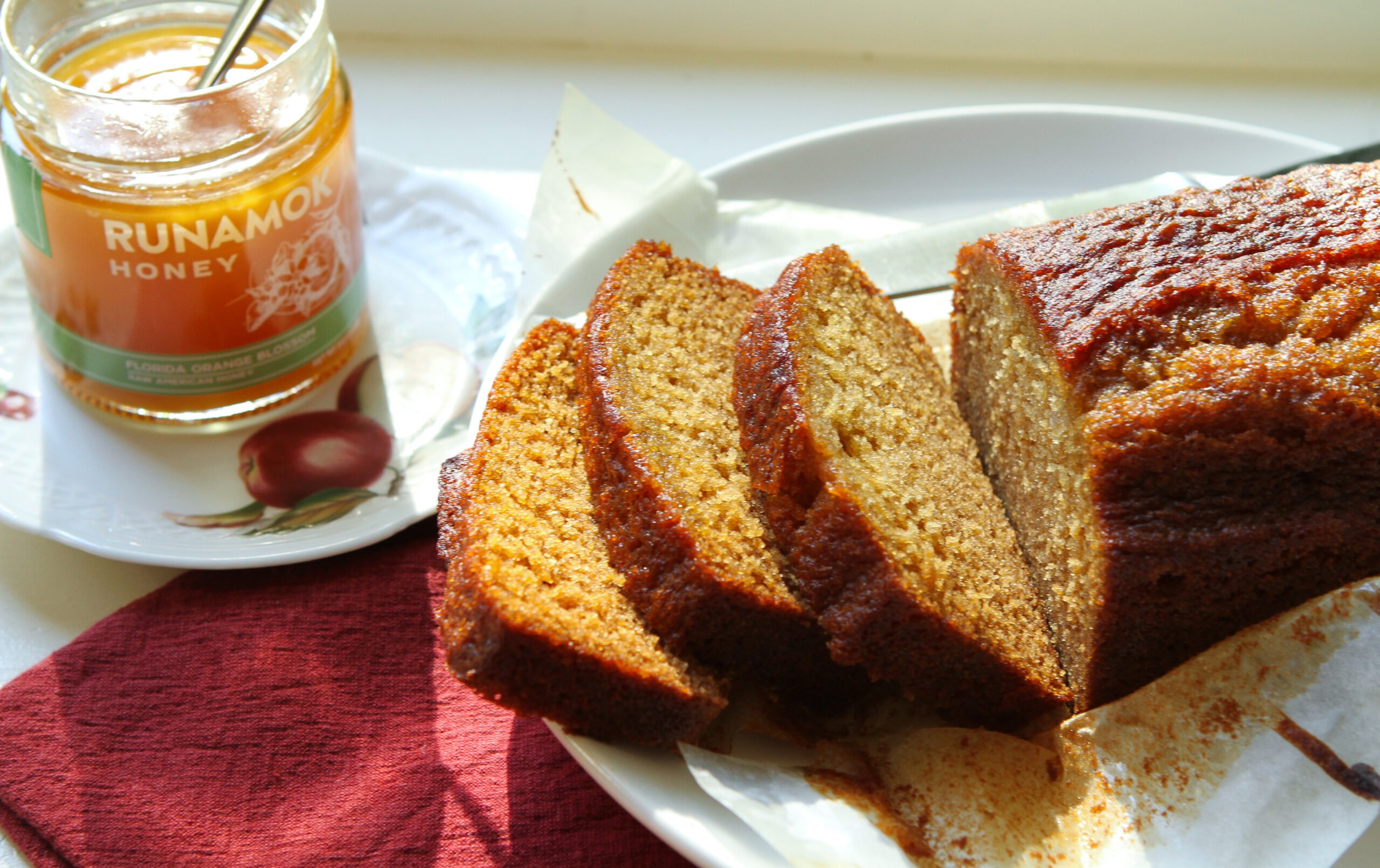 This is a lovely tea cake that is literally made with tea which adds a nice herbal note. It is not too sweet, which makes it perfect for breakfast or afternoon tea (or coffee?). I put Runamok's Lemon Verbena and Orange Blossom in the recipe but you can use any of our sweet honeys. The cake will get a light coat immediately when it comes out of the oven, but an extra drizzle when serving is also a good idea. 
We posted this recipe in time to celebrate Rosh Hashanah but is good any time of year.
Honey Cake
1 ¼ cup flour
2/3 cup sugar
1 tsp baking powder
½ tsp baking soda
¼ tsp salt
1 tsp ground cinnamon
¼ tsp ground nutmeg
½ cup vegetable oil
2 eggs
⅓ cup Runamok Lemon Verbena or Orange Blossom Honey
1 tsp vanilla
½ cup hot, black tea
 1 – 2 Tbsp Extra honey for drizzling 
Prepare a bread loaf pan by lining it with parchment and then giving a quick spray of cooking oil on the parchment. Preheat oven to 350.
In a medium-sized bowl, combine all of the dry ingredients and whisk to blend.
In a separate bowl, whisk together the oil, eggs, honey, and vanilla. Add the dry ingredients and mix until just combined. Add the hot tea and blend. Pour into the prepared pan and bake for about 50 minutes or until a fork comes out clean. Remove the pan from the oven and drizzle extra honey over the top while it is still warm.