This recipe comes courtesy of our friends at SKORDO, a delightfully well-stocked cooking shop in Portland, Maine, with a collection of hand-made, globally inspired spice blends and a curated assortment of cookbooks, pantry items, and unique kitchen accessories. Visit them in their Old Port or Maine Mall locations, or online at skordo.com.
Snacking Cakes – baked with the goal of sitting on your kitchen counter getting nibbled on all day long until it's gone. Ideal for break rooms, hostess gifts, and pick-me-ups. With the casual nature of enjoying this cake, we're going to mix it in a food processor for easy clean up. Runamok's Hibiscus Honey is the perfect way to welcome spring.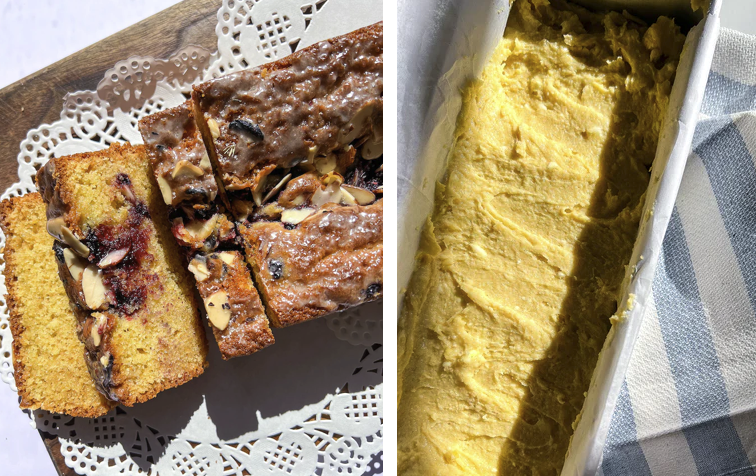 Makes 1 loaf pan
Ingredients: 
For the cake:
For the glaze:
Directions: 
Preheat your oven to 350 degrees F. 

In a food processor (yes, really!) add your sugar, honey, almond flour, baking powder, salt, vanilla, and chilled butter. Pulse until mixture resembles breadcrumbs.

Add eggs, and pulse until just combined.  If your eggs are cold, cover with hot water for 5-10 minutes before cracking into batter. 

Line a loaf pan with parchment and prepare with nonstick spray. 

Spoon mixture into loaf pan, scatter frozen blueberries, almonds, and hibiscus leaves.

Bake for 35-40 minutes or until toothpick comes out clean.

Allow to cool in pan for 10 minutes, then remove to finish cooling.

In the meantime, make the glaze. Add honey, powdered sugar, and lemon juice to a small bowl. Whisk until smooth.

When the cake is mostly cooled, drizzle your glaze overtop and sprinkle with Posy Sugar before it sets.

Enjoy cake at room temperature for up to 3 days.