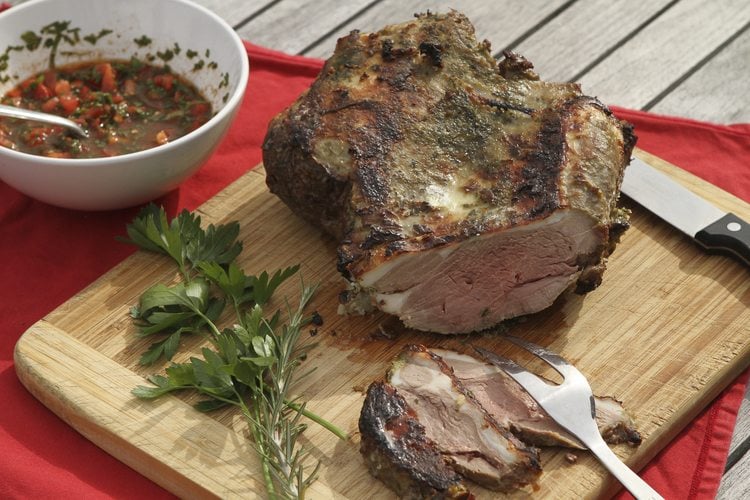 Whether it was chops or bone-in leg, my mother always cooked lamb to perfection with roasted potatoes and carrots on the side and a bottle of Crosse and Blackwell's mint sauce on the table. I was happy to repeat this combination verbatim in my own kitchen until I found a homemade mint vinaigrette from the Silver Palate Cookbook by Sheila Lukins and Julee Rosso. Their recipe incorporates plenty of fresh mint, Dijon mustard, and balsamic vinegar.
In my version, I put a little maple syrup both in the vinaigrette and in the marinade. I used a butterflied leg of lamb, in part because it goes so well on the grill but also because there is more surface area to absorb the garlicky marinade. Plain maple syrup goes in the marinade and smoked perfumes the vinaigrette. The maple is a minor supporting player for sure but it adds a dimension I hadn't realized was missing.
Butterflied Leg of Lamb
1 3-4 lb butterflied leg of lamb
Marinade
1 yellow onion, peeled and diced
6 cloves garlic, peeled
½ cup chopped parsley
3 tbs olive oil
1 tsp salt
Leaves from 2 sprigs mint
Vinaigrette
2 tbs chopped mint
1 tbs chopped chives
1 tbs Dijon mustard
3 tbs extra virgin olive oil
1 tbs Runamok Smoked Maple Syrup
1 tbs sherry vinegar
2 tbs diced tomatoes
Salt and pepper to taste
Combine all of the ingredients for the marinade in a blender until relatively smooth. Pour over the lamb, coating all sides and let sit, refrigerated overnight.
If using a grill, prepare the coals until nice and hot (or turn on the gas and preheat). Your cut of meat may be thicker in some areas and thinner in others. Place the roast on the grill with the thickest parts over the hot spots. Leave it to roast about 10 minutes. Turn and grill the other side and leave it with the top down until the internal temp measures 130 – 140 for medium rare.
If using an oven, preheat to 400. Place on a broiler pan and roast for 10 minutes. Turn the temperature down to 350 and continue roasting until temp reads 130 – 140 for medium rare.
To prepare the vinaigrette, combine all of the ingredients and let sit for a few minutes for the flavors to meld.
Let rest for a few minutes before carving. Serve with potatoes and the mint vinaigrette on the side.