Why argue with a good thing? There is a reason why maple, vanilla and cinnamon are so often used together: they are delicious. We tested both the vanilla and cinnamon from numerous regions around the globe until we found the perfect balance of flavors. Our Cinnamon and Vanilla Infused Maple Syrup is great on just about everything: pancakes, desserts, ice cream, yogurt, cocktails. Here are our top 10 favorite recipes.
Apple Crisp 1-1-1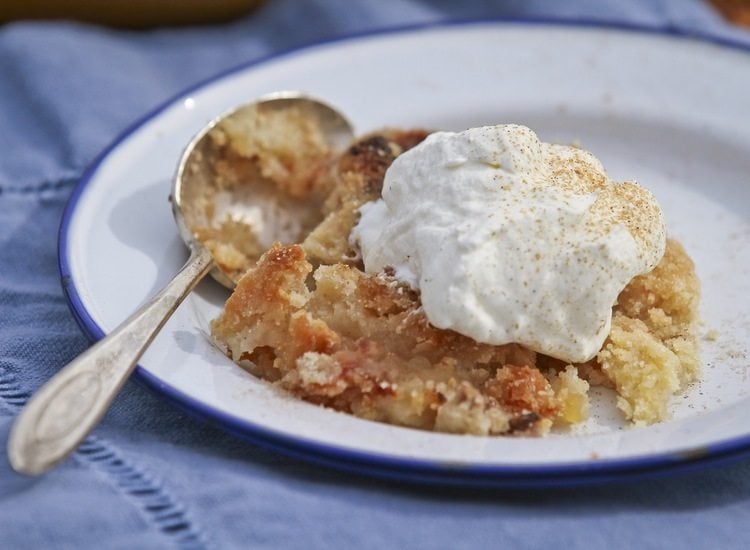 It's always good to have a few reliable recipes in your pocket, especially when you are a guest at someone's house. This one is easy and a real crowd-pleaser. All you need to remember is the crumble ratio of 1-1-1: one cup of flour, one cup of sugar and one stick (actually ½ cup) of butter. The rest is apples any which way you like them. The splash of maple syrup on the apples is the other secret to making this a special dessert. The syrup will melt with the apple juices and a bit of butter and make the most heavenly sauce around the fruit. Learn more about our Apple Crisp recipe.
Chai Spiced Hot Cocoa
This holiday favorite strikes a wonderful balance between sweet and spicy. The chai spices add a complex, seasonal spiciness to the warm sweetness of the hot cocoa. This recipe utilizes our cinnamon and vanilla-infused maple syrup in two delightful ways: it gets warmed up and infused into the hot cocoa, and mixed into the heavy cream for the whipped cream topping. This one is a game changer! Learn more about our Chai Spiced Hot Cocoa recipe.
Challah French Toast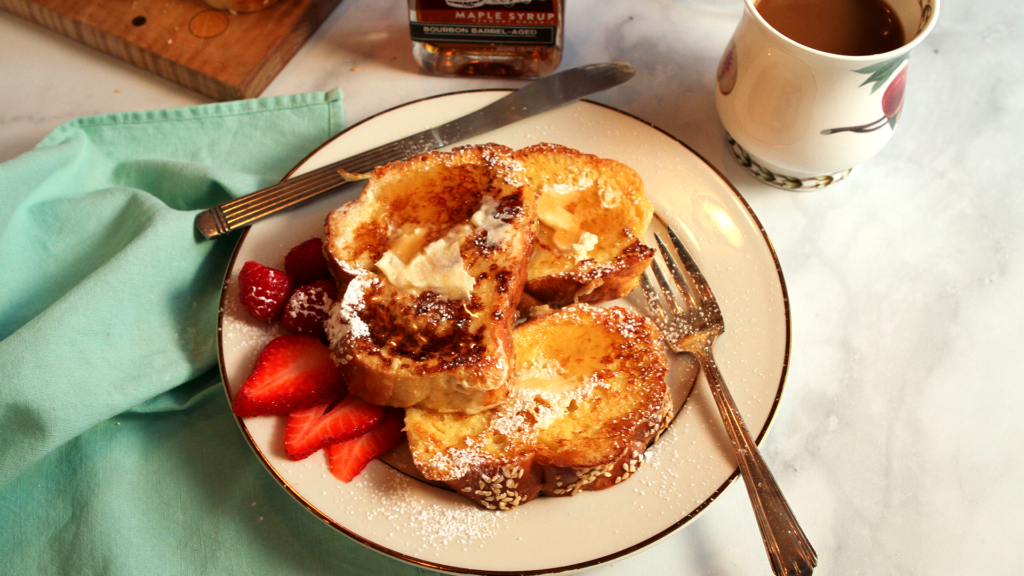 Challah is a yeast bread that contains flour, eggs and a little sugar. The texture is similar to French brioche which makes it a lovely option for French toast. It is light enough that you can cut thick slices and not feel like you just swallowed a brick but keep in mind that the thicker the slice, the longer you should soak it in the egg-milk mixture to saturate the middle. Learn more about our Challah French Toast recipe.
Cheater's Chai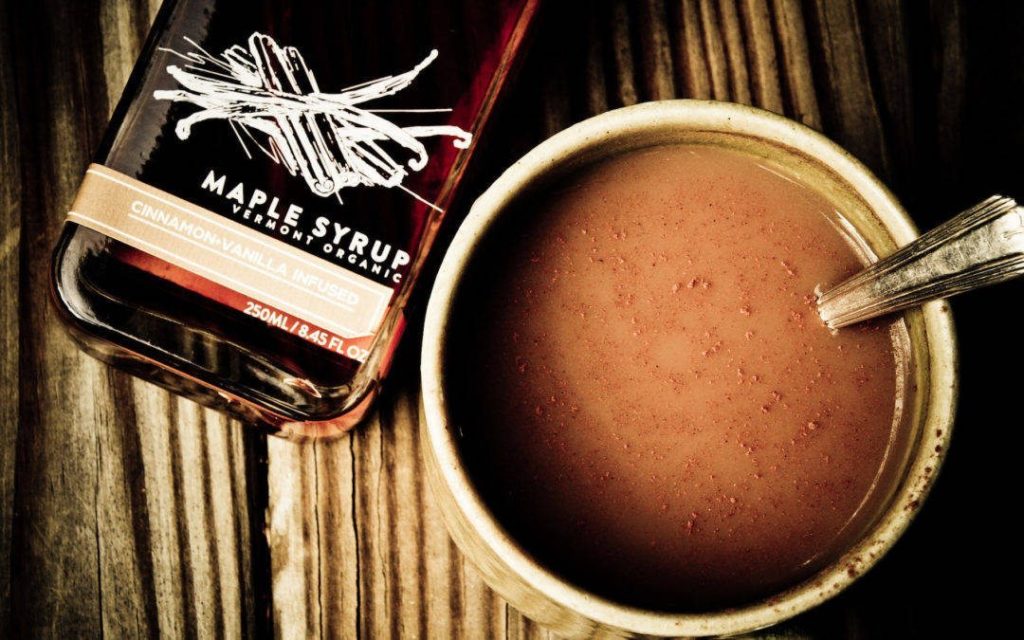 This recipe has nothing to do with taxes or infidelity; it is just a really easy way to make some homemade chai. Chai (aka masala chai) is that milky, sweet, mildly spicy tea you can find in Indian and South Asian restaurants. Our version of Cheater's Chai, with vanilla, may not be authentic but it is really delicious and satisfying on a cloudy, cold day.
Glazed Maple Pumpkin Muffins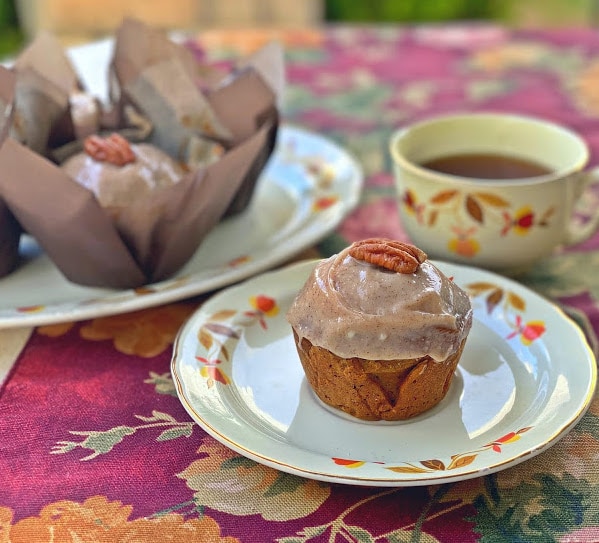 These sweet treats are perfect for authentic autumn flavors, to be enjoyed any time of year. The flavorful Cinammon & Vanilla-infused Maple Syrup is used to sweeten the batter AND as a glaze on top of the muffin. If you love all things pumpkin, you definitely need to give these muffins a try! They're perfect alongside a hot cup of tea…or your favorite pumpkin spice latte. Learn more about our Glazed Maple Pumpkin Muffins.
Indian Pudding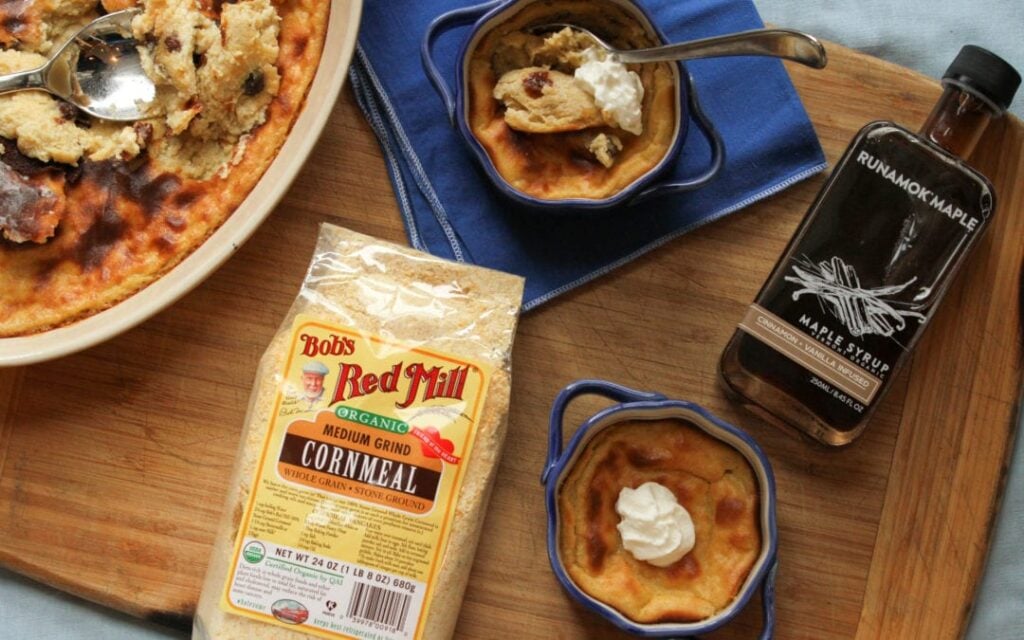 Indian Pudding is a delicious dessert that has nearly been forgotten but deserves a comeback. Also known as a Hasty Pudding, it is made by combining the new world food, cornmeal, with milk and molasses and boiling or baking with spices. Eggs give it some loft and dried fruits, namely raisins, are often included as well. The result is somewhere between a cake and a custard, with a lovely duet between the sweet cornmeal and tangy molasses. It was a favorite of the colonists and was fairly common on New England tables until the last century.
Lot-o-grain Pancakes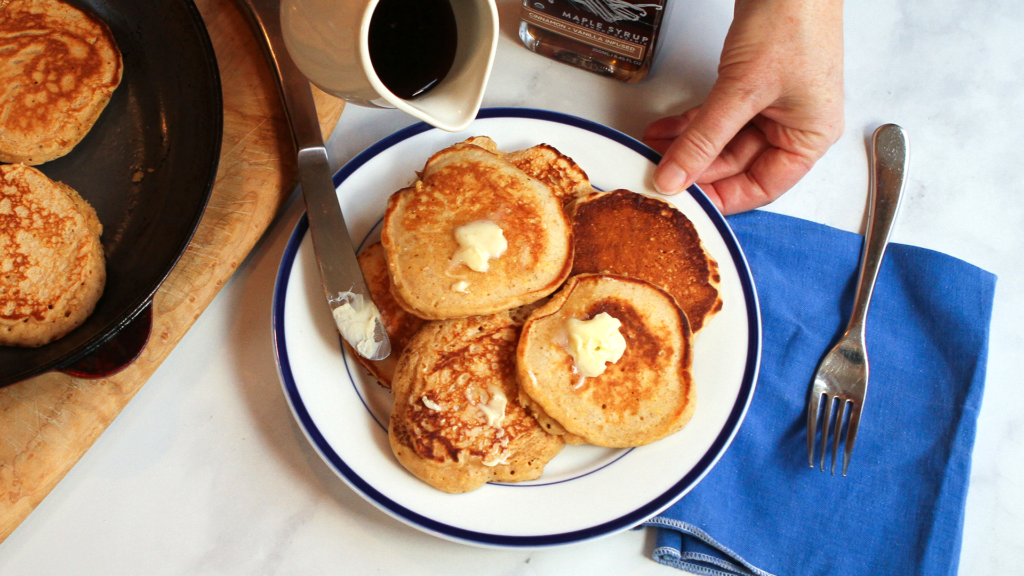 Multi-grain baked goods combine two or more different types of flour for a taste that is more complex than plain white flour. There are many types of flour available but this recipe contains four that you can reliably find in any grocery store. Whole grains, such as whole wheat and whole oats contain more nutrients and fiber than white flour plus a hearty taste though the finished cakes are fluffier than you might expect. Our Lot-o-grain Pancakes are perfect for fueling up before an active day.
Maple Granola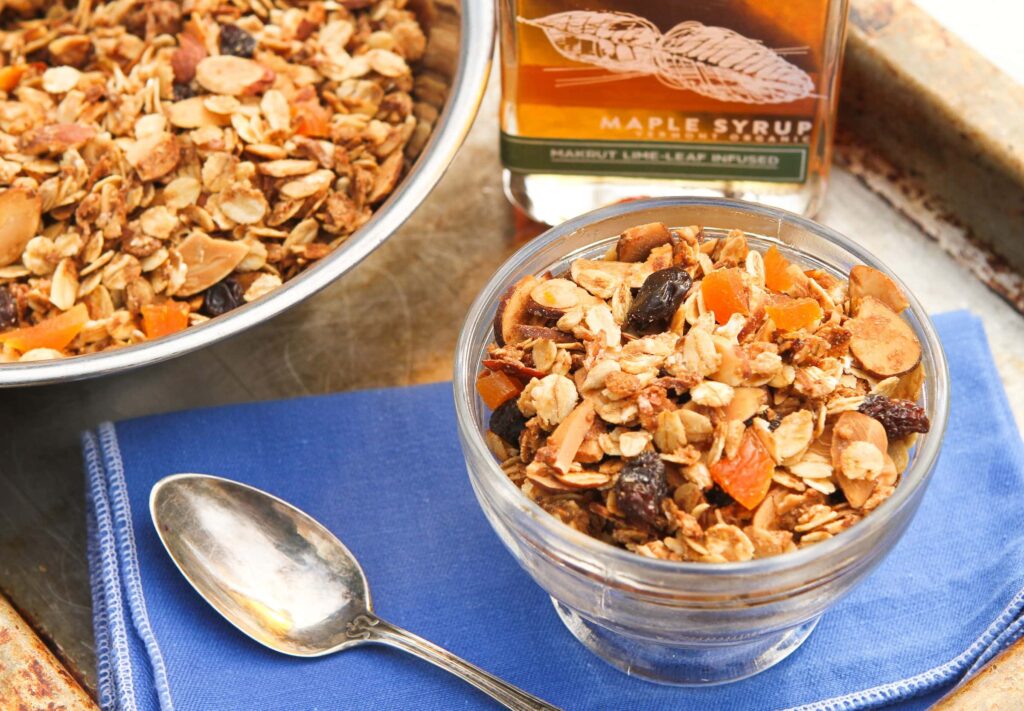 Home made granola is very easy to make and a great thing to have hanging around the kitchen during the holidays. Instead of reaching for the umpteenth cookie, you can dip into a bowl of whole oats, dried fruit, and nutritious nuts and seeds while still getting your sweet-salty fix. Learn more about our Maple Granola recipe.
Maple Pecan Cookies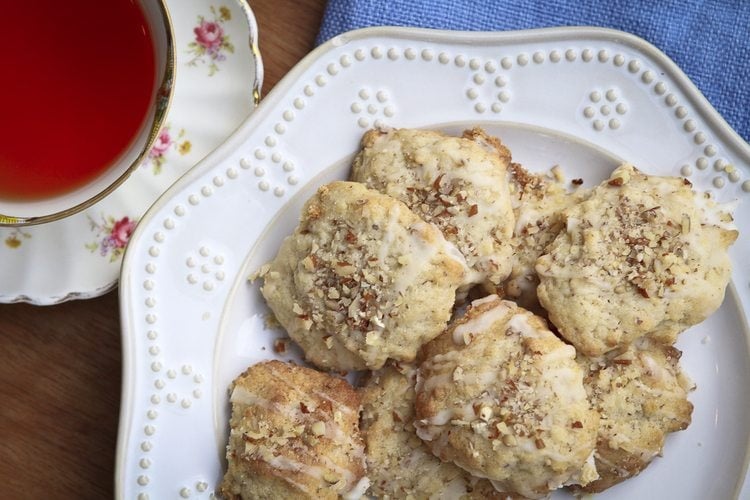 We found this recipe from a site that shall remain unnamed for the crime of listing "maple-flavored syrup" (gasp) and then "maple extract" (gack) in the ingredients. Yes, we have all had the fake stuff and have likely been subject to the fake flavoring but there is no need! Real maple syrup tastes infinitely better and leaves out those questionable chemicals that dare to emulate a flavor that nature has already perfected. Learn more about our Maple Pecan Cookies recipe.
Maple Princess Coffee Cake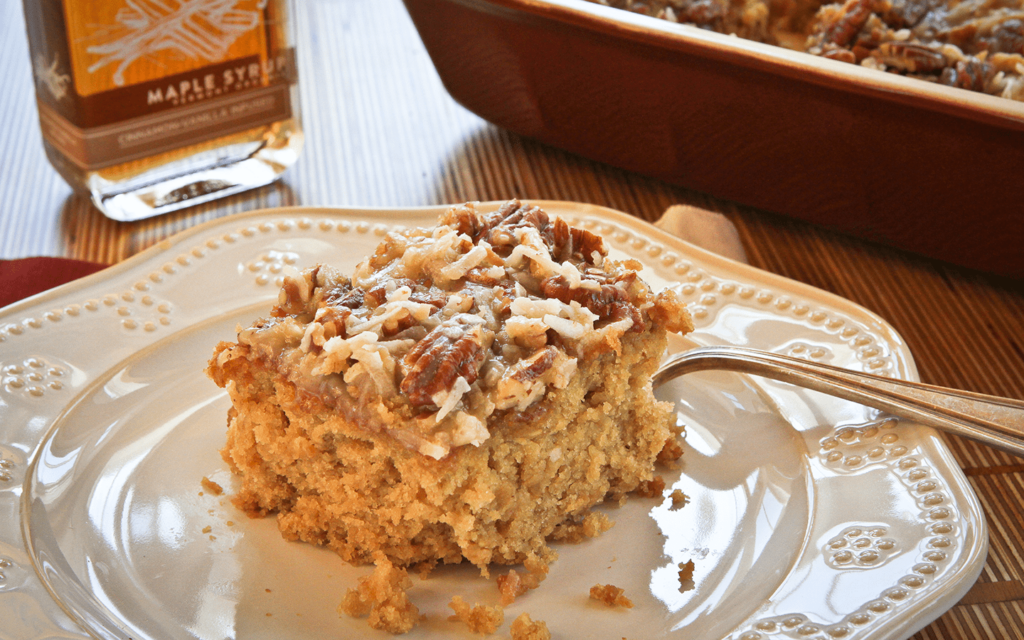 This is one of our favorite maple-infused desserts. The cake is moist and delectable with a sweet and nutty crumb topping. The cinnamon & vanilla infused maple syrup adds a sweet, spicy final glaze. During sugaring season it gets devoured by the crew, even when the recipe is doubled or tripled! Learn more about our Maple Princess Coffee Cake recipe.
These delicious treats are only a handful of the many recipes that can be created with our Cinnamon and Vanilla Infused Syrup. Be sure to check out our other Infused Maple Syrups as well.