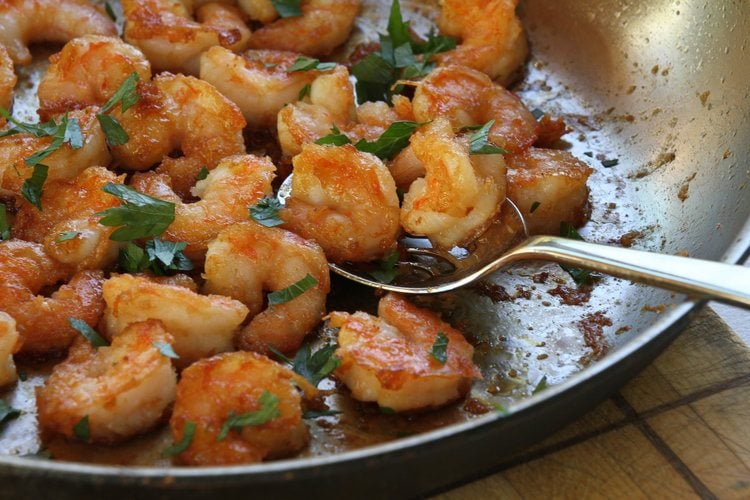 Sauteed Shrimp with Soy-Cardamom Maple Glaze
Living in the sticks, the closest Chinese restaurant is a half hour away. This, as you can imagine, precludes any brown takeout bags full of heavenly-smelling dumplings magically showing up at our door. Ever. Though it took a few years to settle with this delivery-less existence, I chose to see it as a personal challenge to recreate a few dishes that I desperately missed. One bell that American Chinese food always rings is to satisfy that craving for sweet and salty over fried whatever. (I think I just teared up there a little.) While we may not have sesame chicken around the corner we DO have plenty of bottles of infused maple syrup that can give a sauce instant depth and character and get you halfway to that satisfying elixir.
As weeknight dishes go, this one couldn't be easier. If your shrimp are all prepped, it takes all of five minutes cooking in the pan so have some rice ready. The trick is to coat your shrimp with cornstarch much like you would flour a filet of chicken before browning. The cornstarch will not only give a nice golden color to the shrimp, it will act as an instant thickener that will bind the sauce to them when you deglaze the pan. The rest is one part soy sauce to one part infused maple syrup – I usually go with Cardamom but Ginger Infused or pure maple works too- a little fresh ginger, and you have an instant sweet and salty glaze. The results will have you raising your eyebrows, mumbling, "Eat your heart out General Tsao". It is actually healthier and tastier than most Chinese restaurant food I have eaten. Nevertheless, if I ever visit you at your house, can we order Chinese delivery?
Sauteed Shrimp with Soy-Cardamom Maple Glaze
1 lb peeled and deveined raw shrimp
½ cup cornstarch
Oil for sautéing
1/3 cup soy sauce
1/3 cup Cardamom Infused, Sugarmaker's Cut Pure, or Ginger Infused Maple Syrup
1 tsp grated ginger
In a small bowl, combine the soy sauce, maple syrup and ginger and set aside.
Put enough oil in a wide sauté pan to cover the bottom thoroughly. Turn the burner on medium-high to preheat the oil. In a separate bowl, toss the shrimp with the cornstarch, making sure to coat all sides. Gently place the shrimp in the oil, making sure to keep them in one layer in the pan. Let the shrimp brown on one side and then turn them to brown the other (about 2 minutes each side). When the shrimp is thoroughly cooked and golden brown, pour the soy-maple sauce into the pan (watch for splatter) and let the sauce bubble up and coat the shrimp. You should not need additional salt because of the soy but taste just in case. Serve over jasmine rice.