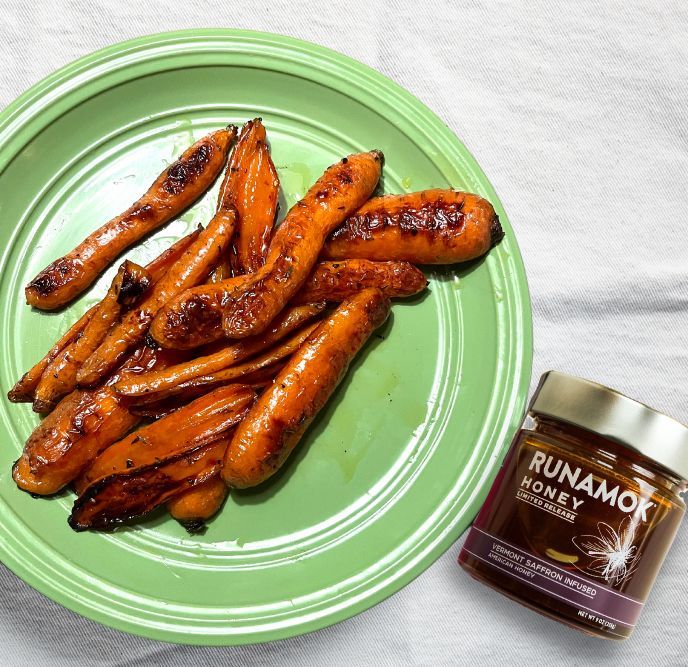 These Saffron Honey Butter Candied Carrots are divine. The saffron honey amplifies the sweet earthiness of the carrot and the butter adds a silky rich and slightly nutty glaze. A simple, beautiful, and delicious dinner side, it's hard not to enjoy them straight off the tray. Make a large batch to thrown on salads, in rice bowls, or enjoy by themselves throughout the week – if they last that long!
Ingredients:
2 lb carrots
3 tbsp salted butter
3 tbsp Runamok Vermont Saffron Infused Honey
1/4 tsp thyme
salt
Preheat the oven to 400 degrees F.
Clean and cut your carrots. I like to slice medium carrots in half lengthwise. (Thicker carrots may need to be cut in quarters lengthwise to keep the sizes relatively uniform for even cooking. Larger carrots can be cut into bite-sized slices, if preferred, or baby carrots can be kept whole).
Make the glaze. In a small saucepan over medium-low heat add butter until just melted, then mix in the saffron honey until the glaze is smooth and even. Stir in the thyme, and remove from heat. You only need to heat enough for everything to come together – no need to boil or reduce down before it goes into the oven.
On a lightly oiled baking sheet, pile your cut carrots and pour over your glaze. Mix until each carrot is evenly coated. Spread the carrots in a single layer on the pan (use two baking sheets if necessary). sprinkle with salt, to taste. Bake for 20-25 minutes or until fork tender. Be sure to flip a couple of times during cooking to prevent burning (but a little roast-y char is just fine!).