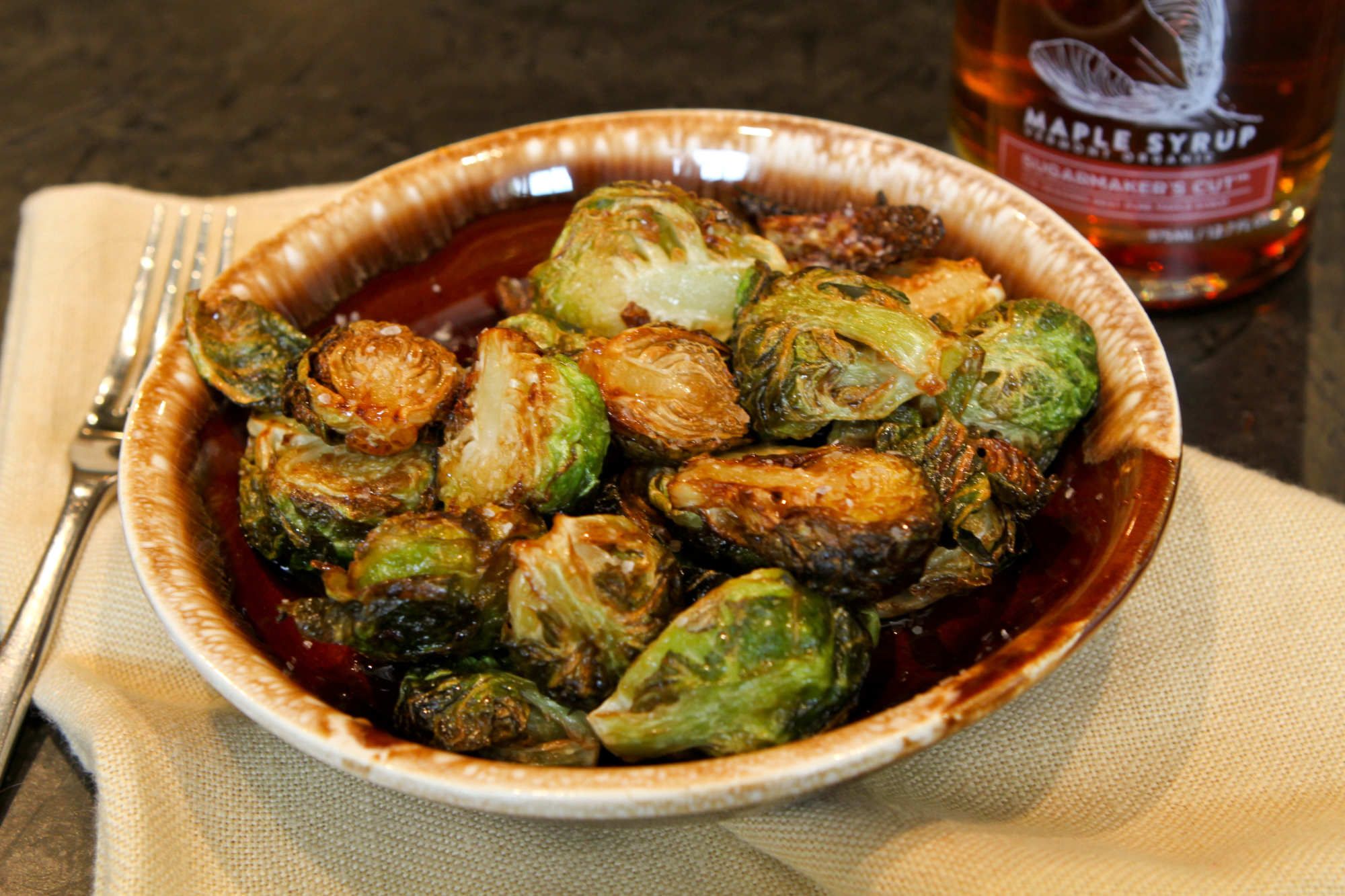 There is a restaurant in Burlington, VT called Bluebird Barbeque.  We may be several hundred miles from the heart of American BBQ turf but these folks know how to make some fine pulled pork, brisket and ribs.  Without trying to copy Kansas or North Carolina, they put their own mark on it, slow smoking the meat and serving it with homemade sauces and pickles.  Everything is served on a large, metal tray and family style eating is encouraged.
Though all of their meat is exceptional, one of my favorite things on the menu is their seasonal offering of Fried Brussels' Sprouts with a Maple-Cider Glaze.  I would almost encourage you not to order them because once you do, you won't want to eat anything else but just order more of the Brussels (and you definitely don't want to miss the pulled pork).  Chef Dan Miele keeps a restrained hand with the glaze, ensuring they are not too overloaded but just tangy and sweet enough.
I tried the fried and roasted method of cooking the Brussels and they were both excellent.  Be aware, if you choose to fry, the sprouts will splatter considerably even if they are dry so use a splatter screen or find a way to protect yourself from hot oil.  That is not to discourage you from using the frying method – isn't everything better fried?
You will likely have more glaze than you need.  You can keep it in the fridge for up to a week and use it on anything from roast meats to apple pie.
Fried Brussels Sprouts with Maple Cider Glaze
3/4 cup Sugarmaker's Cut pure maple syrup
½ cup apple cider vinegar
½ cup fresh apple cider
pinch kosher salt
1 lb Brussels' Sprouts
Vegetable oil for frying
Combine maple syrup, apple cider vinegar, apple cider and salt in a medium sized pot.  Reduce by 1/4 over medium heat stirring constantly.  Set aside.  De-stem Brussels and cut in half, pulling off any outer leaves that are loose.  Fry in 350 degree oil for 1 minute or until brown.  Season Brussels immediately with a pinch of salt and toss with one tablespoon of reduction for every cup of Brussels.
If you don't have a fryer, take the raw cleaned Brussels and toss with oil and salt.  Roast in a 375 degree for 20 minutes.  Brussels should be tender but still have a bite to them.  Toss with one tablespoon of reduction for every cup of Brussels while hot.
Makes a pile of sumptuous tangy sweet Brussels.  How many it serves depends on how restrained your eating companions are but estimate 2-4 people.