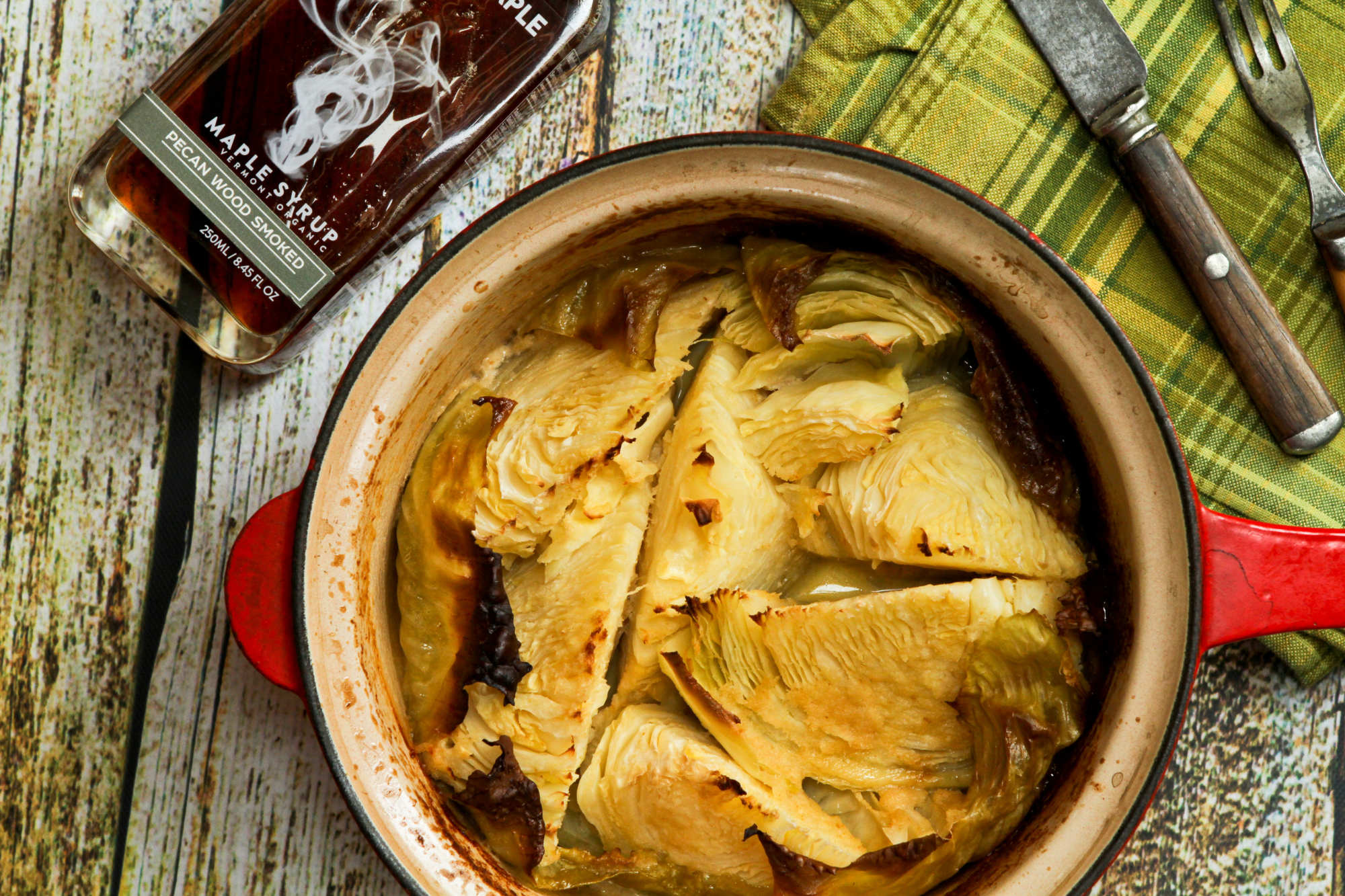 Raise your hand if you've ever cooked anything Finnish.  Yeah, me neither.  Saveur Magazine did a terrific feature on Finnish-American cooking in the Midwest (Dec/Jan 2018) and this recipe caught my eye.  I was intrigued over the combination of horseradish, vermouth, cabbage and cream.  It was either going to be hideous or really good and I was glad to discover it was the latter.  Braising the cabbage in the cream tames its sourness so the horseradish can step in and be the dominant note.  The recipe included a spoonful of corn syrup which, of course, I substituted with maple syrup.   Just a touch of sweetness from the syrup was important to tie together all of the players.  On my second attempt with the recipe, I tried using our Pecan Wood Smoked Maple and that was even better but you can certainly stick to pure maple if you don't want the smoky flavor.
Roasted Cabbage with Maple, Horseradish and Cream
1 medium cabbage
¾ cups heavy cream
¼ cup horseradish
¼ cup dry vermouth
Salt and pepper
3 Tbsp butter cut into pieces
Preheat oven to 400.  Remove any wilted leaves from the outside of the cabbage then cut it into wedges, removing the center core.  Place the wedges, slim side up in a wide, oven-proof pot.  They should be fairly snug.
Whisk together the cream, horseradish, vermouth, and maple syrup in a bowl and then pour over the cabbage.  Season with salt and pepper and then dot with the pieces of butter.  Put a lid on the pot and place on the stove on medium-high heat.  Bring to a boil and let the cabbage steam in the pot until the leaves have wilted a little, about 8 minutes.  Remove the lid and take the cabbage off the heat.  Tilt the pot to gather some of the cream to baste over the tops of the cabbage.  Put the pot in the oven, uncovered and bake until the center is tender and the tops have started to brown a little, about 35 minutes.  Keep an eye on the liquid and add some extra cream if it gets too dry.
Serve with pork chops or sausage.