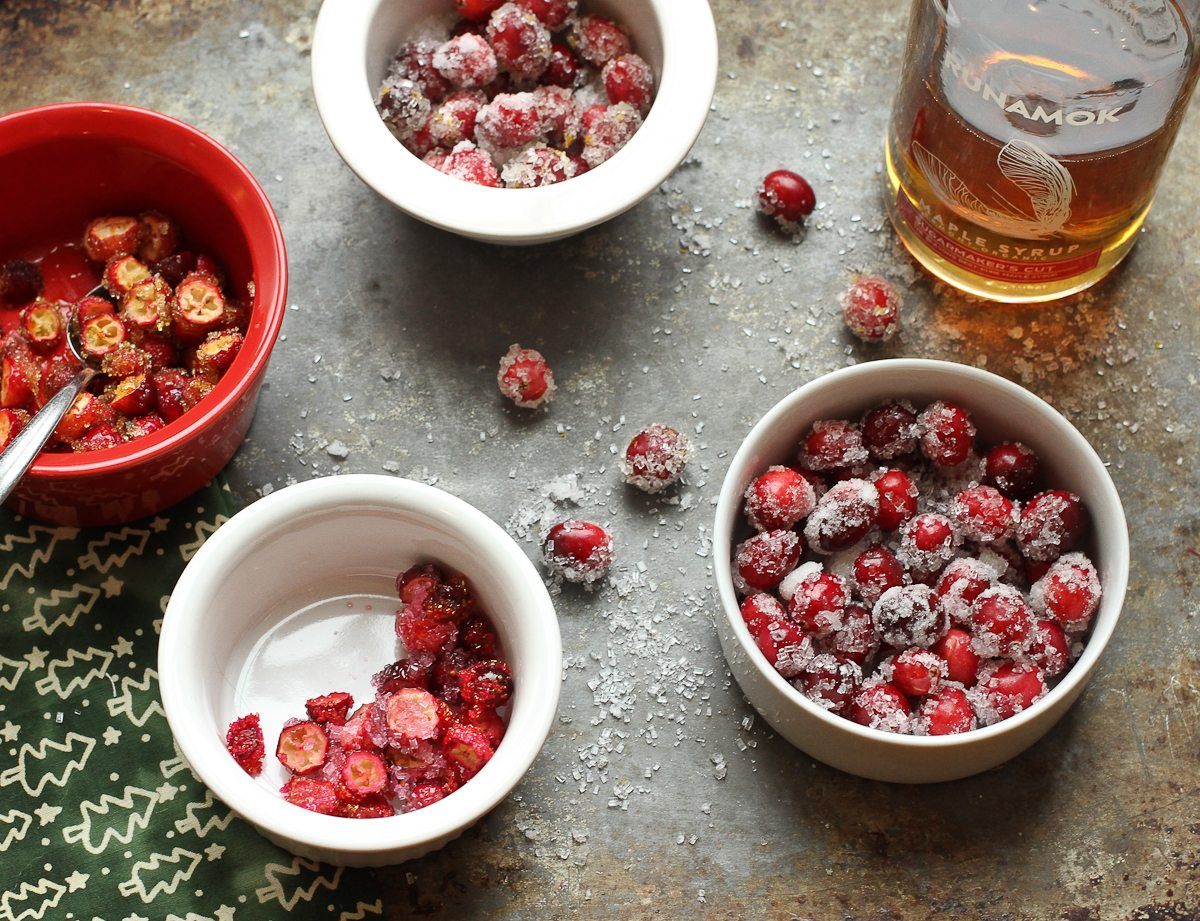 The best Christmas treats are as dazzling to the eye as they are to the palate.  My son, Henry, and I were scrolling through 'Holiday Recipes' on Food52 the other weekend and came across a gorgeous photo of Candied Cranberries.  They are whole cranberries soaked in simple syrup and then rolled in sugar.  You can use them as a snack unto themselves or as a garnish for a bigger dessert such as cake. In the photo they were stunning, but cranberries are pretty sour when raw.  So we had two questions to answer:  1) is it truly a pleasant experience to eat a raw cranberry, even when smothered in sugar, and 2) do they taste even better if you soak them in maple syrup instead of simple syrup.  The answers are yes and heck yeah.  They are most definitely sour but the maple and sugar tempers them and I couldn't help reaching for them all day.  I tried them both with Sugarmaker's Cut and Makrut Lime-Leaf Infused Maple Syrup and they both came out well, the lime being subtle but most definitely there.
You can prepare them either whole and halved.  The halved will likely be preferred by people who don't care for ultra-sour and they don't take as much time to soak.
Maple Candied Cranberries
1 cup fresh cranberries, halved or left whole
¼ cup Sugarmaker's Cut or Makrut Lime-Leaf Infused Maple Syrup
Decorative sugar (like the large granulated type one would use for decorating cookies)
Put the cranberries in a bowl and cover them with the maple syrup.  If you are using whole cranberries, soak them overnight.  If you are using halved cranberries, they only need to soak for an hour or two.
Remove the cranberries from the syrup (you can save it for another purpose but don't pour it back in the bottle*).  Let the excess syrup drain off until they are moderately sticky.  Pour the sugar into a shallow bowl and roll the cranberries in it, covering all sides of the berry.  Gently remove the berries and place on a tray.  Allow to dry for several hours.  When dry and crispy to the touch, put in a decorative bowl or use as garnish around a cake.
* In fact, if you find a creative use for this cranberry infused maple syrup let us know.