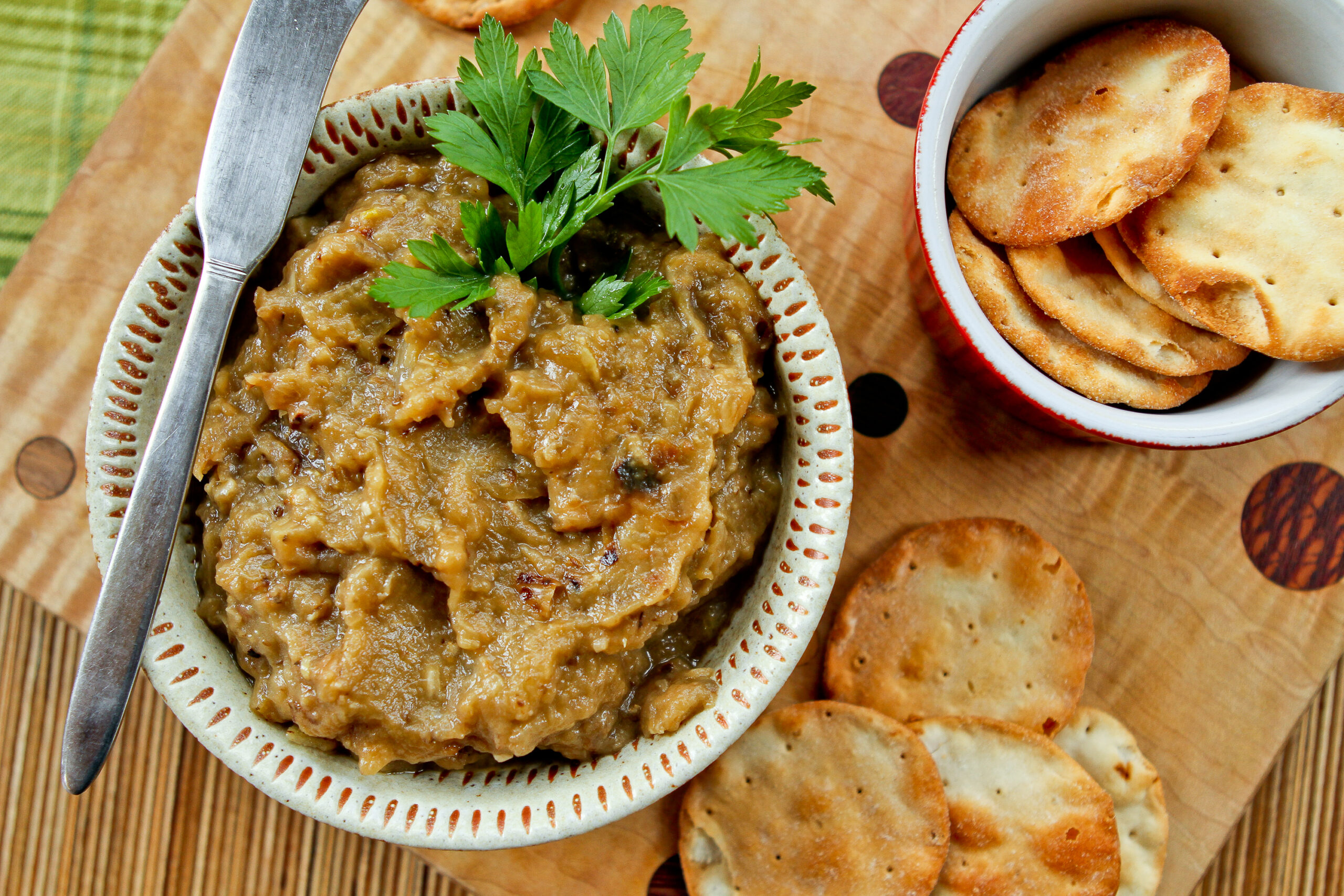 Late summer means it is eggplant season.  If you've had your fill of grilled eggplant then it is time to step up your eggy game.  Try this dip which is similar to baba ganoush, that middle eastern dip often next to the hummus.  For this one, I've skipped the tahini and kept it simple with just onions, garlic and seasonings.  Adding either the Cardamom Infused or Pecan Wood Smoked maple syrup brings out the sweetness of the eggplant and onions and gives it a little some-something that people can't quite put their finger on but will definitely go in for another scoop to find out.
Eggplant Dip
1 large Italian eggplant
1 Tbsp olive oil, plus more for greasing a pan
1 medium onion, peeled and diced
2 cloves fresh garlic, chopped
Squirt of fresh lemon juice
Salt and pepper
2 Tbsp chopped tomato
1 Tbsp chopped parsley or cilantro
Pita chips for dipping
Preheat oven to 350.  Cut the eggplant in half and lay cut side down on a greased cookie sheet.  Bake in the oven for half an hour or until the eggplant is very soft.  Remove from the oven to let cool.
In a sauté pan, add the onion and cook over medium heat until just beginning to brown.  Add the garlic and cook 2 minutes more.  With your fingers, pull the skin off of the eggplant and add the rest to the pan.  Let the eggplant cook and break down further.  At this point you can puree the mixture to make it smooth or let it be chunky.
Remove from the heat and add the maple syrup, squirt of lemon juice and salt and pepper to taste.  When cool, put in a small bowl, top with tomatoes and herbs and serve with pita chips.