Ginger Infused Maple Syrup is one of our original syrups and is a customer favorite for good reason. It has many uses in both sweet and savory dishes, and is also one of the best maple syrups for cocktails. We use fresh, organic ginger from Peru. To make the infusion, we pulverize it, often hundreds of pounds at a time, and immerse it in warm maple for a precise amount of time. When the flavor reaches the perfect balance between sweetness and spice, we filter it out. Since we are always looking for ways to reduce waste, the maple-soaked ginger bits often make their way to brewers and bakers, and some employees take it home to use in cooking.
The Ginger Infused Maple Syrup can taste strong if sipped straight off a spoon but the intensity mellows when poured on food. That is why when you put it over fruit or in a drink, the ginger will be a subtle background note. The following recipes are among our favorites but they only scratch the surface of how great this syrup is.
Maple Strawberry Shortcake
Using the Ginger Infused Maple Syrup over fresh fruit is an easy way to bump up the flavor of nearly any type of fruit. You can slice up apples and pears and dip them in a small bowl of the syrup or you can pour it over berries and it will create a sauce.  A good example of this is our Maple Strawberry Shortcake recipe which uses the Ginger Infused Maple Syrup to macerate the strawberries. 
Apricot Scones
Another easy way to get your ginger-maple fix is to use the syrup in a glaze. Here the flavor is more pronounced when used in the world's most simple recipe: syrup + confectioners' sugar. We used the glaze on some Apricot Scones that are dotted with dried apricots, which are the perfect compliment to the ginger.
Summer Cocktails
The Ginger Infused Maple Syrup is a key ingredient for two of our all-time favorite cocktails. The first is a twist on the Bellini, which is an Italian drink made of peach juice and Champagne. We subbed our Ginger Infused Maple Syrup for the simple syrup and made it worlds better. The second is a tequila drink of our own devising. It has guava juice, tequila, lime and Ginger Infused Maple, with a cheeky name for fun.
In Savory Sauces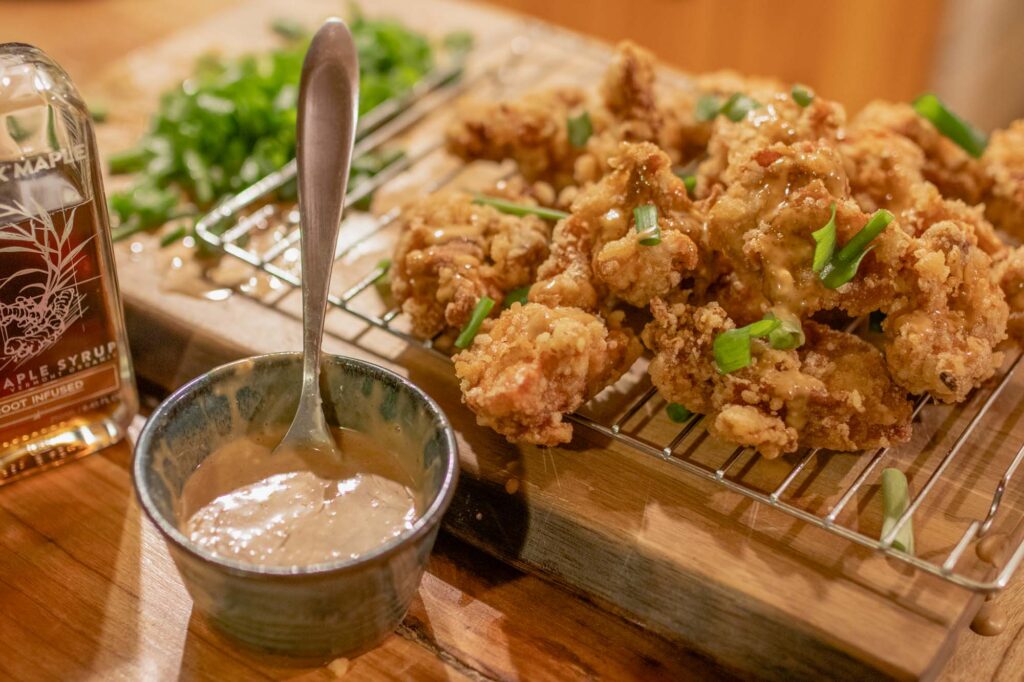 Given that ginger is usually used in savory dishes, it should be no surprise that the Ginger Infused Maple Syrup is an excellent addition to sauces and marinades. An easy stir fry sauce is to mix one part soy sauce with one part Ginger Infused Maple Syrup and pour on sautéed meat and vegetables. If you'd like to get a little more intricate, try this recipe for Japanese Fried Chicken with Ginger Maple Gochujang sauce. And just to underscore its versatility, it is just as suitable for a classic French sauce for duck.
Lastly, we highly recommend it as a sweetener in tea, both hot and iced. Black tea, herbal or green, it goes well with everything and is much better than plain white sugar. For more suggestions for using our Ginger Infused, type it into the search bar of the recipe section of our website and you will find even more recipes. Enjoy.