At Runamok, we are often asked what our favorite infused maple syrup is, but how can one answer? It would be like picking a favorite child – impossible. Our customers have their favorites, however, which we can see on our sales charts. By far our best selling infused syrup is Cinnamon+Vanilla and it would be hard to argue with the fan club. It is a classic combination that works with so many breakfast options (pancakes, waffles, crepes, oatmeal), no matter what the season. Below we have listed it with our other top sellers and the reasons why they are so loved.
Cinnamon + Vanilla Infused Maple Syrup
There is a reason why maple, vanilla and cinnamon are so often used together: they are delicious. For our best-selling Cinnamon & Vanilla Infused Maple Syrup, we tested both the vanilla and cinnamon from numerous regions around the globe until we found the perfect balance of flavors. This syrup is great on just about everything: pancakes, desserts, ice cream, yogurt, cocktails. Our friend Harry likes to stir it into milk for a maple-milk treat.
Cocoa Bean Infused Maple Syrup (Limited Release)
For this limited release, we have infused roasted cocoa nibs in our pure maple syrup to create a combination that is both luscious and complex. Cocoa nibs are chocolate in its purest form; the dried and fermented bits of cacao beans before any processing. Heavily weighted toward the chocolate flavor, this syrup will be perfect over ice cream or some very decadent French toast.
Cardamom Infused Maple Syrup
So many great spices go well with maple syrup but cardamom is one of our favorites. We have made sure the spice shines through in our Cardamom Infused Maple Syrup so you can add it to a cocktail or drizzle it over a favorite dish and taste just a bit of the cardamom. Serve it as a seasoning for curry, over roasted winter squash, or add it to frosting for a sophisticated turn.
Strawberry Rose Infused Maple Syrup (Limited Release)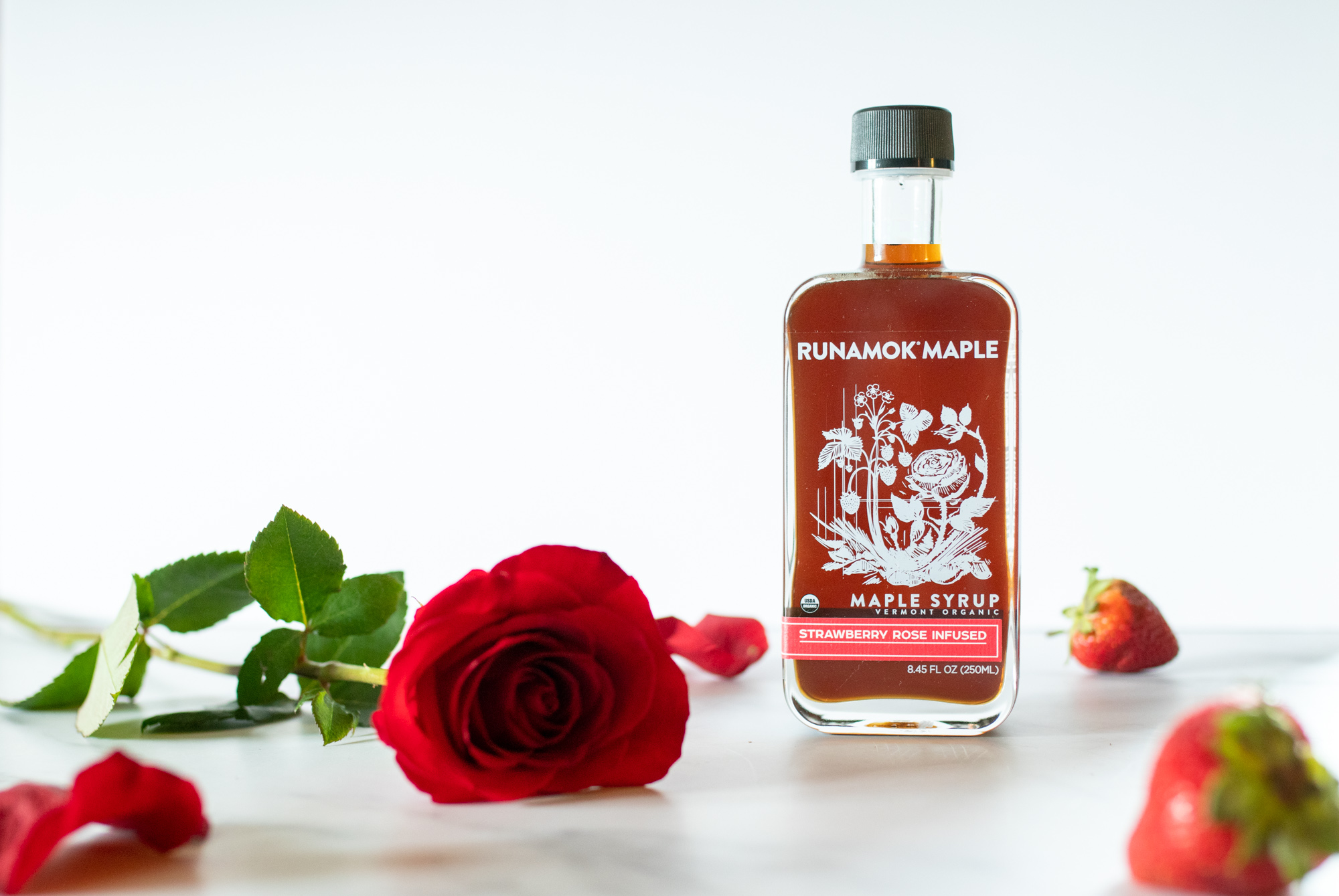 This limited release is both elegant and, dare we say it, delightful. Made with nothing more than all-organic rose petals, strawberries and maple syrup, it tastes like summer itself. It has a bright, floral taste, sweetened with lighter maple syrup and a hint of strawberry. This Strawberry Rose Infused Maple Syrup is so good on pancakes and crepes, but is also an excellent addition to summer cocktails.
Coffee Infused Maple Syrup
Our Coffee Infused Maple Syrup is the perfect pairing of two bold flavors. Combining the caramel sweetness of maple with coffee's nuanced chocolate and almond, we've created a flavor entirely different from all others. Use it on your morning waffles, make the ultimate coffee-milk (ask someone from Rhode Island) or drizzle it over vanilla ice cream. We've yet to encounter anyone who hasn't swooned over this limited release.
Ginger Root Infused Maple Syrup
We use fresh, organic ginger to create this spicy and addictive syrup. The possibilities for using our Ginger Root Infused Maple Syrup are endless. It is delicious on pancakes and waffles, of course, but it is also great in tea, pastries, vinaigrettes, stir-fry or as a glaze. With a serious ginger kick, it can stand up to spirits and will add an exotic and sweet element to cocktails. We are excited to announce our Ginger Root has been awarded a "Best New Product" from the Specialty Food Association's "sofi" award in the Dessert Sauce, Topping & Syrup category.
Shop our entire collection of infused maple syrups.