Father's Day is right around the corner, so why not take a minute to send a sweet surprise to your favorite guy.
From Barrel-Aged Maple Syrups, Hot and Smoky Honeys, to fun, easy-drinking Cocktail Mixers, we've got something for every father-figure in your life.
---
THE RUNAMOK
FATHER'S DAY GIFT GUIDE
For all the dads, grandpas, father-figures, brothers, husbands, uncles, and friends who just can't resist a corny joke… it's time to spread the love.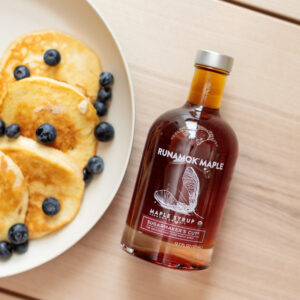 For the Traditionalist
Get him a big ol' bottle of Sugarmaker's Cut. It's nothing but pure, organic Vermont maple syrup – just like he remembers when he was a kid!

For the Grill Master
Smoked with Pecan Wood, Merquén Smoked Chili Pepper Infused, and Bourbon Barrel-Aged Maple Syrups make for incredible, robust barbecue glazes and sides.

For the Wellness Buff
Our five varieties of Raw Honeys are about as close as you can get to honey straight from the hive. Gently filtered and unheated, this all-natural sweetener is packed with beneficial enzymes.

For the Refined Gent
Our top-notch WhistlePig Rye Whiskey Barrel Aged Maple Syrup is aged in barrels from the world's most award-winning Rye Whiskey maker. Now that's something to raise a glass to…

For the Good Timer
Just add ice, seltzer, and your spirit of choice to our line of maple-based Cocktail Mixers and Bitters for the perfect at-home cocktail. It could not be easier or more delicious!

For the Kitchen Connoisseur
Challenge him to discover new culinary horizons with unique flavor profiles like Makrut Lime Leaf Infused Maple Syrup, Cardamom Infused Maple Syrup, and Lemon Verbena Honey.

For the Man Who "Has It All"
Does he have a trio of gourmet honeys, each with their own distinct flavor profile and nuance wrapped in a sleek and sturdy gift box? Didn't think so!