Meet our Burlap & Barrel Single Origin Collaboration Series:
When the opportunity arose to do this collaboration with our friends at Burlap & Barrel back in 2021, we couldn't say yes quickly enough. Burlap & Barrel offers a massive array of beautiful spices, equitably sourced from all corners of the globe. Their founders Ethan and Ori saw an opening for single source, highly curated herbs and spices so they traveled the world, meeting with farmers and finding varieties of spices that are rarely seen in western markets. They partner directly with smallholder farmers to source spices that have never been available in the US before while helping improve the livelihoods of their partner farmers and building new international food supply chains that are equitable, transparent, and traceable.
TASTING NOTES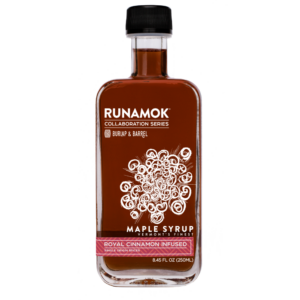 ROYAL CINNAMON INFUSED MAPLE SYRUP
Royal Cinnamon is a spicy cinnamon, reminiscent of Red Hots candy but with a more earthy background. Harvested in the mountains of Vietnam, it exemplifies the intense sweetness and spiciness for which Vietnamese cinnamon is prized. Simply put, cinnamon lovers won't be able to put this one down.
QUICK FACTS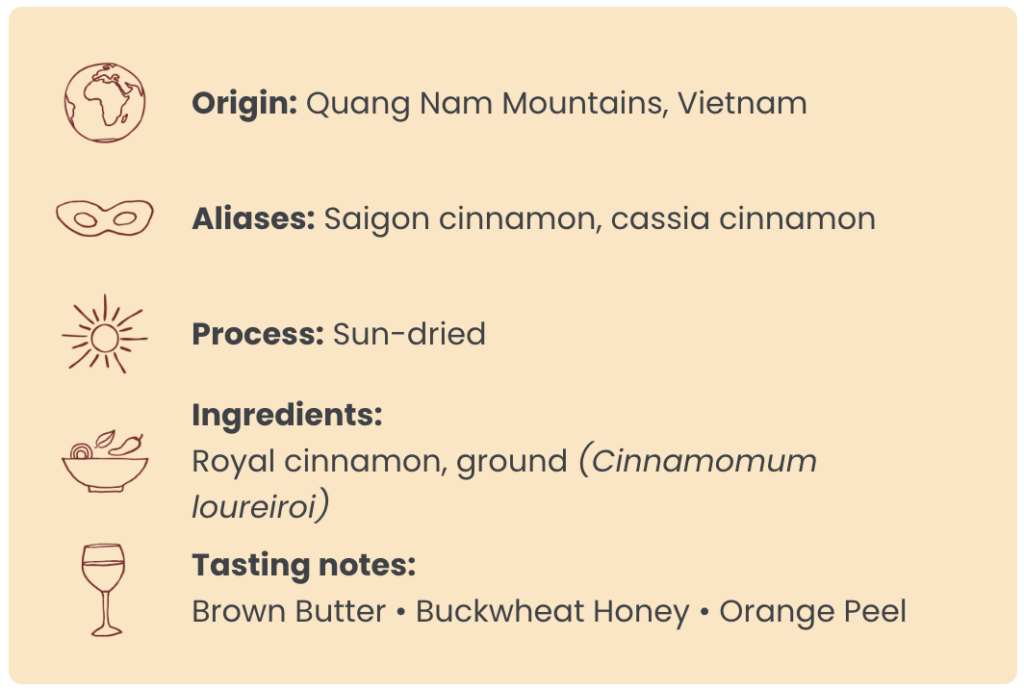 SOURCING
This Royal Cinnamon has been harvested from the mountains of Quang Nam in central Vietnam, outside the ancient Vietnamese capital city of Huế for centuries. This is an heirloom variety not widely harvested or exported, and it exemplifies the intense sweetness and spiciness for which Vietnamese cinnamon is prized. Burlap & Barrel explains the unique harvesting technique used:
"They use a technique for harvesting cinnamon that we've never encountered before – instead of chopping down the tree to harvest the bark, they make a deep cut around the base of the tree and let the bark dry on the tree for a couple of weeks before harvesting it. That makes it easier to harvest, but it also concentrates essential oils rather than letting them evaporate as the bark dries in the hot sun. The bark comes off the tree mostly dry and very intensely spicy and sweet, with a beautiful fragrance that we could smell from half a mile away."

RECIPES & USES