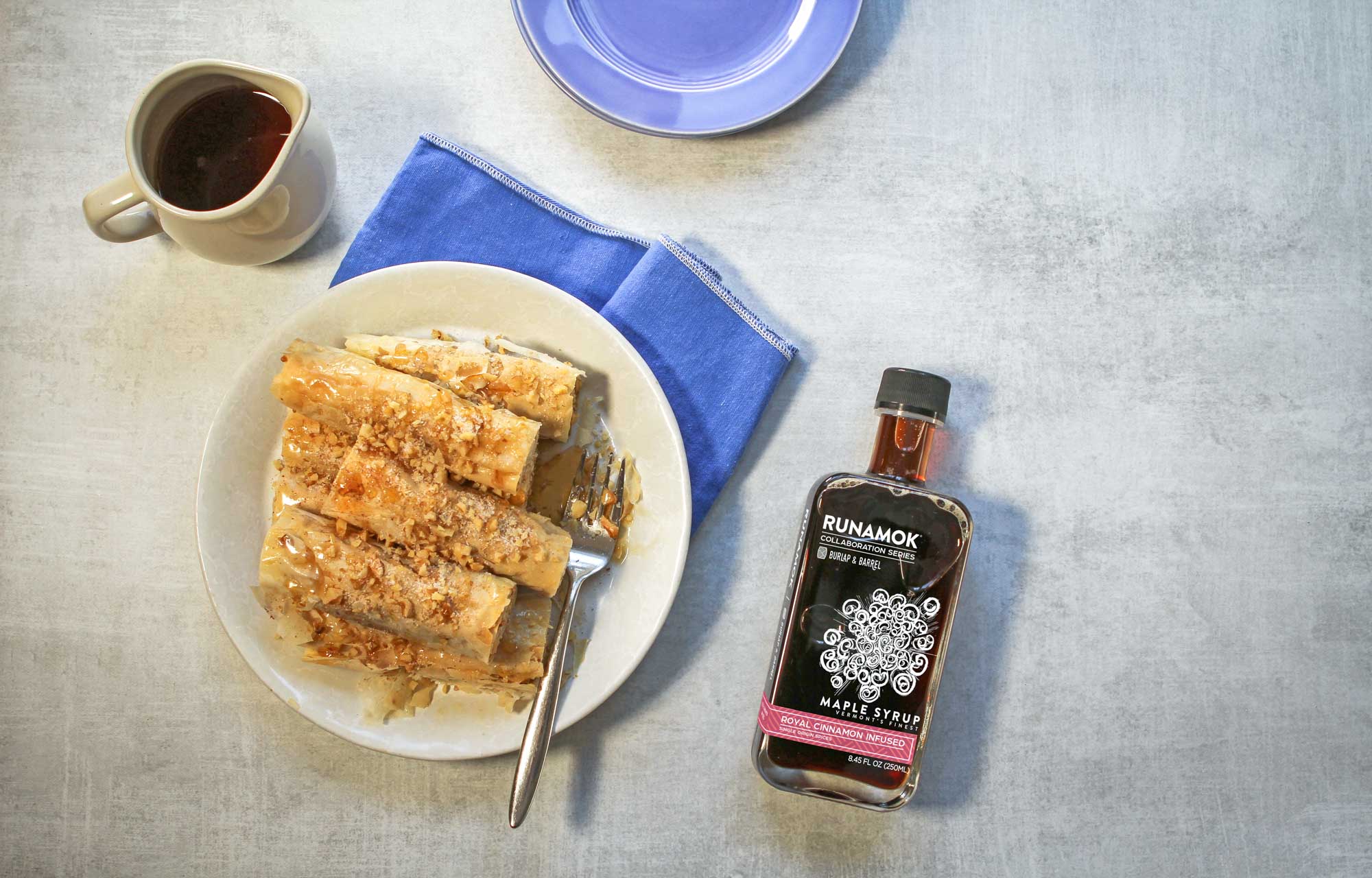 Our Royal Cinnamon Infused Maple is robust. The cinnamon flavor is assertive enough to make its presence known in baked goods, especially something mild and nutty like flaky filo and nuts. 
This recipe is essentially baklava in a roll form, which means you can pick them up with your fingers or eat them with fork and knife. The Royal Cinnamon is the perfect complement to the walnuts that have caramelized a little with butter and sugar inside the filo. Drizzle on a little or a lot for a dessert or snack.
Ingredients:
2 cups toasted walnuts, chopped*

¼ cup sugar

12 sheets filo dough

½ cup butter, melted

Runamok Royal Cinnamon Infused Maple
Instructions:
Preheat oven to 350. Combine nuts and sugar in a small bowl. Find a 13" x 19" baking dish, lightly butter it and set aside.
Prepare a smooth surface by laying down a 15" piece of parchment or wax paper. Put one full sheet of filo on the paper and brush with the melted butter. Place another on top and repeat with butter, then sprinkle ¼ cup of the nut mixture evenly over the entire piece. Working from the more narrow end, roll the dough as tightly as you can manage without tearing it. Cut the roll into thirds and place in the baking dish. Continue with the remaining sheets of filo until the baking dish is full.
Bake in the oven until the tops start to brown slightly, about 15 minutes. Remove and let cool slightly then serve with Royal Cinnamon Infused Maple drizzled on top.
*Note: If you are not a fan of walnuts, I also tried these with a combination of chopped pecans and dried apricots, which was delicious.