Sugarmaker's Cut: Organic Vermont Maple Syrup – 375ml
$18.95 – subscription plans starting at
every 2 weeks
Pure, Vermont Organic Maple Syrup. Sugarmaker's Cut is harvested at the peak of sugaring season, delivering the best of Vermont straight to your tastebuds. Size: 375ml
Fearful of running out? Upgrade to our 750ml bottle!
Tasting Notes
Grade A, Amber Color, Rich Taste – a perfect caramelized maple flavor. 
Recommended Uses
Use anywhere that a natural sweetener applies – from coffee and breakfast toppings to dessert glazes, cocktails, BBQ, dressings and beyond.
Sourcing
Our organic maple syrup is sourced from our own sugarbushes in Cambridge and Bolton, Vermont, and our partner sugarbushes across the state.
Ingredients
Pure, Vermont Organic Maple Syrup
Runamok is a family-owned and operated specialty foods company based in Northwestern Vermont. All products are made at our facility in Fairfax, Vermont.
We are committed to sustainability. Our maple syrup is sourced from our certified organic, certified bird friendly sugarbushes in Cambridge and Bolton (Vermont) and from family-operated sugarbushes across the state.
Sugarmaker's Cut Pure Vermont Organic Maple Syrup is USDA Certified Organic, Certified Kosher by the Orthodox Union and is vegan friendly.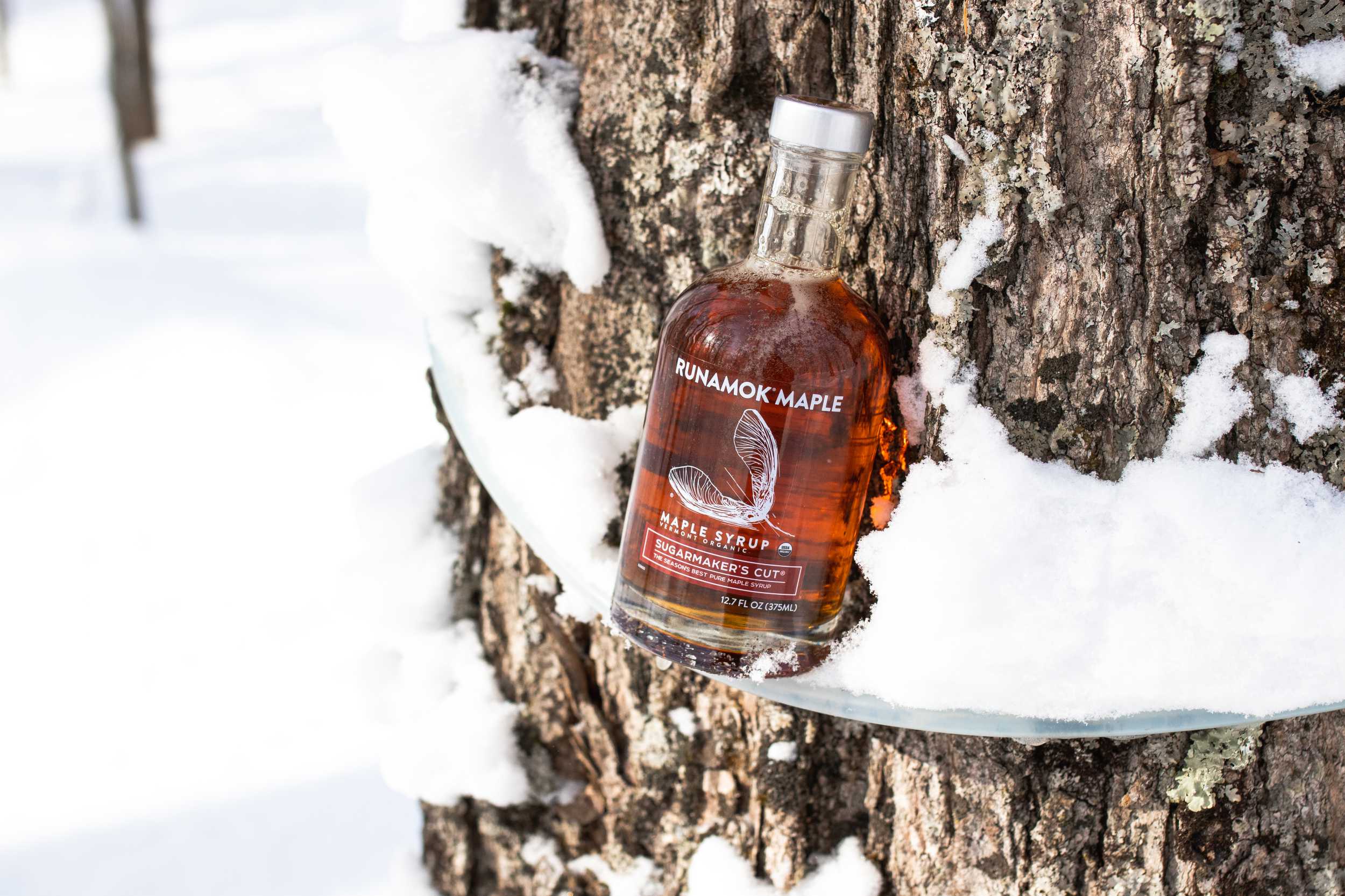 The Best of the Season
This is the very best organic Vermont maple syrup of the season.  Each run is sampled and when the flavor is at its peak our sugarmakers set it aside with a note: "Reserve for Sugarmaker's Cut."  It has always been what we give to our friends, our family and "those in the know."  Now we offer it to you.
What Does Sugarmaker's Cut Taste Like?
This is pure organic Vermont maple syrup at its best. This batch of Sugarmaker's Cut is graded as Grade A: Amber Color, Rich Taste. It's a full-bodied and perfectly balanced syrup – not as light as a Golden Delicate, which has subtle honey and floral notes, or as bold and strong as a Dark Robust. Amber Rich Sugarmaker's Cut is a perfect, caramelized maple with depth and nuance to pair with, but not overpower, any dish from pancakes to cocktails to savory vegetables and glazes.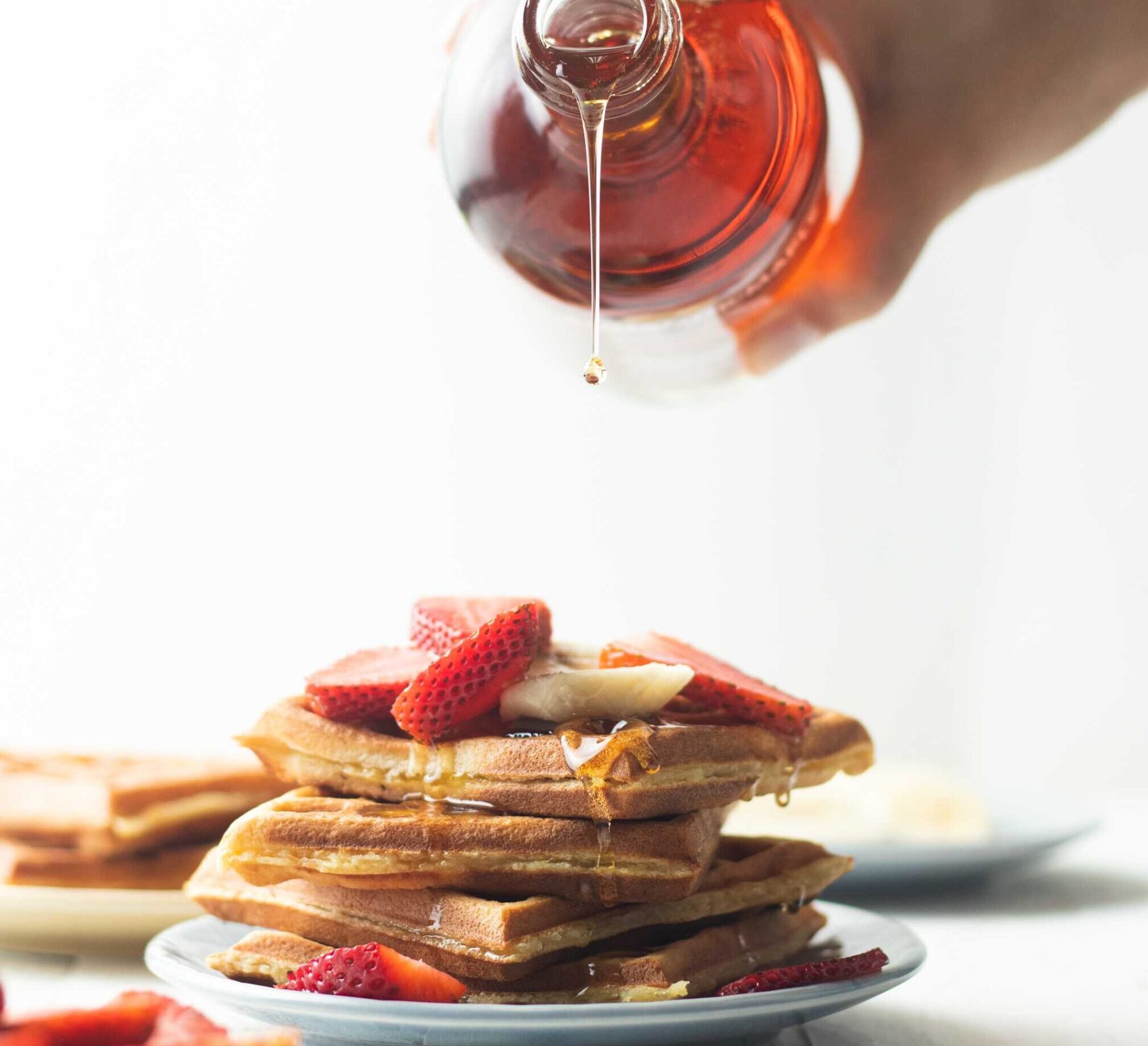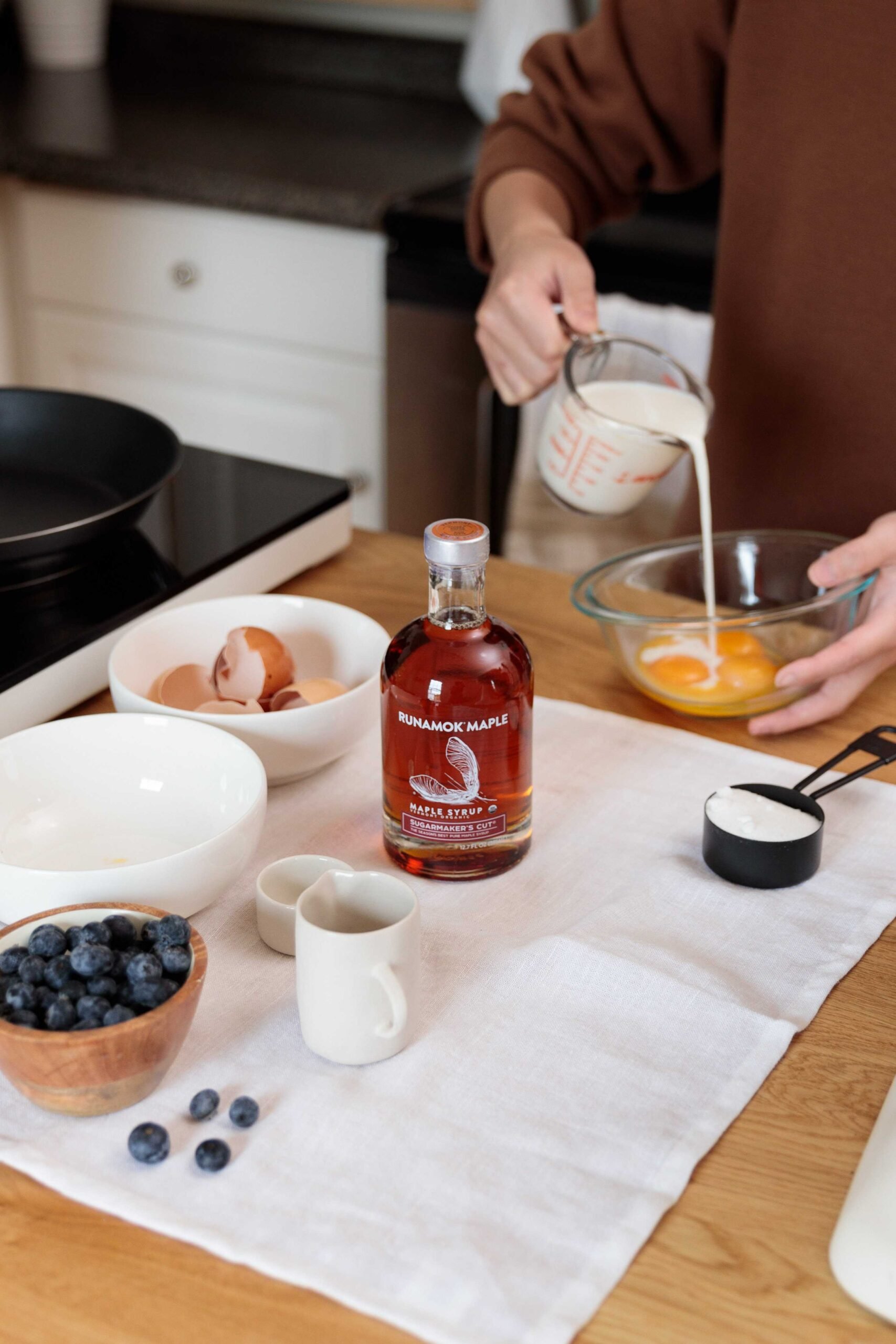 How to Use Sugarmaker's Cut?
It would be quicker to list the ways not to use this syrup… and actually, we can't really think of any ways we wouldn't use it! We have always preached the versatility of maple syrup beyond the breakfast table: in salad dressings, over ice cream, adding a touch of sweetness to savory dishes, or a depth of flavor to cocktails in place of simple syrup.
Our pure Sugarmaker's Cut maple syrup is a kitchen staple – as essential as salt, pepper, and olive oil – and a perfect all-natural substitute to refined sugars in most any recipe. The possibilities are endless.
What Makes Sugarmaker's Cut Special?
Our Sugarmaker's Cut is 100% pure maple syrup wild harvested from certified Organic sugarbush here in Vermont by our team and by our producer partners around the state. We operate over 1,000 acres of sugarbush on the backside of Mount Mansfield (Vermont's tallest peak) and recently began tapping a second sugarbush in Bolton, Vermont.
Our woods are certified bird-friendly by Audubon Vermont, which brings together the sugaring industry with bird conservation to ensure habitat is maintained for native and migratory birds. Organic maple syrup is naturally vegan and gluten-free. Our Sugarmaker's Cut is OU Kosher certified and processed in a facility that is free of any of the thirteen major FDA and Canadian food allergens.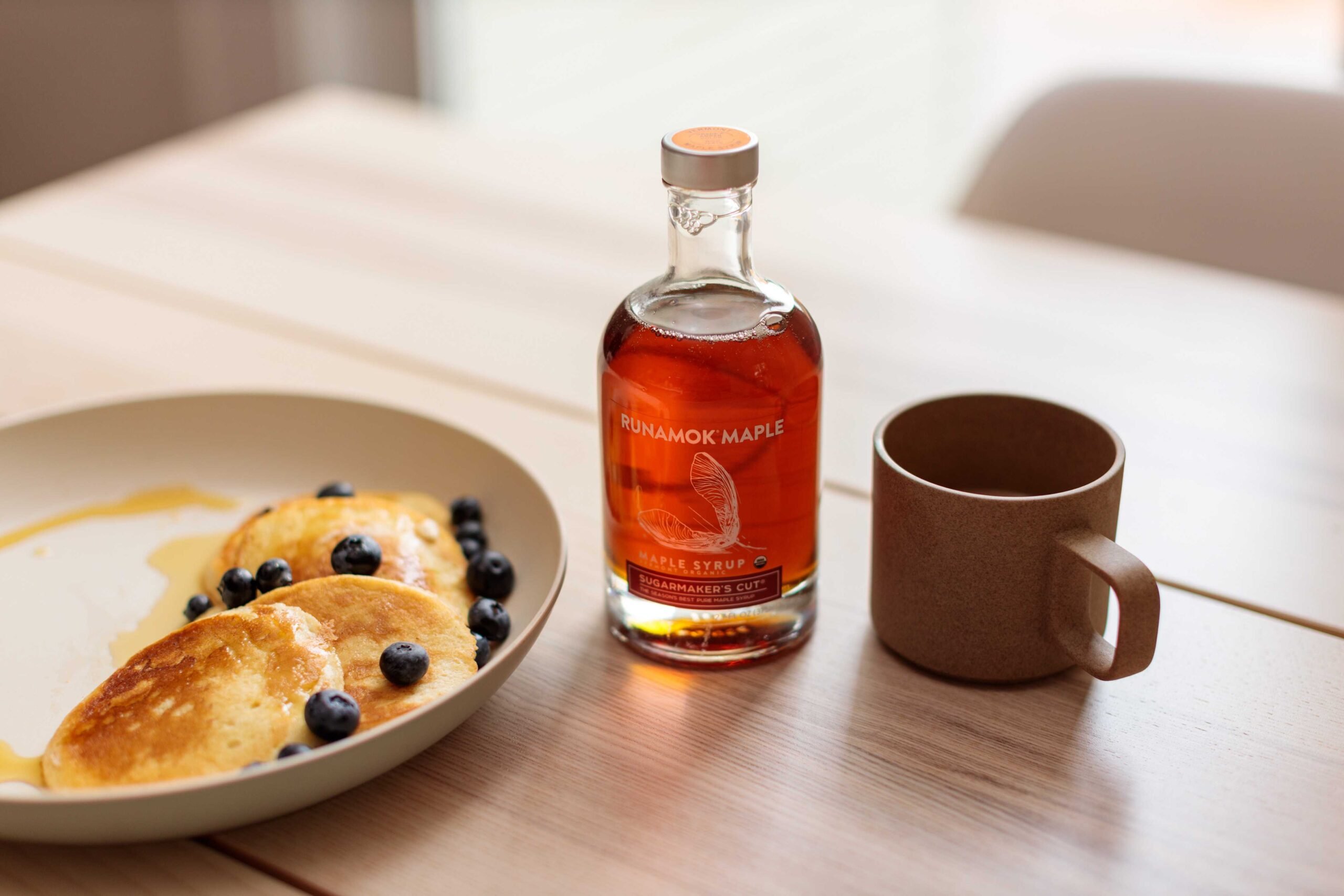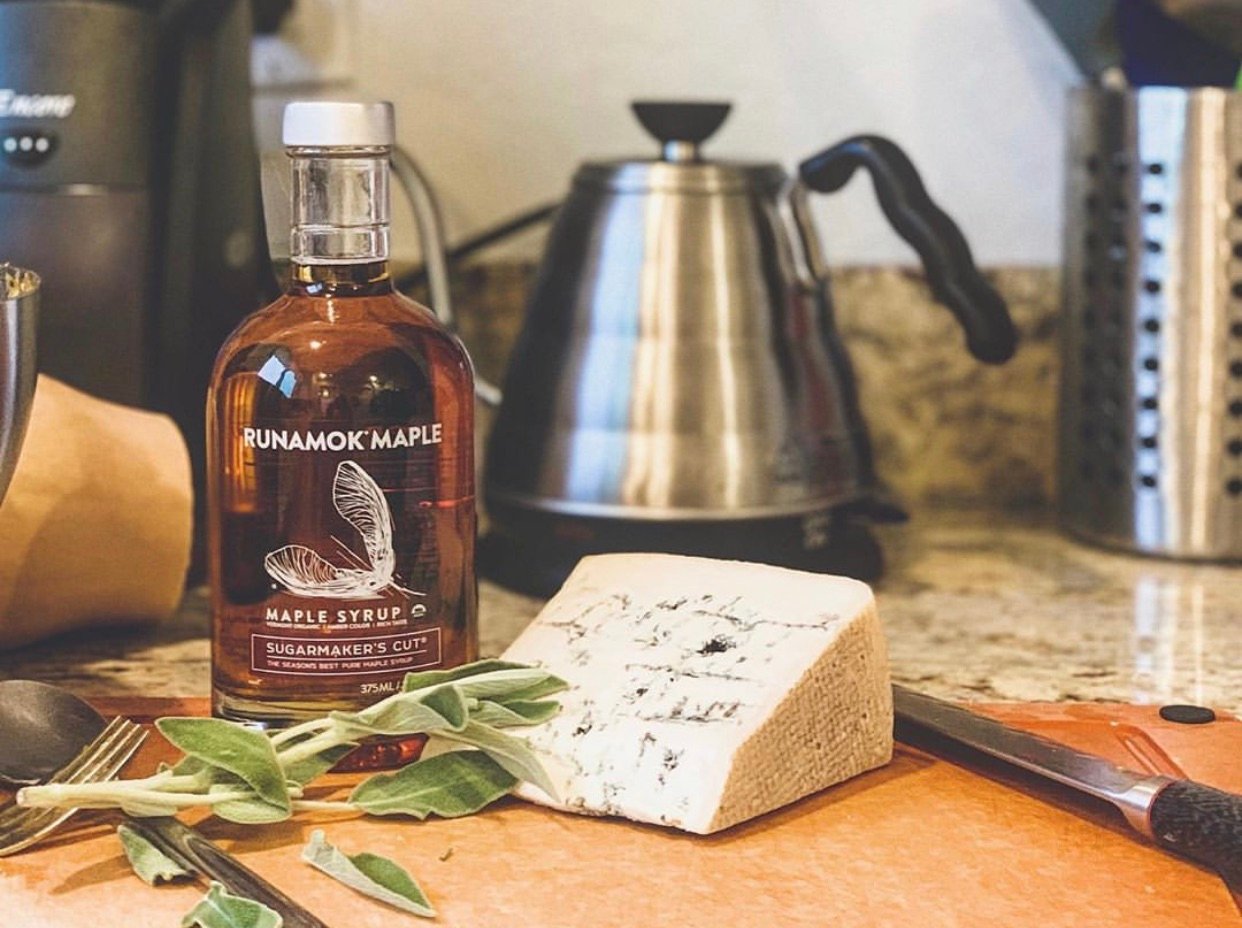 Nutrition Facts
The following information is provided for a single serving (2 tbsp or 30mL)
| | |
| --- | --- |
| Calories | 110 |
| Total Fat | 0g |
| Sodium | 5mg |
| Total Carbohydrates | 27g |
| Total Sugars | 24g |
| Protein | 0g |
| Calcium | 30mg |
| Potassium | 90mg |
| | |
| Ingredients: | Vermont Organic Maple Syrup |
Community Spotlight: Instagram