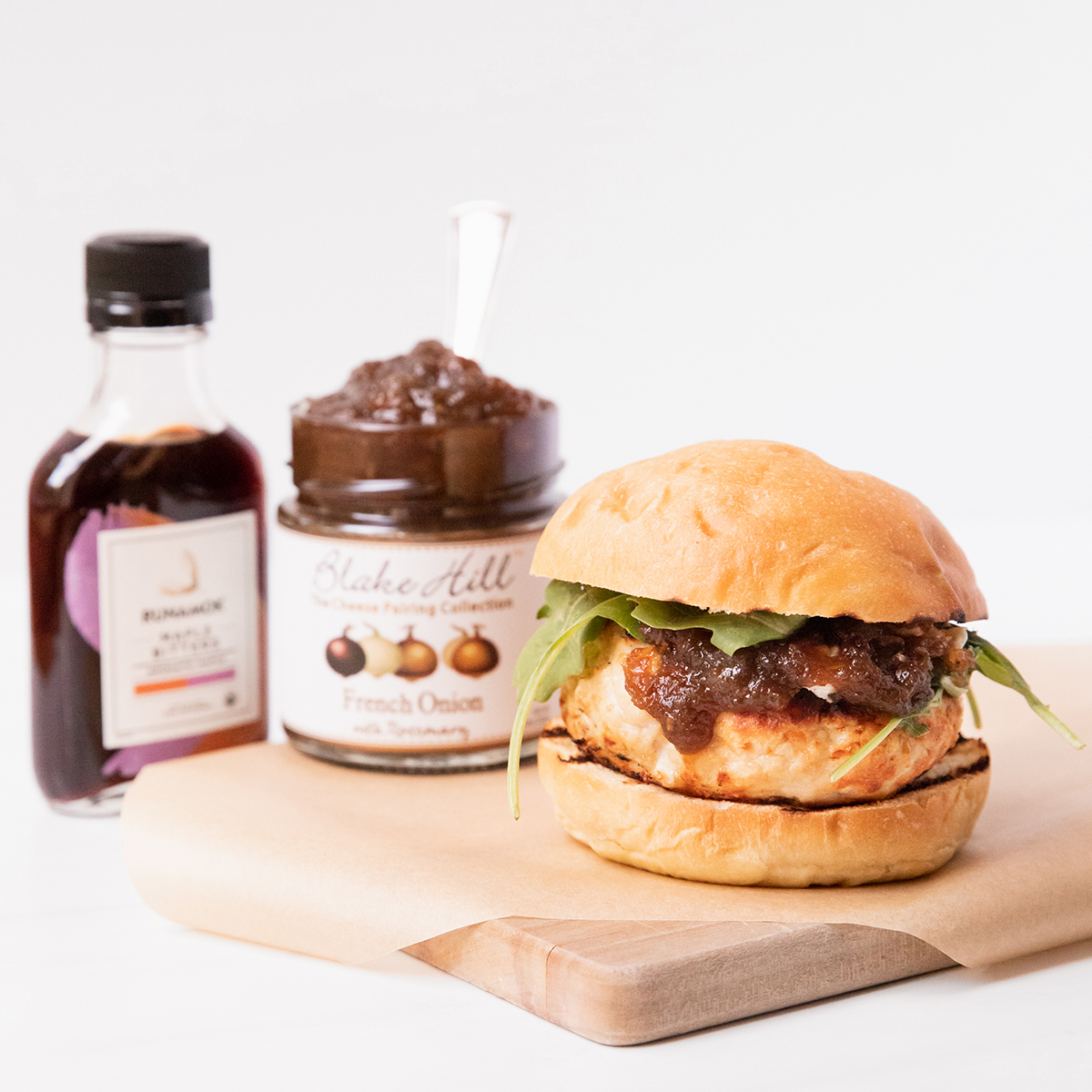 This is one of the recipes we did in collaboration with our friends at Blake Hill Preserves who produce award-winning jams and chutneys in Windsor, Vermont. We found many creative ways to pair up our products, starting with this excellent turkey burger, spiced with our Aromatic Bitters and topped with their Caramelized Onion Jam.
Turkey burgers can be on the dry side so I usually add egg and oil, plus some breadcrumbs as a binder for the whole lot.  Adding the Aromatic bitters gave the burger some added umami, with a hint of clove that paired really well with the onion jam. The goat cheese tops it all off with extra, creaminess and moisture.  
16 oz ground turkey
1 egg
1 tbsp vegetable oil
⅓ cup panko breadcrumbs
½ tsp salt
White pepper
8 – 10 dashes Runamok Aromatic Bitters
2- 4 oz goat cheese
Arugula
Blake Hill Caramelized Onion Savory Jam
Hamburger buns (optional)
In a medium bowl, combine turkey meat, egg, oil, breadcrumbs, salt, a few grinds of white pepper, and the bitters. Blend the ingredients with your hands, doing your best not to overwork the meat. Divide into 3 or 4 burgers.
Heat a grill (or use oil in a saute pan on the stove) and place the burgers gently on the surface. Leave in place for about 5 – 8 minutes until nicely browned and then flip. Grill another 5 minutes or until completely cooked. Remove to a plate.
If using a bun, place the cooked patty on the bun and dot with a tablespoon or two of goat cheese. Top with a generous amount of onion jam and then some arugula. Place the top bun and serve. Makes 3 or 4 burgers, depending on size.