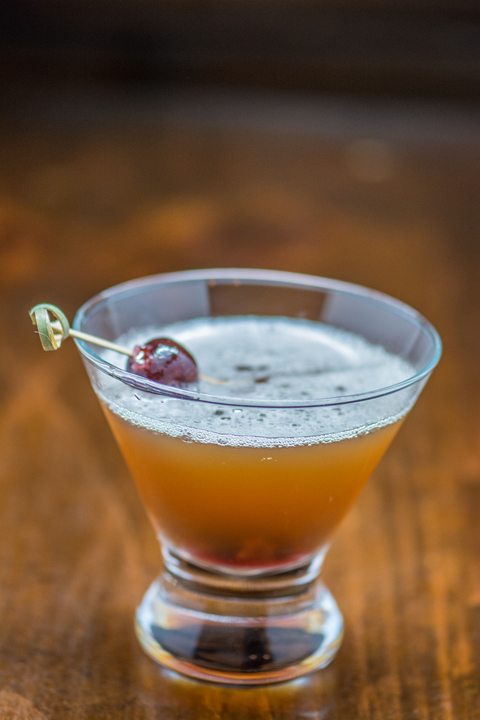 With regard to our little region of the world, the availability of locally made or grown food is astounding.  Even given the fact that the ground is frozen for six months of the year and the soil is acidic and rocky, you can eat almost entirely from vegetables, meat, cheese, fruit, and bread that were raised or produced locally.  We also have both a winery and distillery, and a maker of fine chocolates.  We even produce our own sugar (ahem).  This uber-locavorability is made all the more remarkable in that the population of our town is about 3,600.
This cocktail from our friends over at the Hearth and Candle Restaurant, in the Smuggler's Notch Resort is a good example of how easy it is to use local ingredients to make magic.  The ice cider is from a producer in Eden, just north of us and Urban Moonshine Bitters is out of Burlington.  Smuggler's Notch Distillery Bourbon and, of course, our Cardamom Infused Maple Syrup are made right here.  Okay, you may have me on the cherry, but my friend Dave grows them so it may just be a matter of time before those are sourced locally too.
This is the ideal cocktail for a cold winter's night.  It is mildly sweet with a hint of spice from the cardamom and bitters.
The Dooryard
1 oz Eden Northern Spy Ice Cider
2 oz Smuggler's Notch Distillery Bourbon
1 tsp Runamok Cardamom Infused Maple Syrup
2 dashes Urban Moonshine bitters
Amarena cherry garnish*
Stir all the liquid ingredients together and garnish with a cherry
*Amarena cherries are produced in Italy