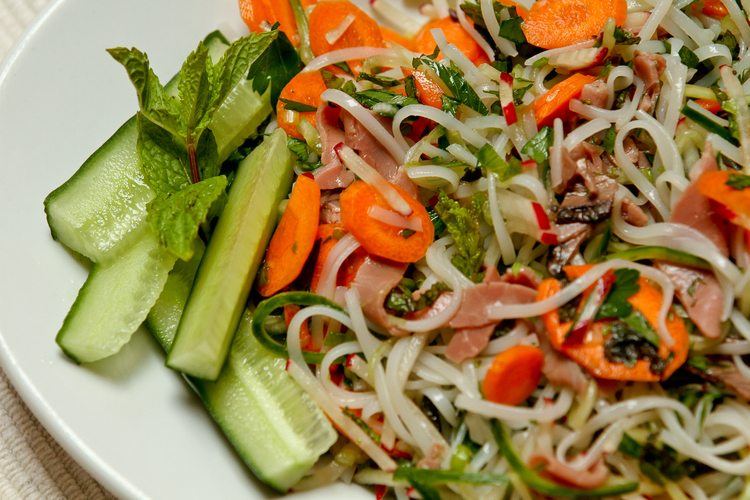 My first job out of culinary school was working for Jean Georges Vongerichten at his Thai-French restaurant, Vong. Being a newbie, I worked the garde manger station which is salads and appetizers. Since I feel chefs can be at their most creative with appetizers, I was very content to be there and learned a great deal about balancing flavors. The Thais in particular are masterful at bringing together sweet, sour and salty in perfect harmony. When experimenting with our maple syrup, I realized it would be the perfect component for the sweet part of the triad. Thus you will find many Thai-inspired dishes in this collection of recipes.
This is a summer salad I created several years ago during a particularly hot summer. It requires no cooking aside from boiling water to cook the rice noodles. The Makrut Lime-Leaf Infused Syrup works perfectly with the white vinegar and salty fish sauce to achieve that balance mentioned above. The rest of the ingredients come together easily for a light, but satisfying summer meal.
Thai Roast Beef Salad
1 oz rice noodles
1 carrot
2 radishes
Roughly 4" section of cucumber
2 scallions
2 – 3 slices of cooked roast beef from the deli counter
Mint
Cilantro or parsley
1 Tb white vinegar
1 Tb Makrut Lime-leaf Maple Syrup
1 tsp fish sauce
Put on a pot of water to boil. Add the rice noodles and cook until tender, about 5 minutes or less depending on the thickness (consult the package). Drain and let cool.
Slice all of the vegetables into as thin julienne as you can manage. If you have a mandolin, this should only take a few minutes. This isn't a salad that lends itself to big, chunky bites of vegetables but delicate, slender shreds close in size to the noodles. Chop a handful of each of the herbs and scallion finely as well. (Jean George was always yelling at me, "More 'erbs!") Slice the roast beef into strips. Mix the vinegar, syrup and fish sauce in a small bowl. Combine all ingredients and chill for ten minutes. Taste for seasoning and serve.