This recipe comes courtesy of Chef Veera Gaul, co-owner of Oil & Vinegar in Greenville, SC. Chef Veera is an educator who is passionate about the Mediterranean Lifestyle creating Recipes for Every Taste – easy, healthy, gourmet and delicious.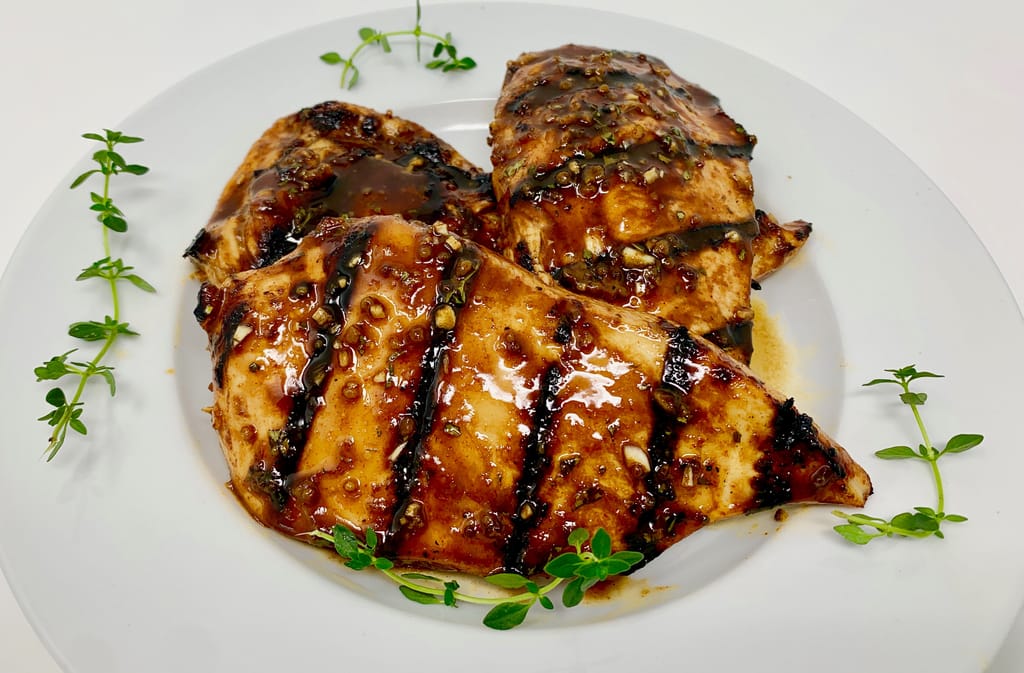 Garlicky, spicy, sweet and slightly smoky, this chicken is mouthwateringly delicious. Quick, easy and it'll fly off the platter, so make enough!!
I love grilling chicken – its' healthy and stress-free, but unless you change up the marinade, rubs or seasoning, it can get pretty boring. Nothing boring about this version though – steeped in an infusion of spicy honey, garlicky mustard, smoky paprika and tangy balsamic, this easy marinade lends tremendous sweet heat flavor to the chicken.
I often drizzle a little of the reserved basting liquid over the grilled pieces on the platter to add extra pizzaz. BE BRAVE and make this for your next cookout, tailgating party or just for a random weeknight dinner.
It may be the end of summer, but don't turn that grill off yet!
Serves 6
Active Time: 15 minutes. Total Time: 75 minutes or more including marinading time
Ingredients:
* indicates preferred ingredients – see notes for alternatives
Preparation
Mix together the garlic, thyme, spicy honey, garlic mustard, balsamic vinegar, smoked paprika and EVOO. Reserve a ¼ cup for basting. Marinade the chicken breasts in the remaining mixture in a sealable plastic bag in the refrigerator for a minimum of 1 hour but preferably 6-8 hours.
Preheat the grill to medium-high heat and oil the grates. Place the chicken over direct heat and grill covered for 4-5 minutes. Flip the chicken onto a cooler part of the grill, and baste. Cook for an additional 5 minutes basting occasionally.
Serve garnished with sesame seeds and the green part of scallions as well as any remaining basting liquid drizzled on top
Serve with grilled asparagus or broccolini.
You can also cook this in the oven under the broiler – Preheat the broiler on High, place a rack about 6 inches from the heat source. Line a baking sheet with foil and place the chicken on the baking sheet. Cook for 3-4 minutes on one side, flip the pieces and cook another 3-4 minutes until chicken is fully cooked and browned (internal temperature of 165F), checking often to prevent burning.
When broiling, do not baste, simply drizzle the reserved liquid over the chicken when serving.
Serve with cooling Lemon Dill Slaw or any of these Potato Salads.
* Notes: The Chile del Arbol spicy honey is key to adding sweet heat to this dish. I enjoy the flavor of the Garlic Mustard and the Garlic EVOO in this dish because of the ease of added zing and taste. You can substitute with another spicy mustard of your choice and an unflavored EVOO, but I would recommend adding more garlic to the recipe. Finally, the IGP Balsamic vinegar and the Smoked Paprika respectively add umami and smoky depth to the chicken even with a relatively short marinating time. All the linked and highlighted products are available at most Oil & Vinegar stores.