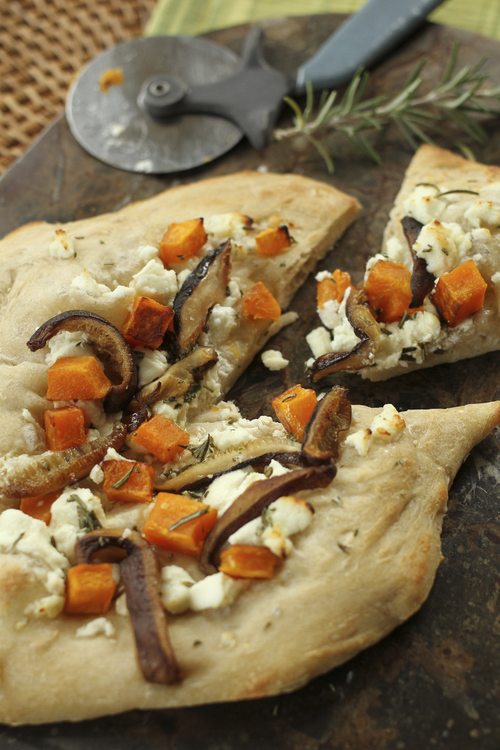 It is early spring here in Vermont and the week's weather is showing the following: chilly followed by extreme sleety yuck, after which the sun will deepen the mud, back down to brrr and around again to 39 °F and blech. In other words, it is a great week for sugaring. It is also a good week for warming comfort food that doesn't take too long to prepare.
Pizza is now an easy and popular thing to make at home, especially with the premade dough you can find at the supermarket. For toppings, I am still working my way through storage crops, one of which is the beautiful and multipurpose butternut squash, which only gets sweeter with age. I have found that contrasting its sweetness with tangy goat cheese and rounding the flavors with meaty shiitakes makes for a nice trio. Topping it with rosemary and a drizzle of Pecan Wood Smoked Maple Syrup will elevate it to gourmet level, bringing a smattering of sunshine to our sleety weather. Don't forget to take your muddy boots off at the door.
Shittake Pizza
Pizza with Shiitakes, Goat Cheese, Butternut Squash, Pecan Wood Smoked Maple Syrup and Rosemary
Prepared pizza dough
1 small butternut squash, peeled, seeded and diced
A handful of shiitake mushrooms (or other variety)
Goat cheese
Extra virgin olive oil
Chopped rosemary, fresh or dried
Runamok smoked maple
Salt and pepper
Preheat oven to 400 °F.
Precook the butternut by placing in a pan with some oil (don't crowd). Put over medium flame and slowly brown – about ten minutes. Reserve on the side. Slice the mushrooms and do the same with them, sautéing them slowly in a pan until slightly brown. Season both with salt and pepper.
Roll your dough out into a circle and place on a sheet pan over parchment. Brush with olive oil. Place a smattering of squash and mushrooms in the middle. Dollop with chunks of goat cheese. Sprinkle chopped rosemary on top and drizzle the whole thing with Runamok Pecan Wood Smoked Maple Syrup to taste.
Place in the oven and cook until the dough has started to brown and is cooked through the center. Slice and serve. (Amount of servings depends on how much dough you have. Estimate roughly a tennis-ball sized amount per person for single serving.)