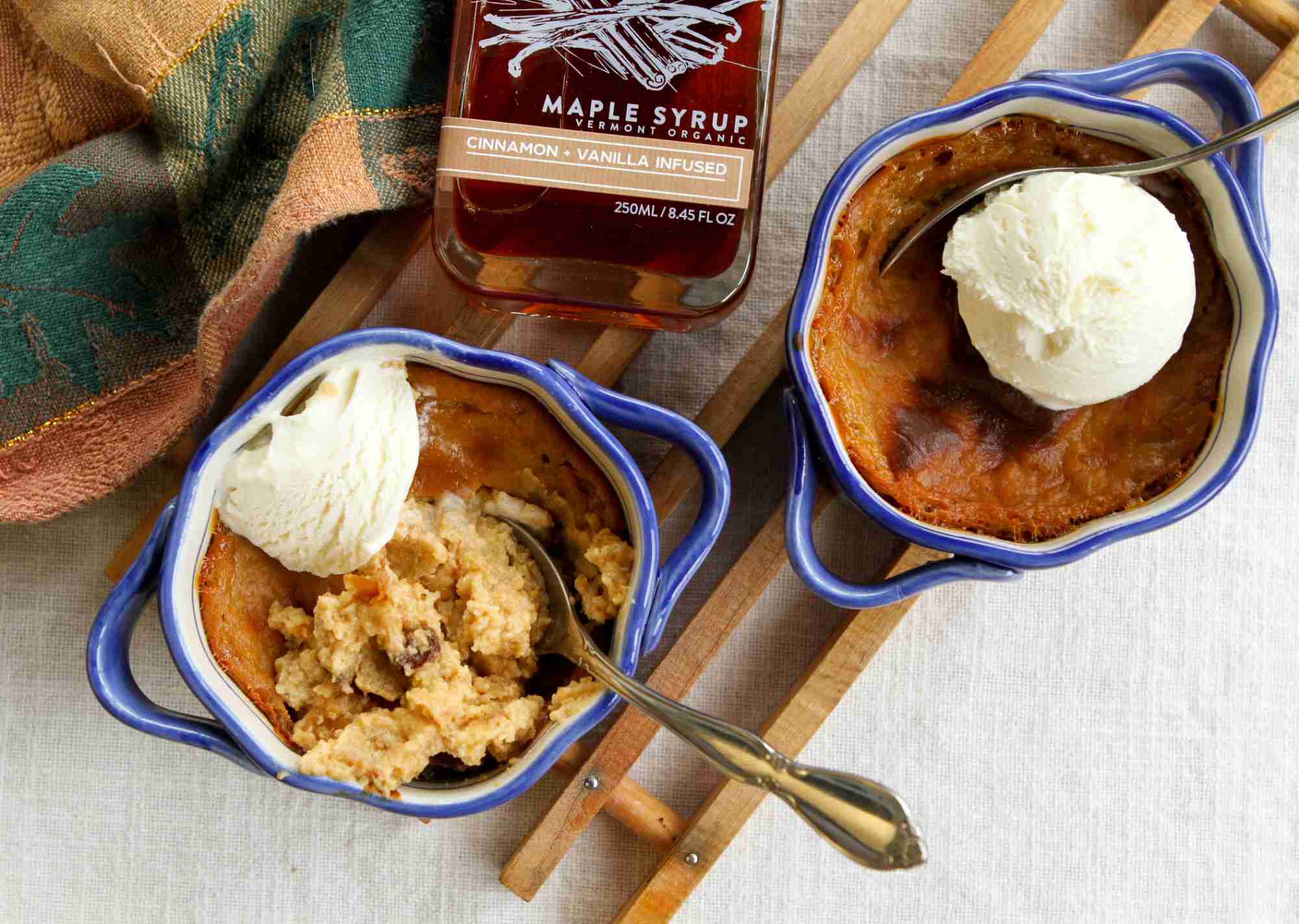 Hasty Pudding* is a delicious dessert that has nearly been forgotten but deserves a comeback. It is made by combining the new world food, cornmeal, with milk and molasses and boiling or baking with spices.  Eggs give it some loft and dried fruits, namely raisins, are often included as well. The result is somewhere between a cake and a custard, with a lovely duet between the sweet cornmeal and tangy molasses. It was a favorite of the colonists and fairly common on New England tables until the last century. If you'd like to read some reviews, I found the following on Whatscookingamerica.net
In 1662, John Winthrop, Jr. the first governor of the Massachusetts Bay Colony, was so enamored of the pudding, he included a description in his letter to the Royal Society in London.  In it, he wrote, "…it is a food very pleasant."  Not exactly four stars but you have to remember that the Puritans generally ate food that by today's standards would be considered very unpleasant (boiled beef, boiled vegetables, boiled fish, you get the idea).
If you think it may sound a little heavy, John Josselyn in 1672 stated, "It is light of digestion."  He even launches into a little recipe writing himself, explaining that after you combine the cornmeal with water you, "boyl it upon a gently fire till it be like a Hasty Puden."  And then when it reaches the consistency you like, "thye put of this into Milk and so eat it."
Our version is first cooked on a stovetop and then finished in the oven but otherwise, it is fairly true to the recipes I found from 350 years ago. We like to use Bob's Red Mill medium grind cornmeal because they leave the germ and the bran in which makes for a tastier pudding, not to mention, settlers would have used the whole grain and part of the fun of this dish is its authenticity. Since Native Americans introduced colonists to maple syrup as well, adding a drizzle of Runamok's Cinnamon+Vanilla Infused maple syrup, in my opinion, is also totally legit.
In short, you should include this dessert at your Thanksgiving table, not only because of its historical significance but because it tastes great.  But don't take my word for it.  The American poet, Joel Barlow (1754-1812) wrote a whole poem about it.
And all my bones were made of Indian corn.
Delicious grain! Whatever form it take.
To toast or boil, to smother or to bake,
In every dish 'tis welcome still to me,
but most, my Hasty Pudding, most in thee.
*Hasty Pudding is also the name of a theater organization, an institute, and a club at Harvard. According to their website, the pudding is served at every meeting of the club. https://www.hastypudding.org/
Hasty Pudding
6 cups milk
½ cup butter
½ cup Bob's Red Mill medium grind cornmeal
¼ cup flour
1 tsp salt
½ cup molasses
3 eggs
1 Tbsp granulated sugar
½ tsp ground cinnamon
½ tsp nutmeg
1 cup raisins (optional)
Vanilla ice cream or fresh whipped cream
Runamok Cinnamon+Vanilla Infused Maple Syrup
Preheat oven to 300F.
In a medium-large pot, scald the milk and then add the butter.  Stir until melted.  In a separate bowl, mix together the cornmeal, flour, molasses and salt. Slowly add the milk and butter to the flour mixture, stirring constantly.  If you add it too quickly, clumps will form that are difficult to get rid of.  Once all of the liquid is added, return the mixture to the pot and cook an additional 2 – 3 minutes.
In a separate bowl, whisk the eggs, sugar, cinnamon and nutmeg together.  Add a little of the hot milk and cornmeal mixture to temper the eggs and stir then pour all of the egg mixture into the large pot and heat just one minute more.  Add raisins, if you are including them.
At this point you can choose your baking dish or dishes.  The pudding cooks well in either a single large baking dish or several smaller ramekins for individual servings.  The pudding does not expand very much so assess how much batter you have and choose a wide vessel or vessels a few inches deep that will allow the pudding to come nearly to the top.  Butter your dish or dishes well and fill with the pudding.  Place in the oven and bake for roughly a half hour or until the pudding is set and slightly brown on top.
Serve warm with a scoop of vanilla ice cream or whipped cream on top and leave the Cinnamon+Vanilla Infused Maple Syrup on the table so guests can help themselves.  Serves 6-8