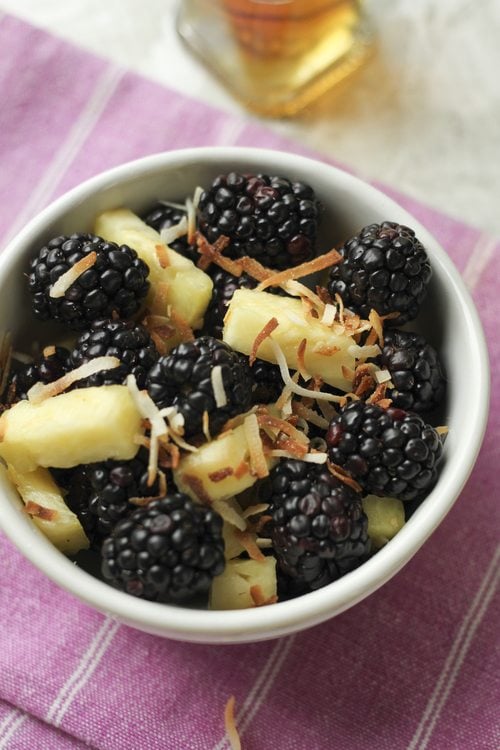 I used to feel that cooking was no fun unless the ingredients list took up half a page. There would have to be a complicated mix of spices with special gizmos to get just the right effect. If the sink wasn't full of bowls by the end of cooking, it couldn't possibly taste good. Then I had a kid, started a farm and had another kid. I began gravitating toward the one pot meals and the shorter ingredient lists, as in 1. cheese, 2. crackers – dinner's ready!
Though this new approach was born out of practicality, it isn't half bad. A case in point is to serve up fresh fruit with maple syrup. The Sugarmaker's Cut and Hibiscus Flower Infused syrups are really good but if you want to knock it out of the park, try the Makrut Lime-Leaf Infused maple syrup. The lime goes well with all fruit but I am partial to blackberries and pineapple because the flavors work so well together and the colors are beautiful. Occasionally I might sprinkle some toasted coconut on top; in part for some added dimension and texture but also because it is just too easy otherwise. Old habits die hard.
Take a half cup of sweetened, shredded coconut and place in a dry pan. Turn the heat to medium and dry roast, stirring constantly until slightly browned and crunchy, 5 – 10 minutes. Let cool.
Wash and slice your fruit and place in individual bowls. Sprinkle a few spoonfuls of the toasted coconut and pour as much Makrut Lime-Leaf Infused maple syrup as you like.