A big, big thank you for those who head out every day to keep our vital services and hospitals going.  For the majority of us, however, we are staying home and keeping trips to the store to a minimum.  That means facing the pantry and fridge with a daily calculation: 'I've got A but don't have any B. I could make C but need D.' Not everyone has the same definition of "necessities" but if you are our customers and have some Runamok maple syrup around, here are a few ideas for savory dishes with basic ingredients. Most of these recipes are very flexible so if it calls for cheddar and you only have provolone, provolone it is.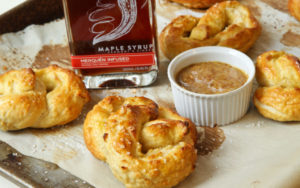 We know, we know, yeast and flour are hard to find but given it is not currently on the shelves, it had to have gone somewhere. If you were one of those who stocked up early, then this is a recipe that will please everyone.  Make them sweet with a sprinkling of sugar and a side of maple dipping sauce or make them salty and whip up some maple mustard. The nice thing about this recipe is that the sauces can use almost any of our syrups. And if you have kids in the house, they are really fun to make.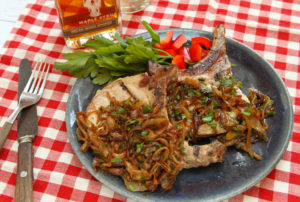 Even in households where not much cooking is done, there are a few onions around.  Why?  Because the onion, that simple, unappreciated vegetable makes everything taste better. If you have onions, you have an easy topper for anything from meat to eggs to baked potatoes. In this recipe, I used pork chops but really, the sky's the limit. Though the recipe lists our Pecan Wood Smoked Maple, these other syrups would also be fantastic – Merquen, any of the barrel-aged, Sugarmaker's Cut Pure, Elderberry, Hibiscus, Cardamom or Ginger Infused.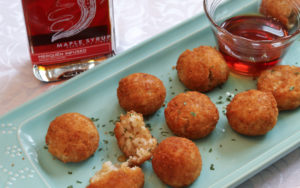 Got rice?  A traditional arancini is a mound of rice, stuffed with cheese, breaded and baked until crispy.  It is usually made with Arborio rice but if you only have Carolina long-grain, go ahead and make it anyway. It is only you and whoever you are sheltering with to judge. (family? Goldfish? Roomba?) Use whatever cheese you like or even stuff it with leftover ground meat or cooked spinach.  We recommend dipping it in Merquen Chili Pepper Infused Maple but Pecan Wood Smoked or Elderberry Infused would also be delish.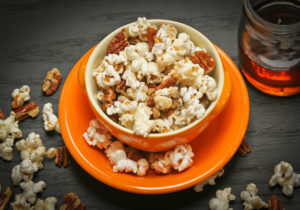 Popcorn is like the chicken breast of the snack world; it is a blank canvas for awesome flavors. For this recipe, you need to forgo the microwave popcorn and use the plain popping corn that comes in a bag. An air-popper gets the best results but if you don't have one, using a large pot and some oil is just as good. The recipe calls for Sugarmaker's Cut pure maple but you can try just about any one of our syrups that strikes your fancy. Nuts or no nuts, that is up to you but don't leave out the salt and butter.