Originating from the French word "grenade," or, pomegranate, Grenadine Syrup is commonly known as a tart addition to many a favorite cocktail and mocktail– from a Shirley Temple to a Tequila Sunrise. 
At Runamok, however, we're known for putting a twist on classic flavors– and our Maple Grenadine Syrup is no different. A tribute to the original, pure grenadine recipe, made from a symphony of sweet, tart, and oh-so-invigorating flavors that instantly brighten up any drink it graces, our Maple Grenadine is a delightful dip into nostalgia, before artificial additives like Red 40, Blue 1, and High Fructose Corn Syrup began their stealthy invasion into our beloved cocktail mixers.
So, what is Maple Grenadine Syrup, and how do you use it? We dive in below in our guide to the ingredient. 
What is Maple Grenadine?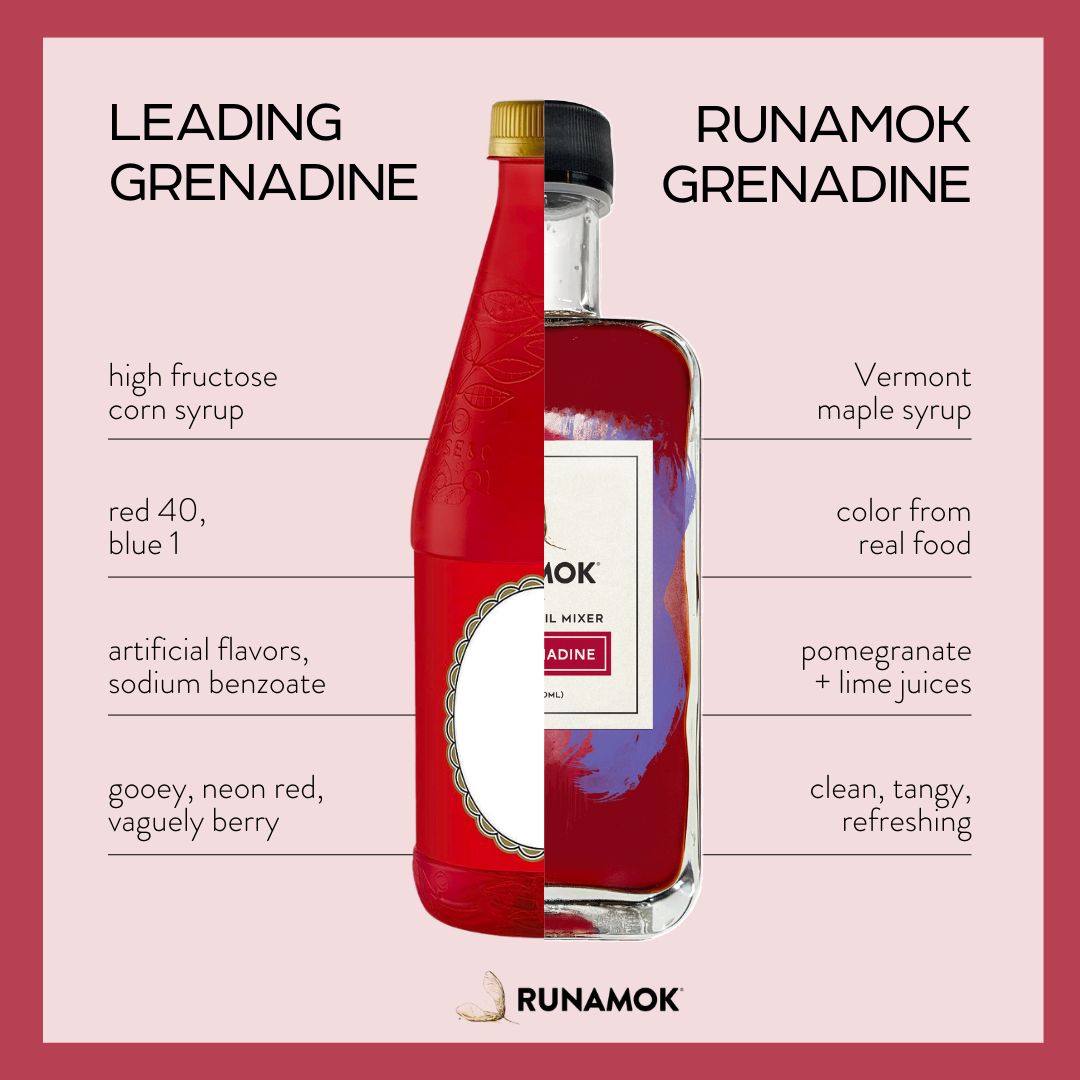 Whether it's adding a burst of flavor to cocktails, giving mocktails an all-natural boost, jazzing up seltzers, enhancing spritzers, or creating super slushies, Maple Grenadine is a game-changer. But while today's grenadine syrup is typically a blend of chemical additives and High Fructose Corn Syrup, resulting in an unnaturally sweet flavor, we've taken a different approach.
Our recipe draws inspiration from the original grenadine, which was made with pomegranate juice and sugar. We've replaced the typical refined sugar with pure maple syrup, restoring the wholesome quality that natural ingredients bring to the table, while creating an innovative twist to the mixer. Our product is 100% all-natural, featuring real fruit and vegetable juices along with the fresh zing of pomegranate and lime juices in place of artificial flavoring.
The resulting Maple Grenadine delivers a perfect balance of sweet and tart – a syrup that offers a wonderful layer of complexity to cocktails and mocktails alike.
Sounds good, right? But while it's one thing to hear about the product, it's another to put it to use. We're here to fix that with 5 ways to use our Maple Grenadine Syrup. 
How to Use Maple Grenadine Syrup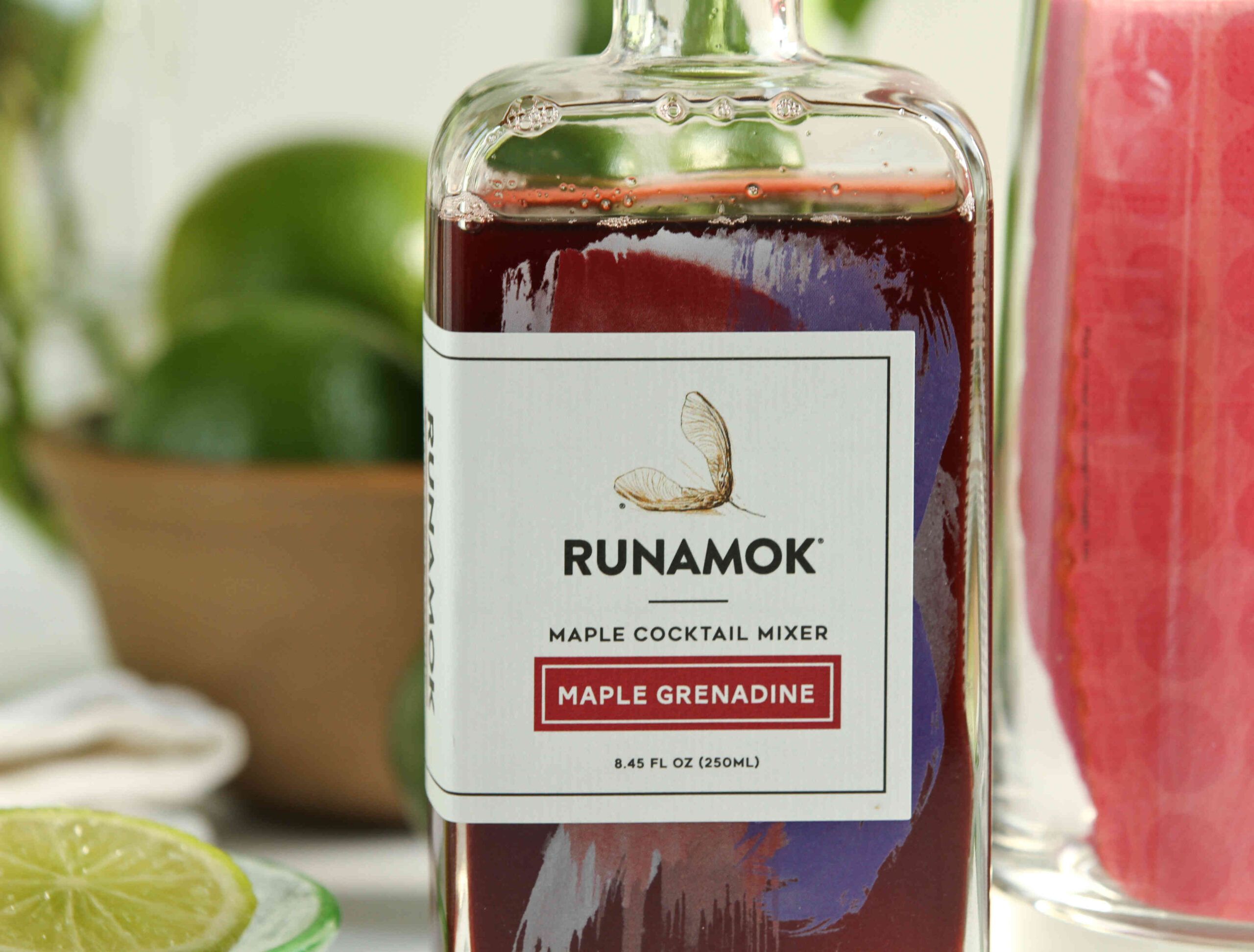 1. Jazz Up Your Seltzer
Whether you're in need of a midday pick-me-up or a bubbly beverage in the evening, adding Maple Grenadine to seltzer is the perfect way to elevate the unflavored seltzer you probably already have in your fridge. 
2. Shirley Temple
Stick to the classics by using Maple Grenadine in a Shirley Temple. Whether it's a throwback to your drink of choice as a kid or it's your current favorite, there's nothing like a pretty, pink Shirley Temple to add fizz to any occasion. Simply combine grenadine with lemon-lime soda and ice to create the beverage. Or, spice things up by transitioning from mocktail to cocktail by creating The (Not So) Dirty Shirley. 
3. Whiskey Sunrise 
Try a new twist on a classic cocktail: the Whiskey Sunrise with Runamok's Maple Grenadine. The natural sweetness of maple coupled with the tart flavor of pomegranate and lime juices elevates the warmth of the whiskey, while Runamok's Orange Maple Bitters adds unique flavoring. 
4. Over Ice Cream 
You might think to drizzle chocolate syrup over ice cream, but Maple Grenadine? Take your favorite ice cream flavor (although we recommend vanilla) to the next level by drizzling Maple Grenadine over top. The syrup, with its blend of sweet and tart flavors, adds a deliciously refreshing twist to your ice cream of choice. 
5. In a Slushie 
No matter your age, everyone loves a slushie. Now, imagine elevating the childhood favorite to a sophisticated refreshment using Maple Grenadine. When combined with ice in a slushie machine or blender, Maple Grenadine helps transform the drink into a crave-worthy, gourmet treat.