Maple Grenadine
$18.95 – subscription plans starting at
every 2 weeks
We are thrilled to introduce our newest Cocktail Mixer: Maple Grenadine. Sweet, tart and deliciously refreshing, this all-natural grenadine harkens back to the original authentic grenadine recipe before artificial ingredients like Red 40, Blue 1, and High Fructose Corn Syrup took over nutrition fact panels.
Delicious in cocktails, mocktails, seltzers, spritzers and slushies… you're probably going to want to order more than one.
Tasting Notes
Sweet, tart, forward with pomegranate with a lime finish.
Recommended Uses
Use anywhere grenadine applies: Shirley Temples, Roy Rogers, Tequila Sunrise, Singapore Slings and other cocktails/mocktails or mix into unsweetened seltzer.
Ingredients
Pure Maple Syrup, Water, Pomegranate Juice Concentrate, Clarified Lime Juice Concentrate, Citric Acid, Natural Flavor, Fruit and Vegetable Juice for Color, Organic Lime Extract, Salt
Reasons to Buy
Made with real all natural ingredients
No high fructose corn syrup
Does not contain Red 40 or Blue 1 dye
A healthier and tastier alternative to most grenadine
Runamok is a family-owned and operated specialty foods company based in Northwestern Vermont. All products are made at our facility in Fairfax, Vermont.
We are committed to sustainability. Our maple syrup is sourced from our certified organic, certified bird friendly sugarbushes in Cambridge and Bolton (Vermont) and from family-operated sugarbushes across the state.
Maple Grenadine is Certified Kosher by the Orthodox Union, is naturally gluten free and is vegan friendly.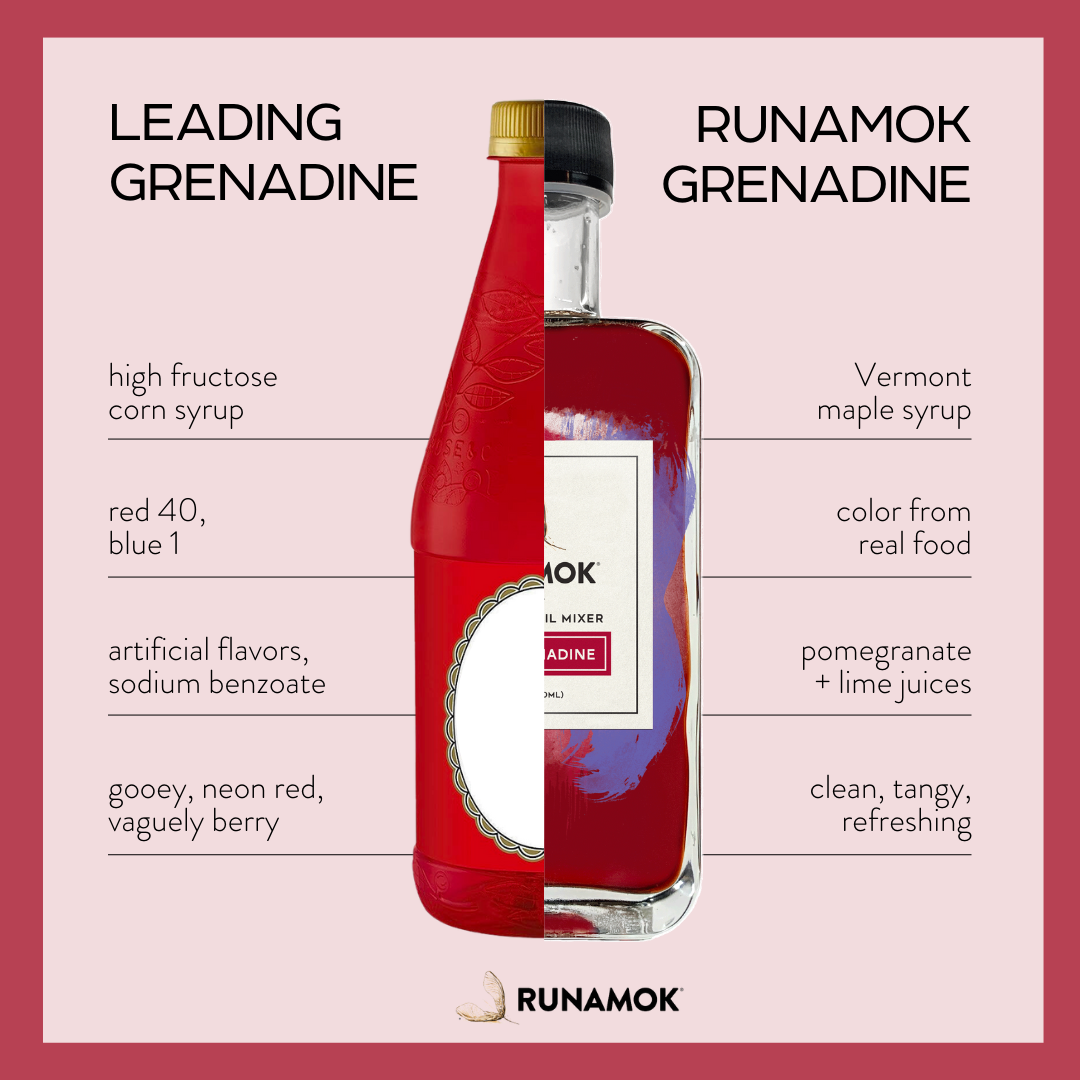 How Do They Compare?
While traditional grenadine was made with pomegranate juice (from the french grenade) and sugar, nowadays grenadine is a chemical concoction combined with High Fructose Corn Syrup resulting in a sickly sweet red syrup. We've gone back to the original grenadine recipe subbing out refined sugar for maple syrup and keeping the ingredient list 100% all natural. Instead of Red 40 and Blue 1 you'll find real fruit and vegetable juices; in place of artificial flavors, pomegranate and lime juice; Maple Syrup brings the sweetness in place of High Fructose Corn Syrup – you get the idea.
Use our all natural Maple Grenadine in your favorite cocktails and mocktails or swirl it into your everyday unsweetened seltzer for a delicious and refreshing drink. We've found this mixer satisfies both adults and kids alike… so you might want to keep a few extra bottles stocked!
How We're Using It
We're recreating all the classics with our new Maple Grenadine and inventing some new ones along the way. From the Tequila Sunrise and Ward 8 to the Dirty Shirley and Singapore Sling, our all-natural maple grenadine is the perfect way to bring all your favorite cocktails to life. Not looking to imbibe? Maple Grenadine makes some outrageously delicious alcohol-free drinks that are as delicious as they are refreshing.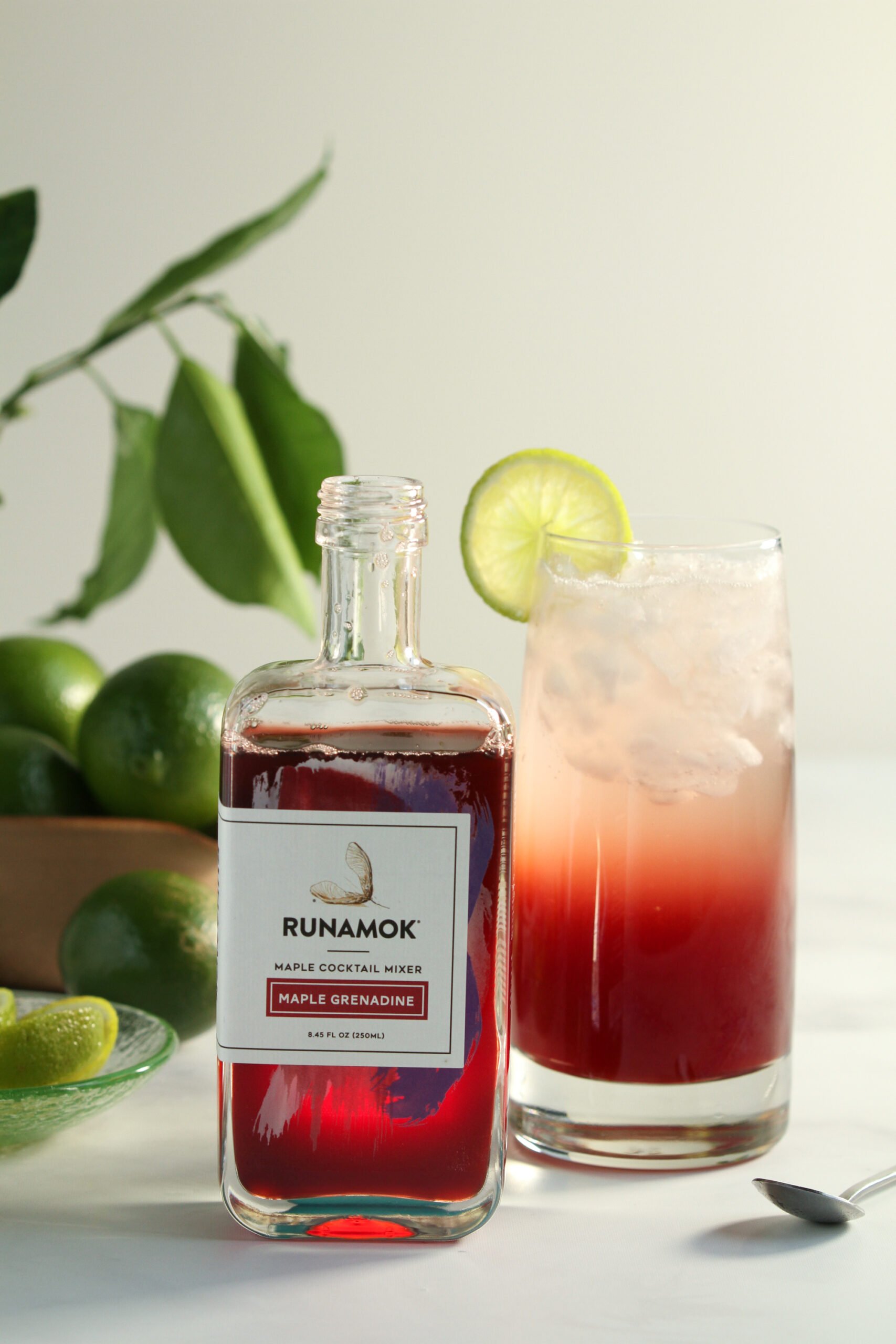 Nutrition Facts
The following information is provided for a single serving (2 tbsp or 30mL)
Calories
70
Total Fat
0g
Sodium
15g
Total Carbohydrate
18g
Total Sugars
16g
Protein
0g
Calcium
20mg
Potassium
100mg
Ingredients:
Maple Syrup, Water, Pomegranate Juice Concentrate, Clarified Lime Juice Concentrate, Citric Acid, Natural Flavor, Fruit and Vegetable Juice for Color, Organic Lime Extract, Salt
Product Details
Forget what you think you know about Grenadine. If your only exposure is today's commercial version your impression is probably an excruciatingly sweet concoction of corn syrup and chemicals that is vaguely berry flavored. Made with real ingredients, we've broken this bar staple out of its gooey, neon-red past and given it new life.  It might even inspire you to revisit some classic cocktails. Traditional grenadine was actually made with pomegranate juice (from the french grenade) and sugar, and the taste was tart and fruity. Like most things at Runamok we took the best from the past and put a Runamok twist on it, creating something extraordinary. Our grenadine is made with pomegranate, lime, and maple syrup. Each ingredient is perfectly balanced so the resulting syrup is the ideal sweet-tart addition to drinks. Most of us associate this syrup with a Shirley Temple or Roy Rogers - a classic drink of grenadine and lemon-lime soda offered to kids when they are out with their parents. Using our syrup makes a waaaaay better version. We also did a deep dive into classic cocktails that use it and rediscovered how good they can be with a better Grenadine. Our Singapore Sling had some swing. The Tequila Sunrise was the prize. And the El Presidente ruled. The key was our Grenadine that didn't add cloying sweetness but a cleaner, fruity tartness with the underlying richness of maple. (Recipes for all of these cocktails will be available on our website. We promise no more Dad jokes.)