HAPPY EARTH DAY!
The way we see it, both maple and honey are products that work for a better environment and not against it.
At Runamok, we believe protecting the land is of the utmost importance. Both maple and honey are gifts from nature and we endeavor to show our appreciation by protecting the natural world that is a foundation for each. This Earth Day, we wanted to take the opportunity to highlight some of the steps we are taking everyday to reduce our environmental impacts, encourage biodiversity, think globally, and be a transparent, socially-responsible company that our customers can feel good supporting.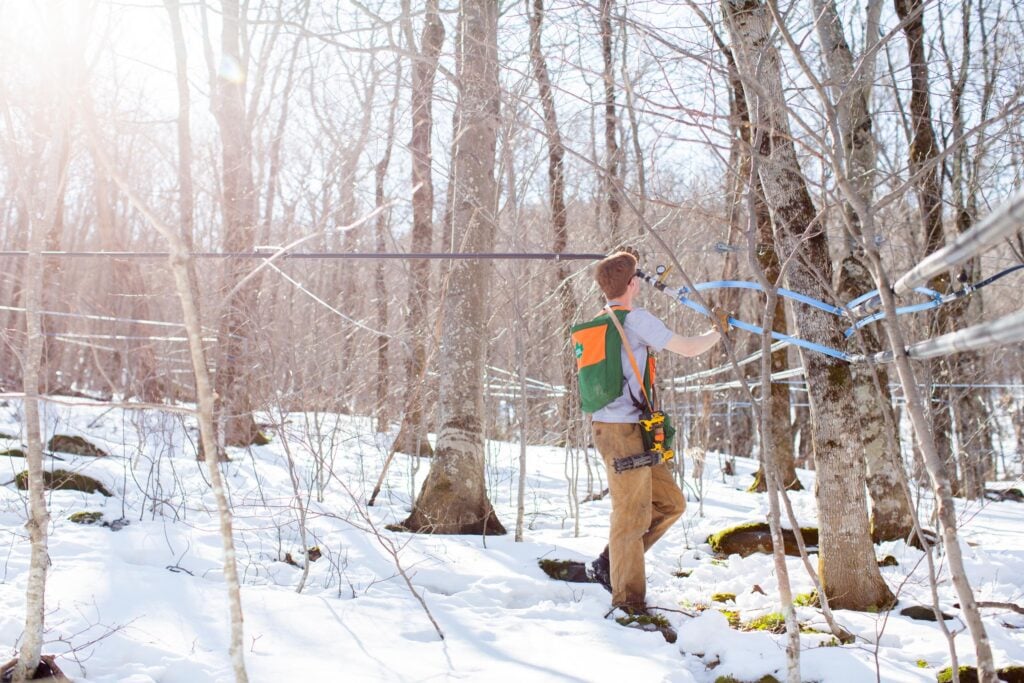 Learn more about our everyday Environmental Focus and Social Mission.


We started Runamok with the philosophy that we were going to make it as environmentally sustainable as possible. When we expanded to a new 55,000 sq.ft. production facility in 2018, we wanted to make it eco‐friendly wherever we could, so we worked with Norwich Solar to design and install a 525 panel rooftop solar array to power our manufacturing facility.

While maple syrup can look and taste similarly, it can come from forests that are managed in dramatically different ways. We are proud to be certified Bird Friendly by the National Audubon Society. The Audubon's Bird Friendly Maple Project promotes sugarbush management practices that support birds, forest health, and sustainable sap production. This includes maintaining a diversity of trees (not just maple), keeping dead trees and a developed underbrush to serve as habitat, and ensuring that native and migratory bird species have a place to forage, hide, and raise their young. More on Bird-Friendly Maple Habitats here.

We aim to be not only good environmental stewards of our land but also for the planet. Because of our efforts, we are certified organic by Northeast Organic Farming Association's VOF program, a USDA accredited organic certification agency and the largest certifier of organic maple products in the country! Curious what it means to be an organic sugarbush? Read more about the Organic Certification for Maple Products.

Honeybees play a crucial role in our food systems and are increasingly threatened from loss of habitat and the use of pesticides. Beekeepers and apiarists play a crucial role in ensuring these pollinators thrive. We source all of our honey from family-owned, sustainability driven apiaries in the US. While our honey is not certified organic (the majority of organic honey on the market is sourced internationally), we feel it is just as important to source high-quality, sustainably sourced honey close to home and support regional ecosystems. Meet our honey producers.

Did you know Runamok works with other businesses to recycle our byproducts? Once our barrels are emptied or our ingredients have been infused, we send them on to brewers/distilleries who can give them new life. Our post-infusion ginger, cinnamon + vanilla, and coffee have gone on to flavor ciders, beers, and meads, for example. Many of the spirit barrels we re-use from distilleries go on to age beers with their maple-bourbon goodness. Other low waste practices around our facility range from our composting program to the reverse osmosis process we use for a more efficient boil.

Our sleek glass bottles aren't just for looks (though that doesn't hurt either)… We've chosen our packaging – from our glass bottles and jars, to our all-cardboard shippers – to be easy to reuse or recycle. We continue to seek out solutions that will cut down on contribution to the landfill, and continue to make strides to further improve the sustainability of our packaging.

Runamok founders Laura and Eric Sorkin have been deeply engaged in environmental initiatives from the outset. With degrees in environmental law and management, they had careers in environmental advocacy before entering sugaring. Our President and Partner, Curt Alpeter, originally met the Sorkins through Curt's work on the board of Audubon Vermont and the Bird Friendly Maple Project (see above)! Eric is a longtime board member of Northeast Organic Farming Association of Vermont and Main Street Alliance, and Runamok continues to advocate for small business and environmental interests locally and nationally.

It is important to us to be transparent. We strive to share where our maple and honey comes from, who our producer partners are, and how we operate with sustainability in mind. While we aren't going to give you the secret to how we smoke our Smoked Maple Syrup – that one is staying with us – we are always happy to engage in dialogue with you, our customers, to answer questions and help you to feel good knowing where your food comes from.

We are proud to share the steps we've taken and the ways we work towards a better environment on Earth Day and everyday. We also recognize that there is always more we can do and learn to be better business partners, producers, consumers, and global citizens. We will continue to advocate, learn, engage, and educate ourselves and others as we work to be good stewards of our environment. Thanks as always for your support along the way!